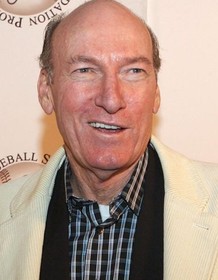 Ed Lauter
Highest Rated: 95% The Artist (2011)
Lowest Rated: Not Available
Birthday: Oct 30, 1938
Birthplace: Long Beach, New York, USA
Ed Lauter appeared in small supporting roles in more than 200 movies and television shows, in the process becoming an instantly recognizable face. His imposing height, fierce squint and effortlessly intimidating demeanor made him a natural for playing authority figures of both the benign and malevolent variety, and his near constant output yielded a number of unforgettable film performances, from the sadistic yet ultimately honorable Captain Knauer in Robert Aldrich's "The Longest Yard" (1974), to Maloney, the arsonist-turned-gas station owner in Hitchcock's final film, "The Family Plot" (1976), to Peppy Miller's dutiful butler in the Academy Award winner for Best Picture, "The Artist" (2011). Lauter was also a familiar face on television, playing the stern Captain Cain on "B.J. and the Bear" (NBC, 1979-1981) and its spin-off, "The Misadventures of Sheriff Lobo" (NBC, 1979-1981), as well as the uncharacteristically sympathetic role of Fire Captain Dannaker on "ER" (NBC, 1998-2002), in addition to scores of guest appearances on other series and supporting roles in TV movies. Though audiences may have struggled to remember his name, Ed Lauter's tough, authoritarian image was a familiar and reliable staple of American film and television up until his death in October 2013.
Photos
Ed Lauter
THE LONGEST YARD, Ed Lauter, Eddie Albert, 1974
FAMILY PLOT, Ed Lauter, 1976
Psych, Dulé Hill (L), Ed Lauter (C), James Roday (R), 'In Plain Fright', Season 5, Ep. #11, 11/17/2010, ©USA
BROTHERS IN ARMS, Ed Lauter, 2005. ©Sony Pictures/courtesy Everett Collection
BAD COMPANY, Damon Cofer, Jeff Bridges, Ed Lauter, 1972
THE MAGNIFICENT SEVEN RIDE!, Ed Lauter, James B. Sikking, Michael Callan, Lee Van Cleef, Luke Askew, William Lucking, Pedro Armendariz Jr., 1972
DEATH WISH 3, first and third from left: Ed Lauter, Charles Bronson, 1985. ©Cannon Films
GIRLS JUST WANT TO HAVE FUN, Sarah Jessica Parker, Ed Lauter, 1985, © New World Pictures
TIMERIDER: THE ADVENTURE OF LYLE SWANN, Ed Lauter, 1982, (c)Jensen Farley Pictures
ART HEIST, Ed Lauter, 2004, ©Sony Pictures
DEATH WISH 3, from left: Ed Lauter, Charles Bronson, 1985. ©Cannon Films
AMATEUR, Ed Lauter, John Savage, 1981. TM and Copyright (c) 20th Century Fox Film Corp. All rights reserved.
LOLLY-MADONNA XXX, from left: Kiel Martin, Joan Goodfellow, Ed Lauter, 1973
LOLLY-MADONNA XXX, from left: Ed Lauter, Randy Quaid, 1973
BREAKHEART PASS, Jill Ireland, Charles Bronson, Ed Lauter, 1975
LOLLY-MADONNA XXX, from left: Season Hubley, Ed Lauter, 1973
BREAKHEART PASS, Ed Lauter, Richard Crenna, Jill Ireland, 1975
THIRTEEN DAYS, Tim Kelleher, Steven Culp, Kevin Costner, Ed Lauter, Bill Smitrovich, Bruce Greenwood, Peter White, Henry Strozier, 2000
LOLLY-MADONNA XXX, from left: Rod Steiger, Scott Wilson, Timothy Scott, Season Hubley, Ed Lauter, 1973