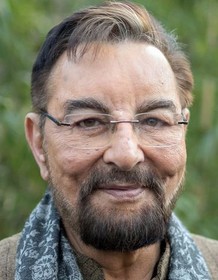 Kabir Bedi
Highest Rated: 75% Anita & Me (2002)
Lowest Rated: Not Available
Birthday: Jan 16, 1946
Birthplace: Bombay, India
Kabir Bedi found incredible success as an accomplished actor, appearing in a variety of films throughout his Hollywood career. In his early acting career, Bedi appeared in such films as the foreign "Ishq Ishq Ishq" (1974) with Dev Anand, "Il Corsaro Nero" (1976) and "The Thief of Bagdad" (1978) with Roddy McDowall. He also appeared in "Ashanti" (1979), "Satan's Mistress" (1982) with Britt Ekland and "Forty Days of Musa Dagh" (1983). His film career continued throughout the eighties and the nineties in productions like the action film "Terminal Entry" (1987) with Eddie Albert, the George Dzundza action flick "The Beast" (1988) and the Rutger Hauer action picture "Beyond Justice" (1992). His work around this time also included a part on the TV movie "Hostage Flight" (NBC, 1985-86). Recently, he tackled roles in "Aatank Hi Aatank" (1995) with Rajnikanth, "Maine Dil Tujhko Diya" (2002) and "The Hero: Love Story of a Spy" (2003). He also appeared in "Taj Mahal - The Story of Eternal Love" (2005) and the action movie "Blue" (2009) with Sanjay Dutt. Most recently, Bedi acted in the Abhay Deol foreign "Chakravyuh" (2012).
Photos
OCTOPUSSY, Kabir Bedi, 1983, (c) United Artists
OCTOPUSSY, Louis Jourdan, Kabir Bedi, Roger Moore, 1983. (c) MGM.
OCTOPUSSY, Maud Adams, Kabir Bedi, 1983. (c) MGM.
ASHANTI, front to back: Michael Caine, Kabir Bedi, 1979. ©Warner Brothers
BAZODEE, from left: Natalie Perera, Kabir Bedi, 2016. © Serafini Pictures
OCTOPUSSY, from left: Kabir Bedi, Roger Moore, 1983, (c) United Artists
Filmography
Movies
TV
| | | | Credit | |
| --- | --- | --- | --- | --- |
| No Score Yet | No Score Yet | The Lost Empire | Unknown (Character) | 2012 |
| No Score Yet | No Score Yet | Team Knight Rider | Unknown (Guest Star) | 1998 |
| No Score Yet | 94% | Magnum, P.I. | Malcolm (Guest Star) | 1988 |
| No Score Yet | 88% | Murder, She Wrote | Vikram Singh (Guest Star) | 1988 |
| No Score Yet | No Score Yet | Hunter | Leo Zukoff (Guest Star) | 1986 |
| No Score Yet | 89% | Knight Rider | Vascone (Guest Star) | 1985 |
| No Score Yet | No Score Yet | The Master | Unknown (Guest Star) | 1984 |