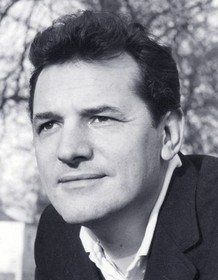 Steven Hill
Highest Rated: 92% A Child Is Waiting (1963)
Lowest Rated: Not Available
Birthday: Feb 24, 1922
Birthplace: Seattle, Washington, USA
Consummate character player who first appeared on Broadway in the short-lived Ben Hecht drama "A Flag Is Born" (1946), opposite Paul Muni and Marlon Brando, and made his film debut in "A Lady Without Passport" (1950). A veteran of live TV drama (notably "The Bridge of San Luis Rey" 1958 and "The Sacco-Vanzetti Story" 1960), Hill has specialized in playing figures of moral authority. He played the father of Jill Clayburgh, in "It's My Turn" (1980); Meryl Streep, in "Heartburn" (1986); and Christine Lahti, in "Running on Empty" (1988). The actor excelled as Otto Berman, math wizard and mentor to the title character in "Billy Bathgate" (1991). Hill also spent ten years (1990-2000) as pragmatic D.A. Adam Schiff on the NBC TV series, "Law & Order."
Photos
BILLY BATHGATE, (l-r): John Costelloe, Billy Jaye, Loren Dean, Nicole Kidman, Dustin Hoffman, Steven Hill, Steve Buscemi, 1991. ©Buena Vista Pictures
EYEWITNESS, Steven Hill, 1981, TM & Copyright © 20th Century Fox Film Corp.
THE GODDESS, Kim Stanley, Steven Hill, 1958
STORM FEAR, Cornel Wilde, Steven Hill, 1955
BILLY BATHGATE, Steven Hill, Dustin Hoffman, Nicole Kidman, Loren Dean, 1991
IT'S MY TURN, Steven Hill, Beverly Garland, Michael Douglas, Jill Clayburgh, 1980, (c) Columbia
BILLY BATHGATE, John Costelloe, Dustin Hoffman, Steven Hill, 1991
IT'S MY TURN, Michael Douglas, Jill Clayburgh, Steven Hill, Beverly Garland, 1980, (c) Columbia
HEARTBURN, Meryl Streep, Steven Hill, 1986, (c)Paramount
ON VALENTINE'S DAY, Steven Hill, 1986, (c)Angelika Films
THE BOOST, James Woods (yellow tie), Steven Hill (head down), 1988, © MGM
THE BOOST, James Woods, Steven Hill, 1988, (c)MGM
THE BOOST, from left: Steven Hill, James Woods, 1988, © MGM
Filmography
Movies
TV
Credit

No Score Yet

82%

Law & Order
District Attorney Adam Schiff (Character)

1990-2000

78%

85%

Law & Order: Special Victims Unit
D.A. Adam Schiff (Guest Star)

2000

No Score Yet

79%

Columbo
Mr. Marosco (Guest Star)

1989

83%

No Score Yet

thirtysomething
Leo Steadman (Character)

1988

No Score Yet

No Score Yet

King
Unknown (Character)

1978

No Score Yet

No Score Yet

Mission: Impossible
Daniel Briggs (Character)

1966-1973

No Score Yet

No Score Yet

The Fugitive
Glenn Madison (Guest Star)

1966

No Score Yet

No Score Yet

Rawhide
Unknown (Guest Star)

1965

No Score Yet

No Score Yet

Alfred Hitchcock Hour
Unknown (Character)

1964-1965

No Score Yet

No Score Yet

Ben Casey
Ollie BUrdick (Guest Star)

1962-1963

No Score Yet

No Score Yet

Dr. Kildare
Unknown (Guest Star)

1962

No Score Yet

No Score Yet

The Untouchables
Unknown (Guest Star)

1960

1962

No Score Yet

No Score Yet

Route 66
Unknown (Guest Star)

1962

No Score Yet

85%

Alfred Hitchcock Presents
Joe Kedzie (Character)

1957

No Score Yet

No Score Yet

Studio One
Unknown (Character)

1957

No Score Yet

No Score Yet

Suspense
Unknown (Character)

1949