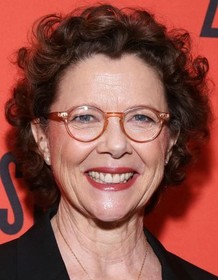 Annette Bening
Highest Rated: 96% Richard III (1995)
Lowest Rated: 13% The Women (2008)
Birthday: May 29, 1958
Birthplace: Topeka, Kansas, USA
Revered by film directors for her ability to take characters into deep, unexpected, emotional places, Annette Bening was a Tony-nominated stage actress before parlaying her dramatic intensity into award-worthy film performances. Early in her movie career, she made an impression as a wise-beyond-her-years sex kitten in "The Grifters" (1990) before exploding onto the scene as sultry mob moll, Virginia Hill, in the biopic, "Bugsy" (1991). And though she never lost that sly, brainy, sex appeal, she became more often associated with complex, professional women on the verge of self-destruction in darkly humorous dramas like "American Beauty" (1999), "Being Julia" (2004) and "Running with Scissors" (2006). The A-list leading actress managed to maintain a solid output of well-received films by limiting herself to just one carefully chosen project per year, and retreating for extended periods into her very private family life with actor and director Warren Beatty and the couple's four children. The formula would prove to be successful, with critically lauded performances in select films like "The Kids Are All Right" (2010) and Beatty's longtime passion project "Rules Don't Apply" (2016), reminding critics and audiences alike that the supremely talented Ms. Bening was an actor still very much in demand and at the top of her game.
Photos
AMERICAN BEAUTY, Annette Bening, 1999, ©DreamWorks
BEING JULIA, Annette Bening, 2004, (c) Sony Pictures Classics
GRIFTERS, THE, Angelica Huston, John Cusack, Annette Bening, 1990
THE KIDS ARE ALL RIGHT, from left: Annette Bening, Josh Hutcherson, Julianne Moore, Mia Wasikowska, 2010. ph: Suzanne Tenner/©Focus Features
GRIFTERS, THE, Angelica Huston, Annette Bening, 1990, in red dresses
THE AMERICAN PRESIDENT, Michael Douglas, Annette Bening, 1995. (c) Columbia Pictures.
GRIFTERS, THE, Angelica Huston, John Cusack, Annette Bening, 1990
BEING JULIA, Annette Bening, 2004, (c) Sony Pictures Classics
GRIFTERS, Annette Bening, John Cusack, Anjelica Huston, 1990, © Miramax
VALMONT, (background) Annette Bening, Fairuza Balk, (foreground) Meg Tilly, Colin Firth, 1989, (c) Orion
AMERICAN BEAUTY, Annette Bening, 1999, ©DreamWorks
BEING JULIA, Annette Bening, Jeremy Irons, 2004, (c) Sony Pictures Classics
IN DREAMS, Annette Bening. 1999, © DreamWorks
IN DREAMS, Annette Bening (front), Aidan Quinn, 1999, © DreamWorks
IN DREAMS, Annette Bening, 1999, © DreamWorks
IN DREAMS, from left: Robert Downey Jr., Annette Bening, Katie Sagona, 1999, © DreamWorks
IN DREAMS, Annette Bening, 1999, © Dreamworks
IN DREAMS, Annette Bening, 1999, © DreamWorks
VALMONT, Annette Bening, 1989
TTR_0532.dng