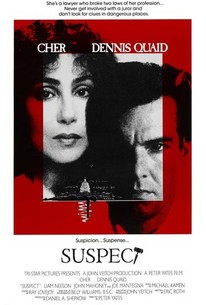 Suspect
1987, Mystery & thriller, 2h 1m
18 Reviews
5,000+ Ratings
Where to watch Suspect
Rent/buy
Rent/buy
Rent/buy
Rent Suspect on Apple TV, Amazon Prime Video, Vudu, or buy it on Apple TV, Amazon Prime Video, Vudu.
Rate And Review
Suspect Photos
Suspect (1987)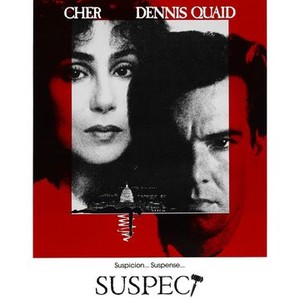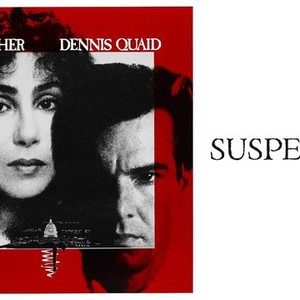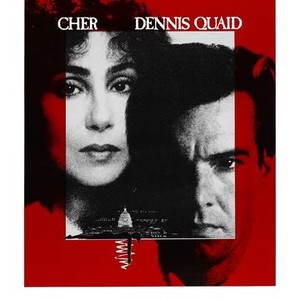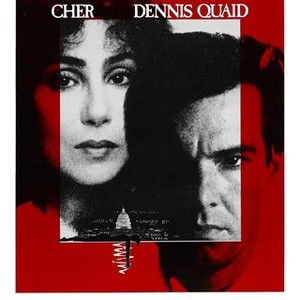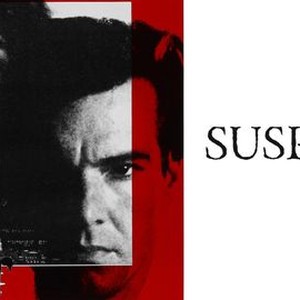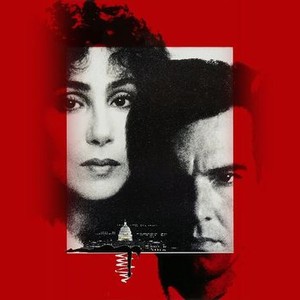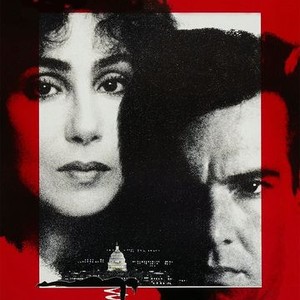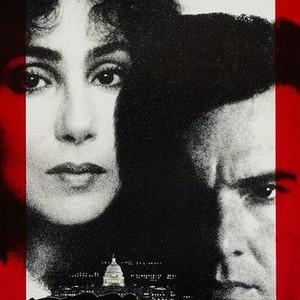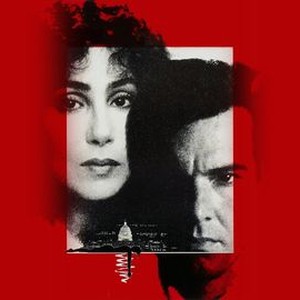 Suspect (1987)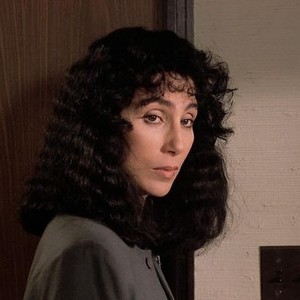 Suspect (1987)
Suspect (1987)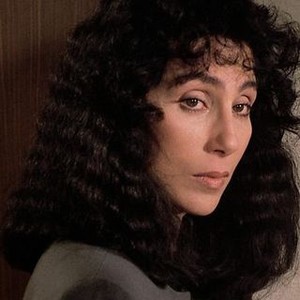 Suspect (1987)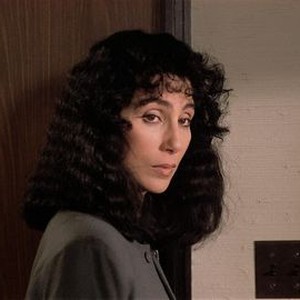 Movie Info
Carl Anderson (Liam Neeson), a deaf, mute and homeless war veteran, is arrested for the murder of a prominent judge's secretary. But Kathleen Riley (Cher), Anderson's lawyer, believes her client is innocent. She sets out to track down the real killer, and, as the trial proceeds, makes an unlikely ally in Eddie Sanger (Dennis Quaid), a jury member. When they aren't in court, the two investigate the case and manage to uncover a massive conspiracy.
Rating: R

Genre: Mystery & thriller

Original Language: English

Director: Peter Yates

Release Date (Theaters): limited

Release Date (Streaming):

Box Office (Gross USA): $18.0M

Runtime:

Production Co: TriStar Pictures

Sound Mix: Surround, Stereo
Audience Reviews for Suspect
Ahh a film from 1987 when Cher was looking go without any Nip and Tuck, and gas was 87 cents a gallon, sign seen in background. Funny and hard to imagine a time without cell phones where if you wanted to make a call you had to use a pay phone. Early in Liam Neeson career to see him as a homeless deaf and dumb person who is accused of murder and Cher is his public defender. Dennis Quaid is on the jury but also providing Cher with information to help her case. A very enjoyable film one I missed when it was on the big screen, worth the sit-down, 4 Stars 3-20-12

I saw this on TV some time ago, I barely remember it, but I remember that it was a good courtroom drama and thriller, with a good cast. It's good.

This is very good..an exting movie about a innocent homless man(liam Neeson)..who is aressted for murder on an young girl..and cher as his lawyer who seeking the truhf..John Mahoney is very good as the judge..a must see!!!... SUSPECT (1987) is an involving film, but one that is peppered with actions that are either implausible or at least highly improbable. If your ability to suspend disbelief is strong, you will probably find yourself enjoying some of the courtroom drama and thriller aspects of the film - numerous flaws and all. None of the acting is great, but it is fairly compelling, and director Peter Yates (from THE RUN OF THE COUNTRY) knows how to make entertaining films. In SUSPECT, a Washington DC judge commits suicide and his secretary is killed. A homeless person Carl Wayne Anderson (Liam Neeson from ROB ROY) is accused of killing her for the nine dollars in her purse. Anderson is assigned to overworked public defender Kathleen Riley (Cher). Anderson attacks and hurts her as well as some of the guards. Soon however, they find out he is "deaf and dumb" and a Vietnam vet with a troubled past. He never learned to sign since he had no one to talk to. The show switches to the capital where lobbyist Eddie Sanger (Dennis Quaid from THE RIGHT STUFF) does everything including sleeping with a Congresswoman to get her vote. Sanger is called to be on Anderson's jury. Although he tries to get off, he is unsuccessful. In a show full of unbelievable actions, he falls for Riley and starts investigating the case on his own. He meets with her on the sly to share his ideas on how to approach the case. Sure. Meanwhile, Riley is being stalked by a religious fanatic and homeless person. He threatens to kill her with a knife. Making her life equally miserable is a Republican judge, Judge Matthew Helms (John Mahoney from PRIMAL FEAR), who for some mysterious reason wants the trial over quickly with no delays no matter how valid Riley's reasons. Yes, this show is quite predictable. If a Hollywood screenwriter makes a point of labeling someone a Republican, the wardrobe department might as well have him wear a black hat through the rest of the picture. The music by Michael Kamen is sappy. Whenever the director needs extra tension, and Eric Roth's script can't provide enough, Yates turns to the composer to crack up the violins. Actually, the script gets almost laughable at points. After complaining about not seeing a movie in a year and not being able to have a kid because she is too busy to date, Riley laments, "I spend all of my day with murders and rapists, and what's really crazy, I like them." Even with the ridiculous script, I managed somehow to like the performances by Cher and Quaid. One of my favorite small actors Joe Mantegna (from HOUSE OF GAMES) plays prosecutor Charlie Stella. As for Neeson, this is one of my least favorite of his films. His performance in it does nothing for me. I could probably write an article just on the flaws of the show. Among those not already mentioned are the fact that Riley somehow immediately knows that Anderson is left-handed. She also talks to him expecting to be heard when she is not looking at him. Since he doesn't read lips and can't hear, this makes it a little difficult. Nevertheless, he seems to be able to hear part of what she is saying anyway. Typical of the show, the ending comes out of left field. A fun show to watch in parts, but one where they feel the audience is not smart enough to see through all of the ridiculous contrivances in the plot.

Cast: Cher, Dennis Quaid, Liam Neeson, John Mahoney, Joe Mantegna, Fred Melamed, Philip Bosco, Michael Beach, Bill Cobbs Director: Peter Yates Summary: When a Supreme Court judge commits suicide and his secretary is found murdered, all fingers point to Carl Anderson (Liam Neeson), a homeless veteran who's deaf and mute. But when public defender Kathleen Riley (Cher) is assigned to his case, she begins to believe that Anderson may actually be innocent. Juror Eddie Sanger (Dennis Quaid), a Washington lobbyist, agrees, and together the pair begins their own investigation of events. My Thoughts: "It was a decent suspense/thriller. The film had a good pace, never leaving you bored. The performances were good by all. The ending is a bit of a twist. I was surprised. I loved Dennis Quaid in this, and it was interesting seeing Cher play a lawyer of all things. A good mystery film worth checking out at least once."
See Details