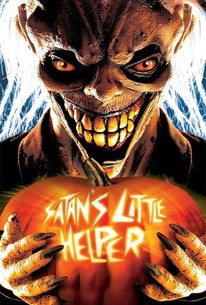 Satan's Little Helper
2004, Horror/Comedy, 1h 40m
4 Reviews
2,500+ Ratings
Rate And Review
Satan's Little Helper Photos
Movie Info
On the afternoon of Halloween, Douglas Whooly (Alexander Brickel) dons his costume in expectation of a fun-filled night. But, when he hears that his beloved sister, Jenna (Katheryn Winnick), has found herself a boyfriend, he throws a tantrum and flees the house. Douglas befriends a man in a devil costume and helps him decorate his lawn with fake corpses. Unfortunately for Douglas and his family, the corpses -- much like the murders that will punctuate the evening to come -- are all too real.
Rating: R (Violence/Gore|Some Sexual Content|Language)

Genre: Horror, Comedy

Original Language: English

Director: Jeff Lieberman

Writer: Jeff Lieberman

Release Date (Theaters): original

Release Date (Streaming):

Runtime:

Production Co: Intrinsic Value Films
Audience Reviews for Satan's Little Helper
In my opinion, one of the best things about being a film critic with friends is that, at times, the friends can introduce you to films that you never heard of before. That was how I found out about Satan's Little Helper: through me and two friends being bored and needing something to watch to pass time that was not deep, philosophical, or serious. What I got out of those one and a half hours is a film that completely embraces the definition of a cult classic and modern black comedy. The story to this film is simple enough: an autistic young boy (I believe he is Autistic and I don't care what you say. HE IS!) who is obsessed with a video game called Satan's Little Helper meets the real Satan and is taken through a night of pure hell as he thinks that all that is happening is just a game. Okay, I am giving this film points on the plot for the most part. Up until the last twenty minutes, this film had a goofy, silly plot that was just fun to watch. Then, it turned into a stereotypical horror/ slasher film that involved the family being trapped in the house with the killer and the killer looking for them. This formula has been around sense the dawn of cinema, and I doubt it is going away. Which for this film, it is a disappointment. You see, this film had a lot of potential and power with the plot and then... it went down hill when it became so much like a slasher film. I don't know why the decided on this path to take, but for what the plot is, it is entertaining. Just wish the ending was different. One thing about the filming I liked about this film is how hilarious it is. Okay, with horror films, you tend to have dark colors and haunting music to set the tone. For the most part of this film, the colors are light, bright, and the music is mainly cheerful. While I did find this funny, I do think it was a wise choice with the cinematography of the film. Part of what makes a film great is how you can sense what the main character looks, sees, feels, and hears as the story progresses. This is what this film does with flying colors. This film takes taboo subject matter like being best friends with the Devil, killing people, and torturing others and turns them all into light heart comedy. How this film done it was genius. A downside though has to be the acting. Okay, Alexander Brickel (Douggie: The Hero) has to be one of the most annoying child actors I have ever seen in my entire life. I mean, he can't act, can't say any lines, and just makes you want to beat the crap out of him. When I am watching a film with child actors, I don't expect much. Just a decent performance. Here, I get a performance that is worse then kids have his age performing Phantom Of The Opera. He is just a character that I am hoping would be erased from my mind. The other actor that sticks out, and who I am wondering why she is even in this film, is Amanda Plummer as the mother of Douggie. Okay, let me ask this: She went from Quentin Tarantino's PULP FICTION to... this? Not that wise of a choice to accept this script. Now, if it was for the money, why still pick this? Was this seriously the only role you could get? She done an okay job with this film, but nothing completely memorable in the slightest. As I said, I watched this film with two friends of mine and I was laughing nonstop. It was a blast to watch this film for the first time. Later on, I showed my brother (another film critic) this film and that was when I finally saw the flaws and the problems this film had. I still laughed the second time, but the issues that does not make this film great are apparent. So, would I recommend this film? Only if you like cheap, B films, have a taste for the macabre, enjoy black humor and underground cult films, then this film is for you. Good script, wonderful filming, but lukewarm acting. Just, watch it with a bunch of friends at night. You will get a lot more out of it.

Right from the start, I thought the killer's costume looked like it was bought from Rite Aid & the video game's graphics were drawn by a toddler so I automatically thought this movie is gonna suck but I judged the movie way to soon.Even with an extremely low budget, Satan's Little Helper was a good movie & I can't believe I haven't heard of it before.I think it might be a cult classic someday

One of the most underrated horror movies of all time. EVERYBODY must watch this movie on October. It has to be a tradition that everybody watches this movie during Halloween season.

This is not a Movie this a Joke, an evil Joke. You'll laugh 'til you die.
See Details