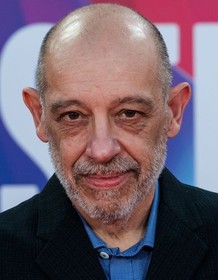 Bruno Delbonnel
Highest Rated: 92% The Tragedy of Macbeth (2021)
Lowest Rated: 25% The Woman in the Window (2021)
Birthday: Not Available
Birthplace: Nancy, Meurthe-et-Moselle, France
French cinematographer Bruno Delbonnel was born in the late 1950s in the French town of Nancy. Delbonnel studied at the celebrated College of Cinematography in Paris. Although he spent much of the 1980s working for various productions as a camera operator, Bruno had his first true opportunity with director Jean-Pierre Jeunet on "Amelie" (2001). Here he had a chance to show off his delicate strength with muted color and lighting. Jeunet must have liked what he saw for the two worked again three years later on "A Very Long Engagement" (2004). Delbonnel began working with American directors beginning with the Truman Capote biopic "Infamous" (2006), followed by Julie Taymor's Beatles homage "Across the Universe" (2007). His next few projects took a turn towards fantasy, and he used his growing skill to seamlessly blend the emerging use of CGI and traditional camera work to his advantage. His work on the third film in the Harry Potter franchise, "Harry Potter and the Half-Blood Prince" (2009) was followed by the Aleksandr Sokurov-directed "Faust" (2011), itself followed by Tim Burton's campy TV reworking "Dark Shadows" (2012). His next project came from the Coen Brothers, on their early 1960s period piece "Inside Llewyn Davis" (2013), a rare project on which the filmmakers did not work with their usual cinematogrpaher Roger Deakins. Delbonnel's dark and moody camera work brought him numerous citations from as diverse organizations as The American Society of Cinematographers and the Central Ohio Film Critics, as well as an Oscar nomination.
Photos
Bruno Delbonnel
BIG EYES, cinematographer Bruno Delbonnel (left, blue shirt), director Tim Burton (framing), Amy Adams (right), as Margaret Keane, 2014. ph: Leah Gallo/©Weinstein Company
INFAMOUS, cinematographer Bruno Delbonnel, on set, 2006. ©Warner Independent
INFAMOUS, Toby Jones as Truman Capote, cinematographer Bruno Delbonnel, 2006. ©Warner Independent
INFAMOUS, director Douglas McGrath (standing) and cinematographer Bruno Delbonnel (at camera), on set, © 2006 Warner Bros. Entertainment Inc.