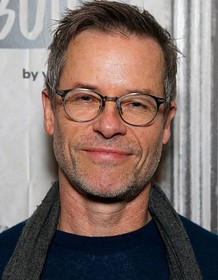 Guy Pearce
Highest Rated: 99% L.A. Confidential (1997)
Lowest Rated: 13% The Seventh Day (2021)
Birthday: Oct 5, 1967
Birthplace: Ely, Cambridgeshire, England, UK
Having earned a considerable reputation in his native Australia through such primetime series as "Neighbours" (Network Ten, 1986- ) and "Home and Away" (Seven Network, 1988- ), actor Guy Pearce earned international attention as the bratty drag queen Adam/Felicia in "The Adventures of Priscilla, Queen of the Desert" (1994). Catching the eye of director Curtis Hanson, Pearce went on to international stardom with his unforgettable portrayal of Lt. Edmund Exley in the critically acclaimed neo-noir, "L.A. Confidential" (1997). From there, he starred in both big and small features like "A Slipping Down Life" (1999) and "Rules of Engagement" (2000), before delivering one of his most memorable performances, playing an amnesiac trying to find his wife's murderer in Christopher Nolan's groundbreaking "Memento" (2001). Following underwhelming results with two high-profile projects, "The Count of Monte Cristo" (2002) and "The Time Machine" (2002), Pearce earned critical kudos in smaller fare like "The Proposition" (2006) and "Death Defying Acts" (2008), in which he portrayed famed escapologist Harry Houdini. He delivered a small, but notable turn in "The Hurt Locker" (2009) before portraying King Edward VIII in the Oscar-winning drama "The King's Speech" (2010) and a playboy who seduces a mother and daughter in "Mildred Pierce" (HBO, 2011), which only added to the handsome actor's exceptional versatility.
Photos
Guy Pearce
Guy Pearce and Lucy Lawless in "Bedtime Stories"
Richard Griffiths, Guy Pearce, Teresa Palmer and Adam Sandler in "Bedtime Stories"
Lucy Lawless and Guy Pearce in "Bedtime Stories"
None
THE COUNT OF MONTE CRISTO, Guy Pearce (center), James Caviezel, Dagmara Dominczyk, 2002, ©Buena Vista Pictures
ADVENTURES OF PRISCILLA QUEEN OF THE DESERT, Guy Pearce & Hugo Weaving, 1994
None
L.A. CONFIDENTIAL, Kevin Spacey, Russell Crowe, Guy Pearce, 1997
ANIMAL KINGDOM, from left: James Frecheville, Guy Pearce, 2009. ph: Tony Mott/©Maximum Films
TWO BROTHERS, (aka DEUX FRERES), Guy Pearce, 2004. ©Universal
COUNT OF MONTE CRISTO, Guy Pearce, Jim Caviezel, 2002. ©Walt Disney
A SLIPPING-DOWN LIFE, Guy Pearce, Lili Taylor, 1999, (c) Lions Gate
DATING THE ENEMY, Guy Pearce, Claudia Karvan, 1996. ©Umbrella Entertainment
TIME MACHINE, Samantha Mumba, Guy Pearce, 2002 2002 (c) Warner Brothers
L.A. CONFIDENTIAL, Kim Basinger, Guy Pearce, 1997
MEMENTO, Guy Pearce, 2000
TIME MACHINE, Guy Pearce, 2002 2002 (c) Warner Brothers
L.A. CONFIDENTIAL, Kim Basinger, Guy Pearce, 1997"
LOCK-OUT, (aka LOCKOUT, aka MS ONE: MAXIMUM SECURITY), from left: Maggie Grace, Guy Pearce, 2012. ©open Road Films