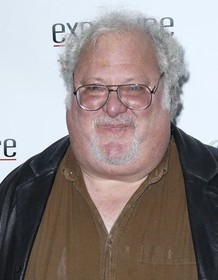 Josh Mostel
Highest Rated: 100% Searching for Bobby Fischer (1993)
Lowest Rated: 14% Animal Behavior (1989)
Birthday: Dec 21, 1946
Birthplace: New York, New York, USA
A portly character player of TV, film and stage, Mostel may be best remembered as the uncle who eats pork on Yom Kippur and gets sick in Woody Allen's nostalgic "Radio Days" (1987) and as the ice cream magnate with a knack for choosing just the right flavor for any occasion in Ron Underwood's "City Slickers" (1991) and its sequel.
Photos
PHANTOM FROM SPACE, Dick Sands, 1953
RADIO DAYS, Josh Mostel, 1987, (c)Orion Pictures
COMPROMISING POSITIONS, Josh Mostel, Deborah Rush, 1985, (c)Paramount
RADIO DAYS, Diane Wiest, Julie Kavner, Michael Tucker, William Magerman, Seth Green, Josh Mostel, Renee Lippin, 1987
WINDY CITY, Josh Mostel (second from left), Jeffrey DeMunn, John Shea, 1983, (c)Warner Bros
CITY SLICKERS, Daniel Stern, David Paymer, Helen Slater, Josh Mostel, Billy Crystal, Bruno Kirby, 1991
WINDY CITY, Josh Mostel, John Shea, 1984. ©Warner Bros.
WINDY CITY, Josh Mostel, 1984. ©Warner Bros.
BILLY MADISON, Jared Cook, Josh Mostel, Christian Matheson, 1995, (c) Universal
THE CHASE, Henry Rollins, Josh Mostel, 1994, TM and Copyright (c)20th Century Fox Film Corp. All rights reserved.
ALMOST YOU, Brooke Adams, Griffin Dunne, 1985. ©20thCentFox
WINDY CITY, Josh Mostel, 1984. ©Warner Bros.
COMPROMISING POSITIONS, Josh Mostel, 1985, (c)Paramount
RADIO DAYS, Tucker, Magerman, Kavner, Wiest, Green, Carrey, Newman, Lippin, Mostel, 1987