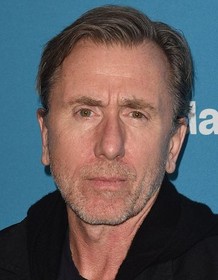 Tim Roth
Highest Rated: 99% Selma (2014)
Lowest Rated: Not Available
Birthday: May 14, 1961
Birthplace: London, England, UK
With a resume that boasts an assortment of villains and ne'er-do-wells, actor Tim Roth often had to avoid being typecast in order to play roles that demonstrated his extraordinary talents. Equally at home in both comedy and drama, Roth made an immediate impression as an unrepentant skinhead - complete with swastika tattoo on his forehead - in his first onscreen performance, "Made in Britain" (1982). He quickly became in demand after playing an assassin-in-training in "The Hit" (1984), then made a name for himself in the United States as a troubled Vincent Van Gogh in Robert Altman's "Vincent & Theo" (1990). But it was his work with Quentin Tarantino in "Reservoir Dogs" (1992) and "Pulp Fiction" (1994) that cemented his status as one of the top stars of the independent world. (Unlike many of Tarantino's favorite actors, however, he did not work with the writer/director often; two decades separated his appearances in the anthology "Four Rooms" (1995) and the violent western "The Hateful Eight" (2015).) Following an Oscar-nominated turn in "Rob Roy" (1995), Roth settled into playing varying degrees of malcontents before cracking big-budget Hollywood with major roles in "Planet of the Apes" (2001) and "The Incredible Hulk" (2008). All the while, he continued to work regularly in smaller films on both sides of the Atlantic, such as Michel Haneke's English-language remake of his own "Funny Games" (2007) and Ava DuVernay's "Selma" (2014).
Photos
DON'T COME KNOCKING, Tim Roth, Sam Shepard, 2005, (c) Sony Pictures Classics
VINCENT AND THEO, Tim Roth, Paul Rhys, 1990, (c)Hemdale Film Corporation
DAY_04-0404.ARW
JUMPIN' AT THE BONEYARD, Tim Roth, Alexis Arquette, 1992, TM and Copyright (c)20th Century Fox Film Corp. All rights reserved.
DARK WATER, Tim Roth, John C. Reilly, 2005, (c) Touchstone
THE MUSKETEER, Stephen Rea, Tim Roth, 2001, (c)Universal
FOUR ROOMS, Tim Roth, 1995
VINCENT & THEO, Paul Rhys, Tim Roth, 1990, (c) Hemdale
HOODLUM, Tim Roth, Laurence Fishburne, Andy Garcia, 1997, (c) United Artists
HOODLUM, Vanessa L. Williams, Tim Roth, Laurence Fishburne, Andy Garcia, Cicely Tyson, 1997, (c) United Artists
RESERVOIR DOGS, Tim Roth, 1992
DON'T COME KNOCKING, Sarah Polley, Sam Shepard, Tim Roth, 2005, (c) Sony Pictures Classics
YOUTH WITHOUT YOUTH, Tim Roth, 2007. ©Sony Pictures Classics
RESERVOIR DOGS, Tim Roth, (far left), Steve Buscemi (center), filming scene, 1992. ©Miramax
FUNNY GAMES U.S., (aka FUNNY GAMES), Naomi Watts, Tim Roth, 2007. ©Warner Independent Pictures
FUNNY GAMES U.S., (aka FUNNY GAMES), Tim Roth, 2007. ©Warner Independent Pictures
FUNNY GAMES U.S., (aka FUNNY GAMES), Tim Roth, Devon Gearhart, Naomi Watts, Brady Corbet, Michael Pitt, 2007. ©Warner Independent Pictures
FUNNY GAMES U.S., (aka FUNNY GAMES), Michael Pitt, Boyd Gaines, Naomi Watts, Tim Roth, 2007. ©Warner Independent Pictures
FUNNY GAMES U.S., (aka FUNNY GAMES), Naomi Watts, Tim Roth, 2007. ©Warner Independent Pictures
ROB ROY, Tim Roth, 1995, on horseback