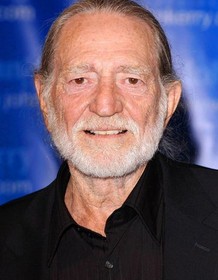 Willie Nelson
Highest Rated: 100% Barbarosa (1982)
Lowest Rated: Not Available
Birthday: Apr 29, 1933
Birthplace: Abbott, Texas, USA
As a key architect of the outlaw country movement in the '70s, Willie Nelson is one of the most influential artists in country music history. But he had an alternately fruitful and frustrating decade-plus career before his outlaw era arrived. Nelson was born in Abbott, Texas on April 29, 1933, and began writing songs in the '50s. He released his first single, "No Place For Me," in 1957 and moved to Houston the following year, where he really kicked off his career. Nelson relocated to Nashville in 1960, where he began writing for other artists as well as making his own records. He proved to be much more successful at the former - his tunes became hits (and classics) for many artists in the '60s, including Patsy Cline ("Crazy"), Faron Young ("Hello Walls"), Billy Walker ("Funny How Time Slips Away"), and Roy Orbison ("Pretty Paper"). Nelson released his first LP, And Then I Wrote, in 1962, but his first few albums didn't gain much commercial traction. And apart from a pair of singles that year, he wouldn't come near the country Top 10 again until 1975. Nelson was perpetually frustrated with Chet Atkins' slick "Nashville Sound" production on his RCA albums, and he abandoned Nashville in 1972 for Austin, where a hippie-informed counterculture with an interest in less commercial country was growing. Signing a new deal with Atlantic, he reinvented himself with 1973's raw, organic Shotgun Willie, which, along with Waylon Jennings' contemporaneous Honky Tonk Heroes, launched the influential outlaw country revolution. He spent the '70s releasing idiosyncratic, often conceptual albums that brought him a new audience and established him as a country icon, including the iconic Western parable Red Headed Stranger. In 1978, Nelson crossed over to mainstream success with the biggest album of his career, the multi-Platinum Stardust, on which he interpreted standards by Hoagy Carmichael, Irving Berlin, et al, though he never abandoned his scruffy, longhaired country hippie image. More huge crossover success followed with such ubiquitous hits as 1980's "On the Road Again" (from his sole starring film role, in the country music drama "Honeysuckle Rose") and 1982's "Always on My Mind." In 1984 he made an even bigger mainstream splash with "To All the Girls I've Loved Before," a duet with Julio Iglesias. In the decades to come, the incredibly prolific Nelson would maintain a dizzying schedule of album releases and concert tours, remaining a vital musical force well into his eighties.
Photos
The Late Show With Stephen Colbert, Willie Nelson, 09/08/2015, ©CBS
SONGWRITER, Kris Kristofferson, Willie Nelson, 1984, (c) TriStar
RED HEADED STRANGER, Willie Nelson, 1986, (c) Alive Films
THE DUKES OF HAZZARD, Willie Nelson, Johnny Knoxville, 2005, (c) Warner Brothers
THE ELECTRIC HORSEMAN, Willie Nelson, 1979
SONGWRITER, Jeff MacKay, Willie Nelson, 1984, (c) TriStar
SONGWRITER, Willie Nelson, Shannon Wilcox, 1984, (c) TriStar
SONGWRITER, Willie Nelson, 1984, (c)TriStar Pictures
SONGWRITER, Richard C. Sarafian, Willie Nelson, 1984, (c)TriStar Pictures
BARBAROSA, from left: Willie Nelson, Gary Busey, 1982. ©Universal Pictures
BARBAROSA, from left: Harry Caesar, Gary Busey, Willie Nelso n, 1982. ©Universal Pictures
THIEF, Willie Nelson, James Caan, 1981, (c) United Artists
BARBAROSA, from left: Gary Busey, Willie Nelson, 1982. ©Universal Pictures
ELECTRIC HORSEMAN (1979) Willie Nelson & Robert Redford
RED HEADED STRANGER, Katharine Ross, Willie Nelson, 1986, (c) Alive Films
BEER FOR MY HORSES, from left: Toby Keith, Willie Nelson, 2008. ©Roadside Attractions
Toby Keith and WIllie Nelson in "Beer for My Horses"
HONEYSUCKLE ROSE, Willie Nelson, 1980. (c) Warner Brothers
Real Time with Bill Maher, Bill Maher (L), Willie Nelson (R), 'Episode 304', Season 12, Ep. #2, 01/24/2014, ©HBO
THE DUKES OF HAZZARD, Burt Reynolds, Willie Nelson, 2005, © Warner Brothers