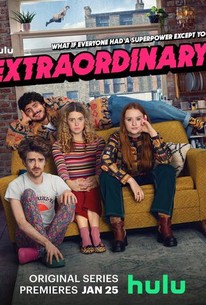 Where to watch
Subscription
Rate And Review
Extraordinary: Season 1 Photos
Audience Reviews for Extraordinary: Season 1
Creative, sweet, funny, heartfelt and unique! Came for Siobhán McSweeney, stayed for the story.

Bloody brilliant TV. Can't wait for season 2

Heart-felt, hilarious and one of the best shows I've seen in a long time. I'll watch the entire season again!

I went in thinking this show was going to be corny and cliche. I was totally wrong. The acting is superb and the story lines are hilarious as well as engaging. Such outstanding character development. This is possibly one of my favorite new shows!

Best show I've watched in years!! Refreshing and unique concept, great cast especially Jen, it's a must watch!

Fun, and unique in a ocean of super hero shows. Highly recommend! Made me smile and I am liking the show not taking itself too seriously.

This is gold! Haven't laughed that much while watching a show in a long time. Only the British can come up with despicable characters that are still so alluring. The whole Jizzlord twist is genius start to cliffhanging end. Please don't take three years for the next season, I have to see how this turns out 😀

Love it, it's absolutely beautiful, sensible, sensitive, and human, even when it's a cat, or many lonely people.

Nice surprise; clever writing!
See Details