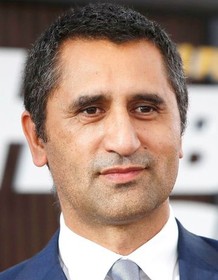 Cliff Curtis
Highest Rated: 97% The Dark Horse (2014)
Lowest Rated: Not Available
Birthday: Jul 27, 1968
Birthplace: Rotorua, New Zealand
Born in New Zealand in 1968, of Maori descent, Cliff Curtis was a performer even before he started his formal training. He attended theater schools in his native New Zealand as well as the Teatro Dimitri Scuola in Switzerland. When he returned to New Zealand, he started out playing the classics on stage, but his heritage clearly played a part in the roles he earned, especially in his early work on screen. Not surprisingly, his first onscreen credits are for film and television from his native New Zealand. What is surprising is that many of these niche roles were giving Curtis international exposure. His first role was a supporting part in Jane Campion's Academy Award-nominated "The Piano" (1993). He had a larger role in another major export from New Zealand, "Once Were Warriors" (1994), where he played the brutal character Bully. The international appeal of this film provided an entrée into Hollywood, where he began to play supporting roles in major releases including the romantic comedy "Six Days, Seven Nights" (1998), political satire "The Insider" (1999), and cop thriller "Training Day" (2001). Curtis never forgot his roots, returning most notably in 2002's Oscar-nominated Whale Rider, in which he played a Maori father trying to understand his young daughter. He continued to play supporting roles in feature films, until he appeared in his first series regular role on "Trauma" (NBC, 2009-2010). Although the series lasted only one season, audiences continued to respond to his work. Curtis starred opposite Ashley Judd in the ABC series "Missing" (ABC, 2012) and in 2014, was a series regular on the Fox show "Gang Related" (Fox, 2014). In 2014, it was announced that Curtis would be the lead on AMC's first spinoff from its hugely successful series "The Walking Dead" (AMC, 2010- ).
Photos
Fear The Walking Dead, Kim Dickens (L), Cliff Curtis (R), 'The Good Man', Season 1, Ep. #6, 10/04/2015, ©AMC
VIRUS, (top to bottom): Cliff Curtis, Sherman Augustus, Julio Oscar Mechoso, William Baldwin, 1999, (c)MCA
Fear The Walking Dead, Kim Dickens (L), Cliff Curtis (R), 'The Good Man', Season 1, Ep. #6, 10/04/2015, ©AMC
RIVER QUEEN, Cliff Curtis, Samantha Morton, 2005.
Fear The Walking Dead, Cliff Curtis, 'The Good Man', Season 1, Ep. #6, 10/04/2015, ©AMC
Fear The Walking Dead, Cliff Curtis, 'The Good Man', Season 1, Ep. #6, 10/04/2015, ©AMC
Fear The Walking Dead, Lorenzo James Henrie (L), Cliff Curtis (C), Alycia Debnam-Carey (R), 'The Good Man', Season 1, Ep. #6, 10/04/2015, ©AMC
Fear The Walking Dead, Lorenzo James Henrie (L), Cliff Curtis (C), Alycia Debnam-Carey (R), 'The Good Man', Season 1, Ep. #6, 10/04/2015, ©AMC
Trauma, Anastasia Griffith (L), Cliff Curtis (R), 'Bad Day at Work', Season 1, Ep. #3, 10/12/2009, ©NBC
Gang Related, Cliff Curtis, 'Almadena', Season 1, Ep. #12, 08/07/2014, ©FOX
Gang Related, Cliff Curtis, 'Pilot', Season 1, Ep. #1, 05/22/2014, ©FOX
Gang Related, Cliff Curtis, 'Dia De Todos Los Santos', Season 1, Ep. #9, 07/17/2014, ©FOX
Gang Related, Cliff Curtis, 'Regreso Del Infierno', Season 1, Ep. #7, 07/03/2014, ©FOX
Gang Related, Emilio Rivera (L), Cliff Curtis (R), 'Dia De Todos Los Santos', Season 1, Ep. #9, 07/17/2014, ©FOX
Gang Related, Cliff Curtis, 'Perros', Season 1, Ep. #4, 06/12/2014, ©FOX
Gang Related, Miraj Grbic (L), Pasha Lychnikoff (C), Cliff Curtis (R), 'Perros', Season 1, Ep. #4, 06/12/2014, ©FOX
Gang Related, Cliff Curtis, 'Almadena', Season 1, Ep. #12, 08/07/2014, ©FOX
Gang Related, Cliff Curtis, 'El Buey y El Alacran', Season 1, Ep. #10, 07/24/2014, ©FOX
Gang Related, Cliff Curtis, 'Almadena', Season 1, Ep. #12, 08/07/2014, ©FOX
Gang Related, Cliff Curtis, 'Almadena', Season 1, Ep. #12, 08/07/2014, ©FOX