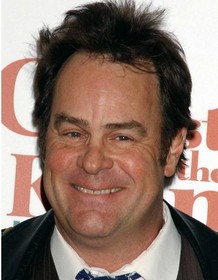 Dan Aykroyd
Highest Rated: 100% Cleanin' Up the Town: Remembering Ghostbusters (2019)
Lowest Rated: Not Available
Birthday: Jul 1, 1952
Birthplace: Ottawa, Ontario, Canada
Arguably the most formidable talent to emerge from the original ensemble of NBC's "Saturday Night Live" (NBC, 1975- ), Canadian Dan Aykroyd enjoyed sustained success as a writer, actor and director, decades after his crucial role establishing the groundbreaking late night comedy show. He was beloved for his classic characterizations of white toast-eating Elwood Blues in "The Blues Brothers" (1980), humbled stock trader Louis Winthorpe III in "Trading Places" (1983), and enthusiastic parapsychologist Ray Stantz in "Ghostbusters" (1984), as well as remaining a fixture in American cinema - sometimes taking heat for a misstep in judgment ("Exit to Eden," 1994); other times surprising by taking home an Academy Award nomination ("Driving Miss Daisy," 1989). While continuing to work with younger comedy superstars such as Adam Sandler and Melissa McCarthy, the tireless actor, writer, and musician also evolved into a successful businessman, known the world round for his partnership in the "House of Blues" chain of nightclubs and the founding of his own Canadian winery. But it was his eccentric run on "SNL" during its golden first years - as well as his formidable onscreen partnership with real-life best friend, John Belushi - that would remain perhaps his greatest comedic legacy.
Photos
Dan Aykroyd
NEIGHBORS, Cathy Moriarty, John Belushi, Dan Aykroyd, 1981. ©Columbia Pictures
PEARL HARBOR, Dan Aykroyd as Captain Thurman, 2001
NEIGHBORS, Dan Aykroyd, Cathy Moriarty, John Belushi, 1981
GHOSTBUSTERS II, Ernie Hudson, Rick Moranis, Sigourney Weaver, Bill Murray, Dan Aykroyd, Harold Ramis, 1989, (c)Columbia Pictures
THE BLUES BROTHERS, Dan Aykroyd, John Belushi, 1980. ©Universal Pictures.
BLUES BROTHERS 2000, John Goodman, Dan Aykroyd, J. Evan Bonifant, Joe Morton, 1998
NEIGHBORS, Dan Aykroyd, 1981. ©Columbia Pictures
GHOSTBUSTERS II, Ernie Hudson, Rick Moranis, Bill Murray, Dan Aykroyd, 1989, (c) Columbia
CELTIC PRIDE, Dan Aykroyd, Damon Wayans, Daniel Stern, 1996, (c)Buena Vista Pictures
GET ON UP, from left: Dan Aykroyd, Chadwick Boseman, as James Brown, 2014. ph: D. Stevens/©Universal Pictures
GHOSTBUSTERS II, Bill Murray, Sigourney Weaver, Dan Aykroyd, 1989
BLUES BROTHERS, Dan Aykroyd, John Belushi, 1980. (c) Universal
GET ON UP, Dan Aykroyd, 2014. ph: D. Stevens/©Universal Pictures
DOCTOR DETROIT, Fran Drescher, Dan Aykroyd, 1983, (c)Universal
THE COUCH TRIP, Dan Aykroyd, 1988, (c) Orion
NEIGHBORS, Dan Aykroyd, John Belushi, 1981
TRADING PLACES, from left, Jamie Lee Curtis, Dan Aykroyd, 1983, ©Paramount
CHAPLIN, Dan Aykroyd, David Duchovny, 1992, ©TriStar Pictures
BLUES BROTHERS, Dan Aykroyd, John Belushi, 1980. (c) Universal
Filmography
Movies
Credit

No Score Yet

No Score Yet

Ghostbusters: Frozen Empire
Dr. Raymond Stantz (Character),
Executive Producer
-
2024

60%

56%

Zombie Town
Len Carver (Character)
-
2023

64%

94%

Ghostbusters: Afterlife
Dr. Raymond Stantz (Character),
Executive Producer
$128.8M
2021

91%

81%

Belushi
Self
-
2020

No Score Yet

No Score Yet

Defend, Conserve, Protect
Narrator
-
2019

100%

100%

Cleanin' Up the Town: Remembering Ghostbusters
Self
-
2019

78%

96%

Good Fortune
Self
-
2016

74%

49%

Ghostbusters
Cabbie (Character),
Executive Producer
-
2016

50%

63%

Live From New York!
Unknown (Character)
-
2015

81%

68%

Get On Up
Ben Bart (Character)
$30.5M
2014

24%

36%

Tammy
Don (Character)
$84.5M
2014

16%

68%

Legends of Oz: Dorothy's Return
Scarecrow (Voice)
$8.5M
2014

No Score Yet

No Score Yet

The Game Changer
Detective Spencer (Character)
-
2013

94%

71%

Behind the Candelabra
Seymour Heller (Character)
-
2013

No Score Yet

No Score Yet

Art Car: The Movie
Unknown (Character)
-
2012

66%

51%

The Campaign
Wade Motch (Character)
$86.9M
2012

No Score Yet

No Score Yet

Flip, Flop, and Fly, 40 Years of the Downchild Blues Band
Unknown (Character)
-
2010

No Score Yet

No Score Yet

Unbeaten
Narrator
-
2010

13%

34%

Yogi Bear
Yogi (Voice)
$100.2M
2010

No Score Yet

87%

Monty Python Almost the Truth Obligatory Making of Special
Unknown (Character)
-
2009

29%

38%

War, Inc.
Mr. Vice President (Character)
$578.5K
2008

14%

69%

I Now Pronounce You Chuck and Larry
Capt. Tucker (Character)
$119.7M
2007

No Score Yet

43%

Shortcut to Happiness
Julius Johnson (Character)
-
2007

No Score Yet

41%

Let's All Hate Toronto
Unknown (Character)
-
2007

No Score Yet

52%

Intern Academy
Dr. Cyrill Kipp (Character)
-
2004

5%

39%

Christmas With the Kranks
Vic Frohmeyer (Character)
$73.7M
2004

45%

65%

50 First Dates
Dr. Keats (Character)
$120.8M
2004

66%

67%

Bright Young Things
Lord Monomark (Character)
$931.8K
2003

14%

68%

Unconditional Love
Max Beasley (Character)
-
2002

15%

40%

Crossroads
Pete (Character)
$37.2M
2002

45%

53%

The Curse of the Jade Scorpion
Chris Magruder (Character)
$7.5M
2001

44%

48%

Evolution
Governor Lewis (Character)
$38.3M
2001

24%

66%

Pearl Harbor
Captain Thurman (Character)
$198.5M
2001

No Score Yet

56%

On the Nose
Dr. Barry Davis (Character)
-
2001

No Score Yet

20%

Earth vs. the Spider
Det. Insp. Jack Grillo (Character)
-
2001

82%

72%

The House of Mirth
Gus Trenor (Character)
$3.0M
2000

42%

42%

Stardom
Barry Levine (Character)
$10.6K
2000

24%

35%

Loser
Dad (Character)
$15.5M
2000

26%

30%

Diamonds
Lance (Character)
$81.9K
1999

92%

52%

Antz
Chip (Voice)
$90.7M
1998

46%

37%

Blues Brothers 2000
Elwood Blues (Character),
Writer,
Producer
$14.0M
1998

No Score Yet

21%

Susan's Plan
Bob (Character)
-
1998

82%

87%

Grosse Pointe Blank
Grocer (Character)
$28.1M
1997

14%

27%

Feeling Minnesota
Ben Costikyan (Character)
$3.1M
1996

47%

64%

My Fellow Americans
President William Haney (Character)
$22.3M
1996

12%

32%

Celtic Pride
Jimmy Flaherty (Character)
$9.2M
1996

30%

47%

Sgt. Bilko
Col. John T. Hall (Character)
$30.1M
1996

0%

20%

Getting Away With Murder
Jack Lambert (Character)
$127.7K
1996

No Score Yet

No Score Yet

Rainbow
Sheriff Wyatt Hampton (Character)
-
1996

39%

90%

Tommy Boy
Ray Zalinsky (Character)
$30.7M
1995

No Score Yet

No Score Yet

The Random Factor
Dexter (Voice)
-
1995

14%

27%

North
Pa Tex (Character)
$6.6M
1994

5%

26%

Exit to Eden
Fred Lavery (Character)
$6.8M
1994

35%

37%

Coneheads
Beldar Conehead/Donald R. DeCicco (Character),
Screenwriter
$20.2M
1993

27%

46%

My Girl 2
Harry Sultenfuss (Character)
$16.7M
1993

No Score Yet

68%

The Best of the Blues Brothers
Unknown (Character)
-
1993

36%

48%

This Is My Life
Arnold Moss (Character)
$2.8M
1992

80%

80%

Sneakers
Mother (Character)
$50.6M
1992

60%

81%

Chaplin
Mack Sennett (Character)
$8.3M
1992

50%

77%

My Girl
Harry Sultenfuss (Character)
$60.2M
1991

15%

48%

Nothing but Trouble
Judge Alvin "J.P" Valkenheiser/Bobo (Character),
Director
$7.5M
1991

0%

27%

Loose Cannons
Ellis Fielding (Character)
$4.5M
1990

85%

81%

Driving Miss Daisy
Boolie Werthan (Character)
$105.6M
1989

55%

61%

Ghostbusters II
Doctor Raymond Stantz (Character),
Writer
$110.4M
1989

40%

71%

The Great Outdoors
Roman Craig (Character)
$37.3M
1988

20%

30%

My Stepmother Is an Alien
Steven Mills (Character)
$12.9M
1988

4%

17%

Caddyshack II
Capt. Tom Everett (Character)
$11.3M
1988

33%

45%

The Couch Trip
John Burns (Character)
$9.9M
1988

50%

41%

Dragnet
Sgt. Joe Friday (Character),
Screenwriter
$56.0M
1987

No Score Yet

38%

One More Saturday Night
Executive Producer
$13.9K
1986

40%

49%

Into the Night
Herb (Character)
-
1985

35%

56%

Spies Like Us
Austin Millbarge (Character),
Screenwriter
$56.5M
1985

95%

88%

Ghostbusters
Doctor Raymond Stantz (Character),
Writer
$298.5M
1984

77%

82%

Indiana Jones and the Temple of Doom
Weber (Character)
-
1984

No Score Yet

52%

Nothing Lasts Forever
Buck Heller (Character)
-
1984

33%

40%

Doctor Detroit
Clifford Skridlow / Doctor Detroit (Character)
-
1983

88%

85%

Trading Places
Louis Winthorpe III (Character)
-
1983

No Score Yet

53%

It Came From Hollywood
Unknown (Character)
-
1982

57%

49%

Neighbors
Vic (Character)
-
1981

72%

92%

The Blues Brothers
Elwood Blues (Character),
Writer
-
1980

40%

48%

1941
Sgt. Frank Tree (Character)
-
1979

No Score Yet

0%

Love at First Sight
Roy (Character)
-
1977

No Score Yet

No Score Yet

The Gift of Winter
Goodly/Rotten (Character)
-
1974
TV