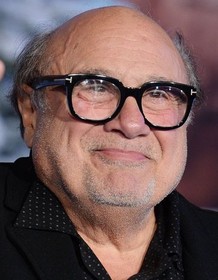 Danny DeVito
Highest Rated: 99% L.A. Confidential (1997)
Lowest Rated: Not Available
Birthday: Nov 17, 1944
Birthplace: Neptune Township, New Jersey, USA
A raucous presence on television and feature films for decades, Danny DeVito transitioned from Emmy-winning comic actor on "Taxi" (ABC/NBC, 1978-1983) to bona fide movie star with "Ruthless People" (1987) and assured feature director ("Throw Momma from the Train," 1987) and producer of such hits as "Pulp Fiction" (1994) and "Man on the Moon" (1999). Born Daniel Michael DeVito, Jr., in an Italian household in Neptune Township, New Jersey on November 17, 1944, he gave his first performances as a student at Oratory Prep High School in Summit, New Jersey. Short of build - he stood 4'10" as a result of the genetic disorder known as Fairbank's disease - and a moderate student, he initially pursued a career as a hairdresser at his sister's salon, which led to studying cosmetics at the American Academy of Dramatic Arts in New York City. Applicants were required to perform a monologue in order to enter the school's various programs, and the response he received for his audition convinced him that acting might be his career of choice. After completing his studies at the American Academy, DeVito made the rounds with East Coast theater companies, including the Eugene O'Neill Theater Center in Connecticut, where he befriended fellow aspiring actor Michael Douglas, and the Westbeth Playwrights Feminist Collective, where he met his future wife, actress Rhea Perlman. After a short stint in Los Angeles, DeVito returned to New York and made his screen acting debut in the independent film "Dreams of Glass" (1970). More minor roles in obscure films followed before Douglas cast him as a mental hospital patient in Milos Forman's adaptation of "One Flew Over the Cuckoo's Nest" (1975). The popularity of the film led to character turns on television and in features, but his true breakout role came in 1978 when he was cast as Louie DePalma, the short-fused dispatcher for a New York taxi company on "Taxi." DeVito reaped numerous award nominations, including Emmy and Golden Globe wins in 1980 and 1981, and parlayed his popularity on the show into steady work as a character actor in features. He was a natural for abrasive, manipulative figures like the scheming con man on Douglas's train in "Romancing the Stone" (1984), but also showed a more kindly side in "Terms of Endearment" (1983) and Brian DePalma's "Wise Guys" (1986). During this period, DeVito also began making inroads to a directorial career: he helmed and starred in segments of a Cinemax anthology series called "Likely Stories" (1983), and made his feature-length debut in "The Ratings Game" (Showtime, 1984), a satire of the television business co-starring Pearlman. After starring in the big-screen comedies "Ruthless People" and "Tin Men" (1987), DeVito made his own feature debut as director with "Throw Momma from the Train," a skewed take on Alfred Hitchcock's "Strangers on a Train" (1954) with DeVito roping Billy Crystal into a plan to murder his domineering mother. A surprise hit, it spurred DeVito to launch his own production company, Jersey Films, with Michael Shamberg and Stacey Sher, which oversaw a remarkable array of popular films in the 1990s, including "Reality Bites" (1991), "Pulp Fiction," "Out of Sight" (1998) and "Man on the Moon," which featured DeVito playing himself opposite Jim Carrey as his "Taxi" co-star, Andy Kaufman. During this period, DeVito continued to not only act in features, including two inspired turns opposite Arnold Schwarzenegger in "Twins" (1988) and "Junior" (1994), as well as Norman Jewison's "Other People's Money" (1991) and a show-stopping performance as the disfigured Penguin in Tim Burton's "Batman Returns" (1992). DeVito also maintained his directorial career, turning the bitter comedy "The War of the Roses" (1989), which reunited him with his "Romancing" co-stars Douglas and Kathleen Turner, as well as an impressive crime epic in "Hoffa" (1992), with Jack Nicholson as the labor chief, and "Matilda" (1996), a spry and charming adaptation of the Roald Dahl novel. DeVito continued on this exceptionally busy path into the new millennium, and if some of his efforts as director, producer and actor were only middling - "Drowning Mona" (2000) and "Death to Smoochy" (2002) were just two of the many that failed to find an audience - the projects that did score as hits, like "Erin Brockovich" (2000), "Garden State" (2004) and "Reno 911!" (Comedy Central, 2003-09), which he produced, or "LA Confidential" (1997), the Disney animated feature "Hercules" (1997) and David Mamet's "Heist" (2002), all of which featured in character roles, were memorable. In 2006, he returned to network television as Glenn Howerton and Kaitlin Olson's perversely odd father on the cult comedy "It's Always Sunny in Philadelphia" (FX, 2005- ). But he remained doggedly active in all other areas of his career, logging voice-acting roles in "The Lorax" (2012) and producing numerous shorts and television episodes, while choosing to appear in an array of diverse live-action projects, including Todd Solondz's "Wiener-Dog" (2017), Burton's "Dumbo" (2019) and "Jumanji: The Next Level" (2019), as well as several episodes of Douglas's Netflix series, "The Kominsky Method" (2018- ). He also returned to feature directing after a 16-year absensce with the post-apocalypse drama "St. Sebastian."
Photos
Danny DeVito
SCALAWAG, Danny DeVito, Kirk Douglas, Mark Lester, Lesley-Anne Down, 1973
WHAT'S THE WORST THAT COULD HAPPEN, Glenne Headly, Danny DeVito, 2001
GET SHORTY, Rene Russo, Danny De Vito, John Travolta, Gene Hackman, 1995
THROW MOMMA FROM THE TRAIN, Billy Crystal, Danny DeVito, 1987. ©Orion
THROW MOMMA FROM THE TRAIN, Danny DeVito, Billy Crystal, 1987, (c) Orion
BATMAN RETURNS, Danny DeVito, 1992. ©Warner Bros.
DECK THE HALLS, Danny DeVito, Matthew Broderick, 2006.TM & ©20th Century Fox. All rights reserved
JUNIOR, Danny DeVito, Arnold Schwarzenegger, Emma Thompson, 1994. ©Universal
THROW MOMMA FROM THE TRAIN, from left: Danny De Vito, Billy Crystal, 1987, (c) Orion/courtesy Everettt Collection
JUNIOR, Danny DeVito, Arnold Schwarzenegger, Emma Thompson, 1994. ©Universal
HOFFA, Danny DeVito, Jack Nicholson, 1992, TM and Copyright (c)20th Century Fox Film Corp. All rights reserved.
It's Always Sunny in Philadelphia, Danny DeVito (L), Mary Elizabeth Ellis (R), 'Frank Falls Out a Window', Season 11, Ep. #2, 01/13/2016, ©FXX
It's Always Sunny in Philadelphia, Danny DeVito, 'The Gang Group Dates', Season 10, Ep. #2, 01/21/2015, ©FXX
It's Always Sunny in Philadelphia, Danny DeVito (L), Kaitlin Olson (C), Charlie Day (R), 'Mac and Dennis Move to the Suburbs', Season 11, Ep. #5, 02/03/2016, ©FXX
HOFFA, Danny DeVito, Jack Nicholson, 1992. ©20th Century Fox
OTHER PEOPLE'S MONEY, Danny DeVito, 1991
THE VAN, Stuart Goetz, Danny DeVito, 1977
THROW MOMMA FROM THE TRAIN, (aka BALANCE MAMAN HORS DU TRAIN), from left: Danny DeVito, Anne Ramsey, 1987, © Orion
THROW MOMMA FROM THE TRAIN, (aka BALANCE MAMAN HORS DU TRAIN), Anne Ramsey (face obsured), Danny DeVito (top), Billy Crystal (bottom), 1987, © Orion
Filmography
Movies
Credit

No Score Yet

No Score Yet

Migration
Uncle Dan (Voice)
-
2023

37%

84%

Haunted Mansion
Bruce Davis (Character)
$67.6M
2023

21%

No Score Yet

Poolman
Unknown (Character)
-
2023

86%

77%

The Survivor
Unknown (Character),
Executive Producer
-
2021

No Score Yet

43%

Reno 911! The Hunt for QAnon
Executive Producer
-
2021

72%

65%

The One and Only Ivan
Bob (Voice)
-
2020

71%

87%

Jumanji: The Next Level
Eddie (Character)
$316.8M
2019

46%

47%

Dumbo
Max Medici (Character)
$114.8M
2019

76%

62%

Smallfoot
Dorgle (Voice)
$83.2M
2018

64%

77%

Animal Crackers
Chesterfield (Voice)
-
2017

92%

87%

Jim & Andy: The Great Beyond - Featuring a Very Special, Contractually Obligated Mention of Tony Clifton
Unknown (Character)
-
2017

24%

28%

The Comedian
Jimmy Berkowitz (Character)
$1.7M
2016

74%

41%

Wiener-Dog
Dave Schmerz (Character)
$445.4K
2016

No Score Yet

No Score Yet

Curmudgeons
Unknown (Character),
Director,
Producer
-
2016

97%

87%

Harold and Lillian: A Hollywood Love Story
Self
-
2015

60%

43%

All the Wilderness
Dr. Pembry (Character)
-
2014

68%

53%

A Walk Among the Tombstones
Producer
$26.0M
2014

No Score Yet

No Score Yet

Little Spirit: Christmas in New York
Unknown (Character)
-
2012

13%

31%

Hotel Noir
Unknown (Character)
-
2012

54%

63%

Dr. Seuss' the Lorax
The Lorax (Voice)
$213.9M
2012

No Score Yet

65%

Girl Walks Into a Bar
Aldo (Character)
-
2011

17%

41%

When in Rome
Al (Character)
$32.7M
2010

78%

50%

Solitary Man
Jimmy (Character)
$4.4M
2009

No Score Yet

42%

Housebroken
Cathkart (Character)
-
2009

No Score Yet

29%

Just Add Water
Merl (Character)
-
2008

26%

44%

Nobel Son
Gastner (Character)
$333.9K
2007

30%

33%

The Good Night
Mel (Character)
$22.2K
2007

34%

51%

RENO 911!: Miami
District Attorney (Character),
Producer,
Executive Producer
$20.3M
2007

70%

87%

Freedom Writers
Producer
$36.6M
2007

24%

29%

Even Money
Walter (Character)
-
2006

23%

35%

The Oh in Ohio
Wayne the Pool Guy (Character)
-
2006

64%

65%

10 Items or Less
Big D (Character)
$81.4K
2006

6%

30%

Deck the Halls
Buddy Hall (Character)
$35.1M
2006

No Score Yet

31%

Relative Strangers
Frank Menure (Character),
Producer
-
2006

22%

62%

Marilyn Hotchkiss' Ballroom Dancing and Charm School
Booth (Character)
$247.1K
2005

30%

42%

Be Cool
Martin Weir (Character),
Producer
$55.8M
2005

86%

88%

Garden State
Executive Producer
$26.8M
2004

27%

47%

Along Came Polly
Producer
$87.9M
2004

No Score Yet

11%

Christmas in Love
Brad (Character)
-
2004

75%

89%

Big Fish
Amos Calloway (Character)
$66.3M
2003

35%

40%

Duplex
Director
$9.7M
2003

40%

44%

Anything Else
Harvey (Character)
$3.2M
2003

65%

68%

Camp
Producer
$1.6M
2003

No Score Yet

No Score Yet

Our House
Director
-
2003

51%

36%

Simone
Executive Producer
$9.7M
2002

42%

66%

Death to Smoochy
Burke (Character),
Director
$8.4M
2002

25%

79%

How High
Producer
$31.2M
2001

68%

59%

Heist
Bergman (Character)
$23.5M
2001

10%

35%

What's the Worst That Could Happen?
Max Fairbanks (Character)
$32.3M
2001

45%

51%

The Caveman's Valentine
Producer
$687.1K
2001

10%

48%

Screwed
Grover Cleaver (Character)
$7.0M
2000

85%

81%

Erin Brockovich
Producer
$125.5M
2000

29%

46%

Drowning Mona
Chief Wyatt Rash (Character),
Executive Producer
$15.4M
2000

73%

71%

The Big Kahuna
Phil Cooper (Character)
$3.2M
1999

64%

79%

Man on the Moon
George Shapiro (Character),
Producer
$34.6M
1999

80%

81%

The Virgin Suicides
Dr. Horniker (Character)
$4.9M
1999

60%

62%

Living Out Loud
Pat Francato (Character),
Producer
$12.9M
1998

No Score Yet

84%

The Pentagon Wars
Executive Producer
-
1998

94%

74%

Out of Sight
Producer
$37.5M
1998

99%

94%

L.A. Confidential
Sid Hudgens (Character)
$64.6M
1997

82%

78%

John Grisham's The Rainmaker
Deck Shifflet (Character)
$45.9M
1997

82%

76%

Hercules
Philoctetes (Voice)
$99.1M
1997

82%

87%

Gattaca
Producer
$12.3M
1997

14%

27%

Feeling Minnesota
Producer
$3.1M
1996

92%

73%

Matilda
Harry Wormwood/Narrator (Character),
Director
$33.1M
1996

43%

63%

Space Jam
Mr. Swackhammer (Voice)
$90.4M
1996

56%

53%

Mars Attacks!
Rude Gambler (Character)
$37.8M
1996

13%

83%

Sunset Park
Producer
$9.0M
1996

88%

70%

Get Shorty
Martin Weir (Character),
Producer
$68.8M
1995

39%

22%

Junior
Dr. Larry Arbogast (Character)
$36.7M
1994

92%

96%

Pulp Fiction
Executive Producer
-
1994

12%

53%

Renaissance Man
Bill Rago (Character)
$24.2M
1994

63%

74%

Reality Bites
Producer
$20.0M
1994

0%

29%

Look Who's Talking Now
Rocks (Character)
$9.4M
1993

52%

58%

Hoffa
Bobby Ciaro (Character),
Director,
Producer
$23.3M
1992

81%

73%

Batman Returns
Oswald Cobblepot/The Penguin (Character)
$160.3M
1992

31%

46%

Other People's Money
Lawrence Garfield (Character)
$24.2M
1991

28%

59%

Jack the Bear
John Leary (Character)
$4.7M
1991

83%

71%

The War of the Roses
Gavin D'Amato (Character),
Director
$84.1M
1989

No Score Yet

No Score Yet

Amazing Stories: The Movie
Director
-
1989

42%

39%

Twins
Vincent Benedict (Character)
$107.4M
1988

78%

64%

Tin Men
Ernest Tilley (Character)
$25.3M
1987

64%

54%

Throw Momma From the Train
Owen/Ned 'Little Ned' Lift/Cousin Paddy (Character),
Director
$54.4M
1987

No Score Yet

72%

My Little Pony
Grundle King (Voice)
$4.4M
1986

0%

28%

Head Office
Frank Stedman (Character)
$3.4M
1986

31%

41%

Wise Guys
Harry Valentini (Character)
$7.0M
1986

93%

72%

Ruthless People
Sam Stone (Character)
$70.9M
1986

46%

37%

The Jewel of the Nile
Ralph (Character)
$65.5M
1985

No Score Yet

No Score Yet

Amazing Stories: The Movie II
Herbert (Character)
-
1985

No Score Yet

42%

The Ratings Game
Vic De Salvo (Character),
Director
-
1984

86%

69%

Romancing the Stone
Ralph (Character)
-
1984

44%

63%

Johnny Dangerously
Burr (Character)
-
1984

82%

83%

Terms of Endearment
Vernon Dahlart (Character)
-
1983

No Score Yet

24%

Going Ape!
Lazlo (Character)
-
1981

69%

49%

Goin' South
Hog (Character)
-
1978

15%

53%

The World's Greatest Lover
Assistant Director (Character)
-
1977

No Score Yet

26%

The Van
Andy (Character)
-
1977

93%

96%

One Flew Over the Cuckoo's Nest
Martini (Character)
-
1975

No Score Yet

No Score Yet

The Money
Bartender (Character)
-
1975

No Score Yet

No Score Yet

Hurry Up, or I'll Be 30
Petey (Character)
-
1973

No Score Yet

No Score Yet

Lady Liberty
Fred Mancuso (Character)
-
1972
TV