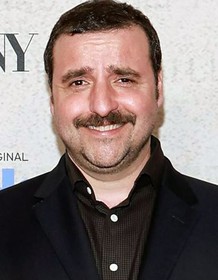 David Krumholtz
Highest Rated: 93% Oppenheimer (2023)
Lowest Rated: 11% Ghost Team (2016)
Birthday: May 15, 1978
Birthplace: New York, New York, USA
Youthful character actor David Krumholtz received his start largely due to his resemblance to another established actor, but it was his natural ability and persevering work ethic that made him one of the more steadily employed actors of his generation. After being cast as Judd Hirsch's son in the Broadway drama "Conversations With My Father," he began picking up film work in features like "Addams Family Values" (1993) and "The Santa Clause" (1994). Early efforts to be cast in a successful television series failed to pan out, as was the case with the ill-fated "Chicago Sons" (NBC, 1996-97). Thankfully, these disappointments were balanced by noteworthy turns in respected films like Ang Lee's "The Ice Storm" (1997) and even more prominently in "The Slums of Beverly Hills" (1998). Well regarded by his peers, Krumholtz could frequently be seen making cameos on shows such as Judd Apatow's "Freaks & Geeks" (1999-2000) and "Undeclared" (FOX, 2001-02), but attempts to join the permanent cast of a successful series, as in "The Lyon's Den" (NBC, 2003-04), continued to elude him. Nonetheless, Krumholtz made his presence known with hilarious cameos in films like "Harold & Kumar Go to White Castle" (2004) and "Serenity" (2005). His persistence paid off, however, when he was cast on the hit crime drama "Numb3rs" (CBS, 2004-2010), opposite Rob Morrow. Even after the series ended its successful run, Krumholtz remained the epitome of the working actor, straddling the mediums of film and television with equal dexterity.
Photos
David Krumholtz
10 THINGS I HATE ABOUT YOU, Susan May Pratt, David Krumholtz, Gabrielle Union, Andrew Keegan, Julia Stiles, Heath Ledger, Larisa Oleynik, Joseph Gordon-Levitt, 1999, (c) Touchstone
SANTA CLAUSE 2, David Krumholtz, Danielle Woodman, Spencer Breslin, director Michael Lembeck on the set, 2002, (c) Walt Disney
SANTA CLAUSE 2, Eric Lloyd, Tim Allen, Elizabeth Mitchell, David Krumholtz, 2002, ©Buena Vista Pictures
None
SCORCHED, Paulo Costanzo, David Krumholtz, 2003, (c) Constantin Films
SLUMS OF BEVERLY HILLS, Marisa Tomei, Eli Marienthal, Alan Arkin, Natasha Lyonne, David Krumholtz, 1998, TM and Copyright (c) 20th Century Fox Film Corp. All rights reserved.
ADDAMS FAMILY VALUES, Jimmy Workman, Christina Ricci, David Krumholtz, 1993, (c)Paramount
SERENITY, Nectar Rose, David Krumholtz, 2005, (c) Universal /
SIDEWALKS OF NEW YORK, Brittany Murphy, David Krumholtz, 2001.
10 THINGS I HATE ABOUT YOU, front from left: Larisa Oleynik, Gabrielle Union, Joseph Gordon-Levitt, David Krumholtz (on stairs in undershirt), 1999, © Buena Vista
SANTA CLAUSE 2, David Krumholtz, Tim Allen, Spencer Breslin, 2002, ©Buena Vista Pictures
SANTA CLAUSE 2, Spencer Breslin, David Krumholtz, Tim Allen, 2002, ©Buena Vista Pictures
Comedy Bang! Bang!, Scott Aukerman (L), David Krumholtz (R), 06/08/2012, ©IFC
Comedy Bang! Bang!, David Krumholtz, 06/08/2012, ©IFC
Comedy Bang! Bang!, David Krumholtz, 06/08/2012, ©IFC
Gigi Does It, Peter MacNicol (L), David Krumholtz (R), 'Call Your Grandmother', Season 1, Ep. #2, 10/08/2015, ©IFC
Gigi Does It, Peter MacNicol (L), David Krumholtz (C), Ricky Mabe (R), 'Call Your Grandmother', Season 1, Ep. #2, 10/08/2015, ©IFC
Gigi Does It, Ricky Mabe (L), David Krumholtz (R), 'Call Your Grandmother', Season 1, Ep. #2, 10/08/2015, ©IFC
Gigi Does It, Ricky Mabe (L), David Krumholtz (R), 'Call Your Grandmother', Season 1, Ep. #2, 10/08/2015, ©IFC