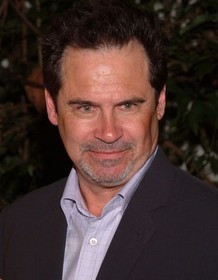 Dennis Miller
Highest Rated: 86% Thank You for Smoking (2005)
Lowest Rated: Not Available
Birthday: Nov 3, 1953
Birthplace: Pittsburgh, Pennsylvania, USA
Born in Pittsburgh, PA on Nov. 3, 1953, Dennis Miller was raised primarily by his mother, Norma Miller, in the nearby suburb Castle Shannon. After the arrivals of Miller's younger brothers James and Richard, the boys' father left the family and then died while the children were still young. As with many comics of his generation, the dark shortcomings that belied 1950s TV sitcom family dynamics - which very directly hit home in this case - profoundly formed young Dennis Miller's general skepticism, hostility toward hypocrisy, and scathing sense of humor. Miller graduated from Keystone Oaks High School in 1971. Claiming to be inspired by how sharp Robert Redford looked playing Washington Post reporter Bob Woodward in "All the President's Men" (1976), he majored in journalism at downtown Pittsburgh's Point Park University. Miller also joined the Sigma Tau Gamma fraternity while at PPU, and graduated with a BA degree in 1975. After college, Miller took second place in a 1979 Playboy magazine joke-writing contest and worked in local Pittsburgh television. Throughout the early 1980s, he composed humor segments for the nightly news program "Evening Magazine" and he hosted the teen-focused "The Trolley Show," before moving to New York City to pursue stand-up comedy. From his earliest moments on stage, Miller peppered his self-consciously laid-back delivery with winking, ironic show business clichés while making elaborate references to all manner of cultural material, thereby creating a highly stylized series of comical metaphors. A typical Miller routine at that time might have connected movie quotes, TV characters, historical milestones, classic literature, and ultra-lowbrow entertainment figures to any given punchline. While persistently working his way up the stand-up chain in both New York and Los Angeles, Miller won a slot on the syndicated TV talent contest "Star Search" (1983-95) in 1985. The comedian Sinbad defeated him after a single round, but Miller's simultaneously relaxed and forthright style caught the attention of "Saturday Night Live" talent scouts. That, along with Miller's rising reputation on the club circuit, prompted "SNL" executive producer Lorne Michaels to catch the funnyman's live act in L.A. In November 1985, Michaels was slated to return to the helm of "SNL" after a five-year absence, starting off with a fresh cast and new energy. In Miller, he felt he found a unique comic voice for the show's pivotal "Weekend Update" feature. Miller came off strongest by sticking to his own persona, which he overwhelmingly did during his tenure on the series.The 1985-86 edition of "Saturday Night Live" turned out to be one of the more troubled seasons in the show's history, but Miller's "Weekend Update" caught on quickly and was one of the few elements to be brought back the following fall. Audiences responded positively to Miller's sarcasm and the giggle that he interjected after jokes. He ended each "Weekend Update" by announcing: "That's the news, and I am outta here!" Along with Jon Lovitz and Dana Carvey, Miller was one of the sketch show's primary breakout stars of the mid-1980s. "Weekend Update" earmarked Miller as a political comic; a persona he brought to the first of his many HBO specials, "Mr. Miller Goes to Washington" (1988), which was recorded in the District of Columbia. His follow-up special, "Dennis Miller in Black and White" (1990), further solidified the comedian's standing as an anti-authoritarian - and, in particular, an anti-conservative - cynic. After six favorable "Saturday Night Live" seasons, Miller left the series in 1992 to launch his own late-night talk venture. "The Dennis Miller Show" (1992-93) was a nationally syndicated, hour-long weeknight series in the classic "Tonight Show" format that attempted to capture the "alternative buzz" of the early 1990s. Actor and "National Lampoon" editor Nick Bakay served as Miller's announcer/foil, while guitarist Andy Summers of the 1980s band The Police led the house band. Unfortunately, "The Dennis Miller Show" never caught on amidst the late-night talk wars of its era, and it was canceled before the end of its first full season. Cable proved a better fit for Miller. After hosting "The 1992 MTV Movie Awards" and starring on "Live from Washington D.C.: They Shoot HBO Specials, Don't They?" (1993), the series "Dennis Miller Live" (1994-2002) debuted on April 22, 1994 as an instant hit, running on Friday nights on HBO for nine seasons. Each episode opened with a stream-of-consciousness style monologue on a single topic that began with the phrase, "Now I don't want to get off on a rant here ," and concluded with the statement, " but, of course, that's just my opinion. I could be wrong." Over the course of its run, "Dennis Miller Live" garnered five Emmy Awards for both the writing staff and the host himself. During the course of "Dennis Miller Live," the comedian expanded into other outlets. He emceed "The 1994 Billboard Music Awards" and both the 1995 and 1996 editions of "The MTV Video Music Awards," plus two more HBO projects: "Citizen Arcane" (1996) and "The Millennium Special: 1,000 Years, 100 Laughs, 10 Really Good Ones" (1999). Miller also began acting in movies, most notably, in "The Net" (1995), "Bordello of Blood" (1996), and "Murder at 1600" (1997). Facing its 30th season in 2000, ABC's "Monday Night Football" (1970- ) aimed to enliven its on-air chatter by recruiting a non-traditional sportscaster into its commentary booth. It was Dennis Miller who won the position. The prospect of Miller on "Monday Night Football" generated copious pre-publicity, but the results proved semi-disastrous. Miller's flippant tone and frequently obscure metaphors confounded fans and annoyed critics. Miller lasted only two seasons on "Monday Night Football." Removing some of the sting from his football fumble was Miller's well-received portrayal of a radio shock jock in the big screen David Spade farce, "Joe Dirt" (2001). However, not long after that film, the definitive somber moment of the early 21st century made a dramatic impact on Dennis Miller's sensibilities, both comedic and otherwise. Following the terrorist attacks of Sept. 11, 2001, Miller shifted to an outlook that appeared to be more classically conservative. Publically, Miller had traditionally backed Democratic politicians but then, largely aimed his barbs at liberal policies and politicians. Despite general assumptions, Miller defined himself as "a conservative libertarian." Just 10 days after 9/11, Miller's reconfigured perspective came to light via his "Real Free Speech" commentary segment on the Fox News program, "Hannity and Colmes." Miller's angry, immigration-themed piece planted the seeds for later partnerships between Miller and the network, which billed itself as "Fair and Balanced," but which was popularly perceived as being tilted toward the right. After upping the brashness of his new ideology on the HBO special "Raw Feed," Miller returned to cable fulltime in a CNBC solo venture simply titled "Dennis Miller" (2003-05), that was quietly canceled. Miller then played in director Jason Reitman's cinematic send up of the cigarette industry, "Thank You for Smoking" (2006), as himself. Miller moved on to talk radio. Westwood One launched "The Dennis Miller Show" in 2007, as a live, three-hour, call-in news and political discussion program airing weekdays. Originating from Los Angeles, the show was syndicated to over 250 radio stations. Miller's daytime radio success, did not translate well to TV game shows. In 2007, he briefly hosted the quiz program "Grand Slam" on GSN. A year later, Miller's NBC game show "Amne$ia" (2008) lasted for just one month prior to disappearing. Again, Miller set his sights on the world of sports by tossing his talents into the arena of professional wrestling in 2009. First, he guest-hosted World Wrestling Entertainment's "The 2009 Slammy Awards." Then Miller appeared on a 2009 edition of "WWE: Raw Is War" (1997- ). However odd Miller's wrestling adventures might have come off, it seemed somehow in keeping his other late-2009 endeavor: a Friday night commentary segment titled "Miller Time," where he cracked wise via satellite opposite verbal grappler Bill O'Reilly on the Fox News network's "The O'Reilly Factor" (1996- ). More recently, Miller delivered another comedy special, "Fake News, Real Jokes." (2018).
Photos
TALES FROM THE CRYPT PRESENTS: BORDELLO OF BLOOD, Dennis Miller, 1996, (c)Universal
DISCLOSURE, Dennis Miller, 1994, (c)Warner Bros.
THE NET, Sandra Bullock, Dennis Miller, 1995. (c) Columbia TriStar.
JOE DIRT, Dennis Miller, David Spade, 2001. ©Columbia Pictures
MURDER AT 1600, Dennis Miller, Diane Lane, Wesley Snipes, 1997, (c)Warner Bros.
The Tonight Show With Jay Leno, Dennis Miller (L), Jay Leno (R), 'Season', ©NBC
The Tonight Show With Jay Leno, Dennis Miller (L), Jay Leno (R), 'Season', ©NBC
TALES FROM THE CRYPT PRESENTS: BORDELLO OF BLOOD, Angie Everhart, Dennis Miller, 1996, (c)Universal
The Tonight Show With Jay Leno, Dennis Miller (L), Jay Leno (R), 'Season', ©NBC
The Tonight Show With Jay Leno, from left: Ross Mathews, Dwight Yoakam, Jay Leno, Dennis Miller, 'Season', ©NBC
Saturday Night Live, Dennis Miller (L), Jane Lynch (R), 'Season 16', ©NBC
Saturday Night Live, Dennis Miller, 'Season 16', ©NBC
TALES FROM THE CRYPT PRESENTS: BORDELLO OF BLOOD, Dennis Miller, 1996, (c)Universal
Saturday Night Live, Dennis Miller, 'Season 16', ©NBC
Saturday Night Live, Dennis Miller, 'Season 16', ©NBC
Hawaii Five-O, Dennis Miller, 'Lekio (Radio)', Season 2, Ep. #18, 02/27/2012, ©CBS
THE NET, Dennis Miller, 1995. (c) Columbia TriStar.
DISCLOSURE, Dennis Miller, Nicholas Sadler, Michael Douglas, 1994, (c)Warner Bros.
NEVER TALK TO STRANGERS, Dennis Miller, Rebecca De Mornay, 1995, (c)TriStar Pictures
DISCLOSURE, Dennis Miller, 1994, (c)Warner Bros.