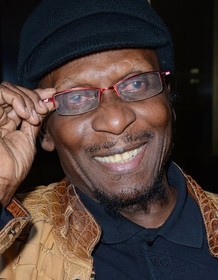 Jimmy Cliff
Highest Rated: 97% Muscle Shoals (2013)
Lowest Rated: 11% Club Paradise (1986)
Birthday: Apr 1, 1948
Birthplace: St. Catherine, Jamaica
An iconic figure in the history of Jamaican music, Jimmy Cliff was a Grammy-winning singer and songwriter whose stirring anthems for liberty and independence helped to define reggae music to the world. Cliff began generating hits as a teenager in the early 1960s with the help of producer Leslie Kong, but soon eclipsed this material after moving to England at the behest of Island Records head Chris Blackwell. He drew inspiration from the country's booming rock and R&B movements, which informed such breakout hits as "Wonderful World, Beautiful People" and "Vietnam." The 1970s were initially a boom period for Cliff, thanks to his starring role as a musician-turned-outlaw in the cult classic "The Harder They Come" (1972) and its top-selling soundtrack. But Cliff's eclectic sound failed to generate the same attention as his label mate, Bob Marley, in America, and by the end of the decade, his recorded output paled to his popularity as a live act, though he remained in demand throughout the Third World. From the 1970s onward, his best songs enjoyed a second life through numerous covers by Bruce Springsteen, Keith Richards and others, which in turn led to his induction into the Rock and Roll Hall of Fame in 2009. Cliff's stirring songs and fiercely independent spirit made him a pioneer of reggae music and a spiritual forefather to countless Jamaican artists who followed in his wake.
Photos
CLUB PARADISE, Jimmy Cliff, 1986, (c)Warner Bros.
CLUB PARADISE, Jimmy Cliff, Robin Williams, Peter O'Toole, 1986
CLUB PARADISE, Front row: Eugene Levy, Rick Moranis, Jimmy Cliff, Joe Flaherty, Robin williams (center left), Twiggy, (center), Adolph Caesar, Brian Doyle- Murray, Joanna Cassidy, Peter O'Toole, 1986. ©Warner Brothers/courtesy Everett
MUSCLE SHOALS, Jimmy Cliff, 2013, ©Magnolia Pictures
CLUB PARADISE, (l-r): Jimmy Cliff, Joanna Cassidy, Robin Williams, Twiggy, Peter O'Toole, 1986, (c)Warner Bros.