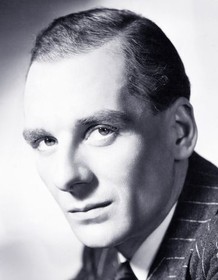 John Gielgud
Highest Rated: 100% The Shooting Party (1984)
Lowest Rated: 13% Arthur 2: On the Rocks (1988)
Birthday: Apr 14, 1904
Birthplace: South Kensington, London, England, UK
Widely considered one of the finest actors of the 20th-Century, the versatile and prolific Sir John Gielgud fashioned an astounding career that spanned nearly 80 years. Born into a renowned English theater family, Gielgud began performing on stage in 1921 and was soon touted as one of the leading Shakespearian actors of his day. His continued efforts producing other classic works at the renowned Queen's Theatre throughout the 1930s and 1940s further solidified his growing reputation. Gielgud's film output began to increase mid-century with notable productions like "Julius Caesar" (1953) and "Richard III" (1955), in addition to a growing recognition on the stages of Broadway for such productions as "Ages of Man" and "Little Fish, Big Fish," both of which earned him a Tony Award. Modern-era works by the likes of David Storey and Harold Pinter occupied Gielgud's time throughout much of the 1970s, but it was near the dawn of the following decade when the heralded stage actor also became one of the most respected film actors ever to grace the screen. Following acclaimed performances in efforts like Alain Resnais' "Providence" (1977), the septuagenarian actor won an Oscar for his supporting role as the less-than-amused butler in the hit comedy "Arthur" (1981). Accolades continued to come for his work on such miniseries as "Brideshead Revisited" (PBS, 1982), as well as on radio plays alongside protégé Kenneth Branagh. One of the few performers to win an Oscar, Tony, Emmy and Grammy, Gielgud's placement in the pantheon of all-time greats was inarguably secure.
Photos
THE BARRETTS OF WIMPOLE STREET, Jennifer Jones, John Gielgud, Bill Travers, 1957
ASSIGNMENT TO KILL, John Gielgud, 1969
LOST HORIZON, John Gielgud, 1973
MURDER BY DECREE, John Gielgud, 1979, (c) Avco Embassy
SCANDALOUS, John Gielgud, 1984, (c) Orion
EAGLE IN A CAGE, John Gielgud, 1972
THE FORMULA, John Gielgud, 1980, (c) MGM
LOST HORIZON, Peter Finch, John Gielgud, 1973
JULIUS CAESAR, R. Johnson, R. Chamberlain, R. Vaughn, D. Rigg, J. Gielgud, C. Heston, J. Bennett, J. Robards, 1970
THE SHOES OF THE FISHERMAN, Anthony Quinn, Sir John Gielgud, Vittorio De Sica, Leo McKern, 1968
JULIUS CAESAR, Louis Calhern, Richard Hale, John Gielgud, 1953
GALILEO, (aka GALILEO GALILEI), John Gielgud, (in red), 1975
RICHARD III, John Gielgud, Mary Kerridge, Cedric Hardwicke, Paul Huson, Laurence Olivier, 1955
JULIUS CAESAR, Jill Bennett, (background), John Gielgud, 1953
EAGLE IN A CAGE, John Gielgud, 1972
JULIUS CAESAR, Greer Garson, Louis Calhern, Richard Hale, John Gielgud, James Mason, 1953
MURDER ON THE ORIENT EXPRESS, Albert Finney, John Gielgud, 1974
RICHARD III, John Gielgud, Laurence Olivier, 1955
THE PRIME MINISTER, John Gielgud (center), Fay Compton, 1941
AROUND THE WORLD IN EIGHTY DAYS, Noel Coward, John Gielgud, 1956.