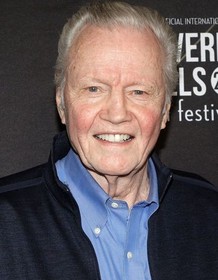 Jon Voight
Highest Rated: 100% Uprising (2001)
Lowest Rated: Not Available
Birthday: Dec 29, 1938
Birthplace: Yonkers, New York, USA
Ever since he made his way into the American consciousness with his Oscar-nominated portrayal of Joe Buck, the naïve Texan-turned-New York City hustler in "Midnight Cowboy" (1969), actor Jon Voight was associated with the angst and unruliness that typified the late-1960s counterculture. Prior to his breakthrough role, Voight had earned acclaim as a gifted performer on both stage and screen. But once he came into his own, the actor went on to star in some of the most important works of cinema being made by the New Hollywood of the 1970s. Following a supporting turn as the wheeling-dealing Milo Minderbinder in "Catch-22" (1970), he gave a sensitive portrayal of the intellectual Ed in the seminal "Deliverance" (1972). But it was his Academy Award-winning turn as an injured Vietnam veteran looking to heal both spiritually and physically in "Coming Home" (1978) that cemented his place in cinema history. Though he faltered a bit during the first half of the 1980s, Voight re-emerged with another award-worthy performance; this time playing a brutal escaped convict in "Runaway Train" (1985), which helped take his career in a new direction. He reached blockbuster status with supporting roles as various bad guys in "Mission: Impossible" (1996), "Enemy of the State" (1998) and "Varsity Blues" (1999), while earning more acclaim for his portrayal of sportscaster Howard Cosell in "Ali" (2001) and President FDR in "Pearl Harbor" (2001). Despite some bad press regarding his well-known estrangement with daughter and superstar Angelina Jolie and a hard right-turn into national politics, Voight nonetheless remained one of the more respected actors of his generation.
Photos
Jon Voight
MIDNIGHT COWBOY, Jon Voight (left), 1969
CATCH-22, Jon Voight, 1970
DELIVERANCE, Jon Voight (center), on set, 1972
DESERT BLOOM, Jon Voight, Ellen Barkin, JoBeth Williams, 1986, (c) Columbia
MIDNIGHT COWBOY, Jon Voight, Dustin Hoffman, 1969.
THE ODESSA FILE, Jon Voight, 1974
MIDNIGHT COWBOY, Dustin Hoffman, Jon Voight, 1969.
THE REVOLUTIONARY, Jon Voight, 1970
COMING HOME, Jon Voight, 1978, (c) United Artists
COMING HOME, Jon Voight, Jane Fonda, 1978, (c) United Artists
COMING HOME, Jon Voight, 1978, ©United Artists
JL RANCH, (aka JL FAMILY RANCH), from left: Skyler Shaye, Jon Voight, 2016. ph: Brian Douglas /© Hallmark
COMING HOME, Jon Voight, Jane Fonda, 1978, (c) United Artists
THE ODESSA FILE, Jon Voight, 1974
THE REVOLUTIONARY, Jon Voight, 1970
THE ODESSA FILE, Jon Voight, 1974
CATCH-22, Jon Voight, Anthony Perkins, 1970
DELIVERANCE, Jon Voight, 1972
COMING HOME, Jane Fonda, Jon Voight, 1978, (c) United Artists