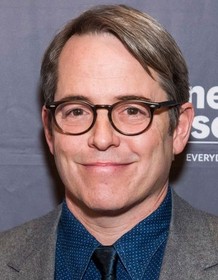 Matthew Broderick
Highest Rated: 100% Too Soon: Comedy After 9/11 (2021)
Lowest Rated: 6% Deck the Halls (2006)
Birthday: Mar 21, 1962
Birthplace: New York, New York, USA
A longtime star of both the stage and screen, Matthew Broderick remained most iconic for his title role as a charismatic high schooler in the classic comedy "Ferris Bueller's Day Off" (1986). Born in New York City in 1965 to playwright Patricia Broderick and actor James Broderick, Broderick began studying acting at HB Studio, appearing in plays alongside his father. Impressing the directors and writers of the theater community with his performances, Broderick was soon appearing off-Broadway with Harvey Fierstein in a 1982 production of "Torch Song Trilogy." He made his Broadway debut the following year in Neil Simon's "Brighton Beach Memoirs," the same year he also made his film debut in "Max Dugan Returns" (1983) and "WarGames" (1983), capping off the year with a Tony award for Best Featured Actor in a Play. He returned to Broadway to star in Simon's "Biloxi Blues" (1985) before landing the role of Ferris Bueller, which instantly took him from moderate fame to movie-star status. Then in 1987, Broderick was vacationing in Northern Ireland when he accidentally veered into the wrong lane, hitting another car in a massive head-on collision. Both the driver and passenger in the other car were killed instantly, and Broderick suffered a concussion, a fractured leg, fractured ribs, and a collapsed lung. Broderick was unable to remember the crash or the circumstances surrounding it, and was fined $175 for careless driving. It would take the better part of the year for him to recover, but he made a strong creative return, starring in the film adaptation of "Biloxi Blues" (1988) and co-starring with Denzel Washington in the acclaimed Civil War drama "Glory" (1989). Being so strongly tied to the Ferris Bueller, a character iconic to the 1980s, at first made it challenging for Broderick to find his footing as an actor in the first half of the 1990s, and films like "Out on a Limb" (1992) and "The Night We Never Met" (1993) failed to make an impact. But by 1994, Broderick was hitting his stride once again, providing the voice of Simba in the monumental Disney hit "The Lion King" (1994). He returned to Broadway the next year to star in "How to Succeed in Business Without Really Trying' (1997) alongside fellow stage-to-screen actor Sarah Jessica Parker, whom he married two years later. Broderick won a Tony for Best Actor in a Musical for his performance, and he would continue to oscillate between Hollywood and the New York stage, memorably appearing in "The Cable Guy' (1996) and the black comedy "Election" (1999), as well as starring on Broadway in "Night Must Fall" and "Taller Than a Dwarf." In 2001, Broderick starred with Nathan Lane in a smash hit Broadway musical adaptation of the classic Mel Brooks comedy film "The Producers" (1967). The show was such a sensation that Broderick and Lane starred in a big screen adaptation in 2005. He would go on to appear in films like "Margaret" (2011) and "Manchester by the Sea" (2016) as well as plays such as "It's Only a Play" and "Sylvia," and even took on recurring TV roles on "The Conners" (ABC, 2018-) and "Better Things" (FX, 2016-).
Photos
Matthew Broderick
LADYHAWKE, Matthew Broderick, 1985, (c)Warner Bros.
LADYHAWKE, from top: Michelle Pfeiffer, Matthew Broderick, 1985, ©Warner Bros. Pictures
DECK THE HALLS, Danny DeVito, Matthew Broderick, 2006.TM & ©20th Century Fox. All rights reserved
PROJECT X, Helen Hunt, Matthew Broderick, 1987, TM and Copyright 20th Century-Fox Film Corp. All rights reserved
FERRIS BUELLER'S DAY OFF, Matthew Broderick, 1986, (c) Paramount
TORCH SONG TRILOGY, Matthew Broderick, 1988, (c) New Line
WARGAMES, Matthew Broderick, Ally Sheedy, 1983, (c) MGM
GLORY, from left: Matthew Broderick, Denzel Washington, Morgan Freeman, 1989, ©TriStar Pictures
ELECTION, Reese Witherspoon, Matthew Broderick, 1999
INSPECTOR GADGET, Matthew Broderick, 1999, © Buena Vista
THE NIGHT WE NEVER MET, Matthew Broderick, Kevin Anderson, Annabella Sciorra, 1993, (c)Miramax Films
THE LAST SHOT, Matthew Broderick, Calista Flockhart, 2004, (c) Buena Vista
BEE MOVIE, Adam Flayman (voice: Matthew Broderick), Barry B. Benson (voice: Jerry Seinfeld), 2007. ©DreamWorks
ELECTION, Matthew Broderick, 1999.
TORCH SONG TRILOGY, Harvey Fierstein, Matthew Broderick, 1988, (c) New Line
THE LAST SHOT, Matthew Broderick, Alec Baldwin, Toni Collette, 2004, (c) Buena Vista
ELECTION, matthew Broderick (standing left), Chris Klein (at microphone), Reese witherspoon 9seated right), 1999, © Paramount
FERRIS BUELLER'S DAY OFF, Mia Sara, Matthew Broderick, Alan Ruck, 1986, (c) Paramount
FERRIS BUELLER'S DAY OFF, Matthew Broderick, 1986. ©Paramount