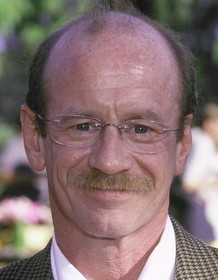 Michael Jeter
Highest Rated: 97% Zelig (1983)
Lowest Rated: 14% South of Heaven, West of Hell (2000)
Birthday: Aug 26, 1952
Birthplace: Lawrenceburg, Tennessee, USA
Versatile character player of the NYC stage with a mild Tennessee twang who is best known for his Emmy award-winning portrayal of likeable dweeb Herman Stiles, assistant coach to Burt Reynolds on the southern fried sitcom "Evening Shade" (CBS, 1990-94). Jeter first gained acclaim--and a Tony award--for his featured turn as the dying clerical worker (played in the original film by Lionel Barrymore) in the Broadway hit "Grand Hotel, The Musical" (1990). His off-Broadway and off-off-Broadway credits have included "The Boys Next Door," "Greater Tuna," and "Cloud 9." Jeter's film and TV credits extend back to 1979 when he made his feature debut with a small role in Milos Forman's film version of "Hair." He has appeared in a number of TV-movies and miniseries including "Gypsy" (CBS, 1993), starring Bette Midler, and "Armistead Maupin's Tales of the City" (PBS, 1994). Jeter has fared well playing extreme characters, such as in his small but indelible role as a homeless cabaret singer with AIDS in Terry Gilliam's "The Fisher King" (1991). He was nominated for another Emmy for playing a decidedly eccentric frog breeder in a 1993 episode of the quirky CBS-TV drama "Picket Fences"--a part written specially for him. Back on the big screen, Jeter provided sturdy comic support to Whoopi Goldberg in "Sister Act 2: Back in the Habit" (1993), proved adept in the Wesley Snipes actioner "Drop Zone" (1994) as a nerdy computer whiz wanted by both the cops and the crooks. In an emotional TV interview with Jann Carl of "Entertainment Tonight" in July 1997, Jeter disclosed that he had tested positive for HIV. He remained active in the industry, though, turning in a fine performance as a Cajun death row inmate in the Oscar-nominated "The Green Mile" (1999) and joining the cast of the long-running PBS children's series "Sesame Street" in 2000 as Mr. Noodle in the "Elmo's World" segments. After a turn in the high-profile sequel "Jurassic Park III" (2001) Jeter had a notable supporting turn as one of the loveable losers hoping for a big heist in "Welcome to Colinwood" (2002) and was tapped by director-star Kevin Costner to appear in the Western "Open Range" (2003). The actor had just completed a turn in a Performance Capture suit to film his dual role as the CGI characters Smokey and Steamer in the Robert Zemeckis-directed "The Polar Express" (2004), again opposite Hanks, when he died unexpectedly of undetermined causes.
Photos
FISHER KING, THE, Michael Jeter, 1991
DROP ZONE, from left: Michael Jeter, Gary Busey, 1994, © Paramount
SISTER ACT 2: BACK IN THE HABIT, Brad Sullivan, Michael Jeter, Kathy Najimy, Whoopi Goldberg, Wendy Makkena, Mary Wickes, 1993, (c)Buena Vista Pictures
WATERWORLD, Michael Jeter, 1995.
THE GREEN MILE, Tom Hanks, David Morse, Michael Jeter, Barry Pepper, Jeffrey De Munn, 1999. (c) Warner Brothers
DEAD-BANG, Don Johnson, Michael Jeter, 1989, (c)Warner Bros.
THE GREEN MILE, Michael Jeter, 1999, (c) Warner Brothers
JURASSIC PARK III, Michael Jeter, Alessandro Nivola, Tea Leoni, Sam Neill, William H. Macy, 2001, (c) Universal
WELCOME TO COLLINWOOD, Isaiah Washington, Patricia Clarkson, Andrew Davoli, George Clooney, Sam Rockwell, Michael Jeter, William H. Macy, 2002, (c) Warner Brothers
WELCOME TO COLLINWOOD, Isaiah Washington, Patricia Clarkson, Andrew Davoli, George Clooney, Sam Rockwell, Michael Jeter, William H. Macy, 2002, (c) Warner Brothers
WELCOME TO COLLINWOOD, William H. Macy, Michael Jeter, 2002, (c) Warner Brothers
JURASSIC PARK III, Michael Jeter, Alessandro Nivola, Tea Leoni, Sam Neill, William H. Macy, 2001
OPEN RANGE, Michael Jeter, 2003, (c)Touchstone Pictures
TRUE CRIME, Michael Jeter, 1999
THE GREEN MILE, Michael Jeter, 1999. (c) Warner Brothers
WATERWORLD, Michael Jeter, 1995, © Universal
DROP ZONE, from left: Gary Busey, Michael Jeter, 1994, © Paramount
WELCOME TO COLLINWOOD, William H. Macy, Isaiah Washington, Sam Rockwell, Michael Jeter, 2002, (c) Warner Brothers
OPEN RANGE, Peter MacNeill, Alexis Cerkiewicz, Michael Jeter, 2003, (c)Touchstone Pictures
OPEN RANGE, Michael Jeter, Kevin Costner, Robert Duvall, 2003, (c)Touchstone Pictures
Filmography
Movies
TV
Credit

No Score Yet

No Score Yet

Sesame Street
Unknown (Guest Star),
Music Performer,
Guest

1998

2000

2002

2004

No Score Yet

94%

Hey Arnold!
Unknown (Guest Voice)

2002

No Score Yet

No Score Yet

Touched by an Angel
Unknown (Guest Star)

1999

50%

No Score Yet

Second Noah
Unknown (Guest Star)

1997

No Score Yet

No Score Yet

Murphy Brown
Unknown (Guest Star)

1997

No Score Yet

No Score Yet

Suddenly Susan
Unknown (Guest Star)

1996

38%

No Score Yet

Can't Hurry Love
Unknown (Guest Star)

1996

No Score Yet

No Score Yet

Chicago Hope
Unknown (Guest Star)

1995

82%

No Score Yet

Picket Fences
Unknown (Guest Star)

1995

No Score Yet

No Score Yet

Evening Shade
Herman Stiles (Character)

1990-1994