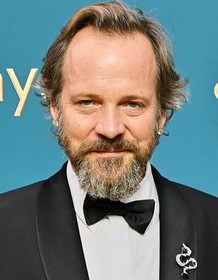 Peter Sarsgaard
Highest Rated: 94% The Lost Daughter (2021)
Lowest Rated: 12% The Mysteries of Pittsburgh (2008)
Birthday: Mar 7, 1971
Birthplace: Belleville, Illinois, USA
An atypical actor who easily adapted himself in a variety of film and television projects, Peter Sarsgaard built a career disappearing into challenging and sometimes outright difficult roles most other actors might have avoided. Prior to his breakthrough playing a charming, but ultimately violent rapist and murderer in the indie drama "Boys Don't Cry" (1999), he quietly earned an impressive reputation on the New York theater scene, acting onstage in productions that including the Signature Theatre's "Laura Dennis" and his own play "The Greatest And Most Exciting Gratuitous Exhibition Ever Exploited." Sarsgaard made his biggest impression, however, with a subtle performance as a news magazine editor in "Shattered Glass" (2003), which gave the young, talented actor his first true taste of critical success. From there, he easily alternated between studio features like "Flightplan" (2005), "Jarhead" (2005) and "Knight & Day (2010), as well as independents like "Year of the Dog" (2007) and the Oscar-nominated "An Education" (2009). His 2009 marriage to equally indie-respected Maggie Gyllenhaal cemented Sarsgaard's reputation as an intelligent, devoted actor pursuing art over fame.
Photos
Peter Sarsgaard
FLIGHTPLAN, Jodie Foster, Peter Sarsgaard, 2005, (c) Touchstone
The Slap, Peter Sarsgaard, 'Hector', Season 1, Ep. #1, 02/12/2015, ©NBC
AN EDUCATION, from left: Carey Mulligan, Peter Sarsgaard, 2009. Ph: Kerry Brown/©Sony Pictures Classics
SALTON SEA, Peter Sarsgaard, Val kilmer, 2002 (c) Warner Brothers
SHATTERED GLASS, Hayden Christensen, 2003, (c) Lions Gate
IN THE ELECTRIC MIST, Peter Sarsgaard, 2009. ©Image Entertainment
GARDEN STATE, Peter Sarsgaard, 2004, (c) Fox Searchlight
THE CENTER OF THE WORLD, director Wayne Wang, Peter Sarsgaard, on set, 2001. ©Artisan Entertainment
The Slap, Peter Sarsgaard, 'Hector', Season 1, Ep. #1, 02/12/2015, ©NBC
THE CENTER OF THE WORLD, Molly Parker, Peter Sarsgaard, 2001. (c) Artisan Entertainment.
BOYS DON'T CRY, Peter Sarsgaard, Allison Folland, Hilary Swank, Brendan Sexton III, Alicia Goranson, Chloe Sevigny, 1999
GARDEN STATE, Peter Sarsgaard, Natalie Portman, Zach Braff, 2004, (c) Fox Searchlight
FLIGHTPLAN, Jodie Foster, Peter Sarsgaard, 2005, (c) Touchstone
THE MYSTERIES OF PITTSBURGH, from left: Jon Foster, Peter Sarsgaard, 2008. Ph: Bruce Birmelin/©Peace Arch Entertainment Group
FLIGHTPLAN, Sean Bean, Peter Sarsgaard, 2005, (c) Touchstone
FLIGHTPLAN, Jodie Foster, Sean Bean, Peter Sarsgaard, 2005, (c) Touchstone
FLIGHTPLAN, Peter Sarsgaard, 2005, (c) Touchstone
K-19: THE WIDOWMAKER, (l to r): Gerrit Vooren, Ingvar Sigurdsson, Christian Camargo, Peter Sarsgaard, James Ginty, Ravil Isyanov, George Anton, Kristen Holden-Ried, 2002 (c) Paramount,
AN EDUCATION, from left: Carey Mulligan, Peter Sarsgaard, 2009. Ph: Kerry Brown/©Sony Pictures Classics