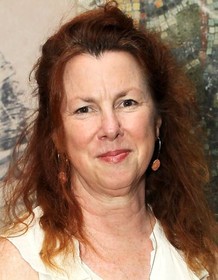 Siobhan Fallon Hogan
Highest Rated: 94% Private Life (2018)
Lowest Rated: Not Available
Birthday: May 13, 1961
Birthplace: Syracuse, New York, USA
Famous for both comedic and dramatic character roles in film and television, Siobhan Fallon Hogan first rose to prominence as a cast member of "Saturday Night Live" in 1991. Trained as a comedienne, Hogan has surprised audiences with her dramatic turns in darker films such as "A Cool, Dry Place" and the Lars von Trier efforts "Dancer in the Dark," and "Dogville," and by showing up in supporting roles in the blockbusters "Forrest Gump" and "Men in Black." Meanwhile, comedy has proven to be Hogan's staple, as she's juggled sitcoms like "Seinfeld" and "30 Rock" with features such as "Baby Mama" and "New in Town."
Photos
Siobhan Fallon
HOLES, Siobhan Fallon Hogan, Henry Winkler, Nathan Davis, 2003, (c) Walt Disney
Wayward Pines, Siobhan Fallon Hogan, 'A Reckoning', Season 1, Ep. #9, 07/16/2015, ©FOX
NEW IN TOWN, from left: Renee Zellweger, Siobhan Fallon, 2009. ©Lions Gate
FOOLS RUSH IN, Tomas Milian, Anne Betancourt, Siobhan Fallon, Salma Hayek, Matthew Perry, Jon Tenney, Jill Clayburgh, John Bennett Perry, 1997
WHAT'S THE WORST THAT COULD HAPPEN, (L To R, Backseat) Siobhan Fallon, Lenny Clark, John Leguizamo, Ana Gasteyer, Martin Lawrence. (Front Seat) Bernie Mac, 2001
GREEDY, Mary Ellen Trainor, Bob Balaban, Michael J. Fox, Phil Hartman, Ed Begley, Jr., Jere Burns, Joyce Hyser, Siobhan Fallon, Colleen Camp, 1994. (c) Universal Pictures.
NEW IN TOWN, from left: Renee Zellweger, Siobhan Fallon, 2009. ©Lions Gate
NEW IN TOWN, foreground from left: Siobhan Fallon, J.K. Simmons, 2009. ©Lions Gate
NEW IN TOWN, Siobhan Fallon, 2009. ©Lions Gate
NEW IN TOWN, Siobhan Fallon (second from left), Frances Conroy (third from left), 2009. ©Lions Gate
GOING IN STYLE, SIOBHAN FALLON HOGAN, 2017. PH: ATSUSHI NISHIJIMA. ©WARNER BROS. PICTURES
NEW IN TOWN, from left: Siobhan Fallon, Frances Conroy, 2009. ©Lions Gate
NEW IN TOWN, from left: Frances Conroy, Siobhan Fallon , 2009. ©Lions Gate
CHARLOTTE'S WEB, Essie Davis, Dakota Fanning, Kevin Anderson, Gary Basaraba, Siobhan Fallon, Nate Mooney, Louis Corbett, 2006. ©Paramount
JURY DUTY, L-R, Pauly Shore, Richard Riehle, Stanley Tucci, Tia Carrere, Siobhan Fallon, Richard T. Jones, 1995, (c)TriStar Pictures
CHARLOTTE'S WEB, front: Louis Corbett, Dakota Fanning, back: Kevin Anderson, Essie Davis, Siobhan Fallon, Gary Basaraba, 2006, ©Paramount
MEN IN BLACK, Vincent D'Onofrio, Siobhan Fallon, 1997, (c)Columbia Pictures
GREEDY, (background): Michael J. Fox, Nancy Travis, Colleen Camp, Joyce Hyser, Ed Begley Jr., Siobhan Fallon, Jere Burns, (front): Kirk Douglas, Olivia d'Abo, 1994. ©Universal Pictures
GREEDY, (back row): Adam Hendershott, Eric Lloyd, Kirsten Dunst, Lisa Bradley, Bob Balaban, Sean Babb, (front): Siobhan Fallon, Mary Ellen Trainor, Jere Burns, Joyce Hyser, Colleen Camp, 1994. ©Universal