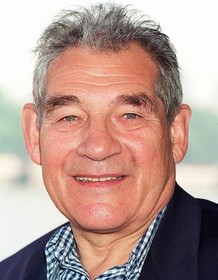 Trevor Peacock
Highest Rated: 80% Quartet (2012)
Lowest Rated: 21% Fred Claus (2007)
Birthday: May 19, 1931
Birthplace: Tottenham, London, England, UK
He may be regarded as one of England's most prolific character actors, with a career spanning several decades and dozens of film, television and stage roles, but for Trevor Peacock, acting came only after he had made a name for himself as a prominent pop songwriter. In addition to writing hits for the biggest pop acts of the 1960s, including Herman's Hermits, Jess Conrad and The Vernon Girls, Peacock also wrote the lyrics to the musicals "Passion Flower Hotel" and "Andy Capp," the latter of which was based on the popular comic strip. Although a songwriter first, Peacock's acting career took off in the early 1970s, and, over the next several decades, he landed recurring roles on popular British television shows such as "Neverwhere" (BBC Two, 1996) and "The Vicar of Dibley" (BBC One, 1994-2000; 2004-07), thus becoming one of Britain's most visible character actors of the small screen. Born in Tottenham, London in 1931, Peacock began writing pop songs in the early 1960s. Some of his biggest hits of the era include 1963's "Mrs. Brown, You've Got a Lovely Daughter," performed by Herman's Hermits; Jess Conrad's "Mystery Girl;" and "Stick Around," recorded by Billy Fury. Peacock also wrote a number of hits for the all-female English pop group The Vernon Girls, such as "Be Nice to Him Mama" and "We Love the Beatles." In addition to his songwriting, Peacock also penned several scripts for the British music show "Oh Boy!" (ITV, 1958-59), and wrote the 1965 crime drama starring Judi Dench, "He Who Rides a Tiger." Having appeared in a few TV roles throughout the 1960s, Peacock turned to acting full-time by the 1970s. In addition to nabbing roles on "EastEnders" and "The Vicar of Dibley," Peacock appeared in several starring roles for the BBC's Shakespeare Series, including "Twelfth Night" (1980), and both episodes of the two-part "Henry the Sixth" (1983). Furthermore, Peacock made an appearance as The Gravedigger in the 1990 feature film adaptation of Shakespeare's "Hamlet," starring Mel Gibson as the title character. In 2007 he starred alongside Vince Vaughn and Paul Giamatti as Papa Claus in the Hollywood comedy "Fred Claus" and followed that up with a supporting role in Dustin Hoffman's 2012 directorial debut, "Quartet." Trevor Peacock died March 8, 2021 at the age of 89.
Photos
Trevor Peacock
QUARTET, David Ryall seated at piano: Trevor Peacock, 2012, ph: Kerry Brown/©Weinstein Company
FRED CLAUS, Kathy Bates, Kevin Spacey, Trevor Peacock, 2007. ©Warner Bros.
FRED CLAUS, Trevor Peacock, Kathy Bates, 2007. ©Warner Bros.