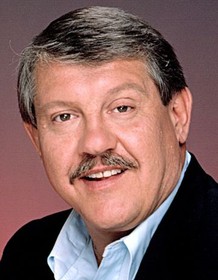 Alex Karras
Highest Rated: 97% Victor/Victoria (1982)
Lowest Rated: Not Available
Birthday: Jul 15, 1935
Birthplace: Gary, Indiana, USA
Former NFL great Alex Karras made his transition to acting appear almost too easy, only to further defy expectations by taking on roles that skewed away from the tough guy image he had cultivated as a professional athlete. As one of the greatest defensive tackles ever to play the game of football, Karras enjoyed a college career in which he won the Outland Trophy and a Rose Bowl Championship in 1957, followed by an impressive 12-year run with the Detroit Lions. His segue into acting began while he was still with the Lions, when he appeared as himself in the football docudrama "Paper Lion" (1968). After leaving football, Karras began appearing on various TV series and in movies, usually as a hulking bad guy or athlete. With his uproarious turn as the dim-witted man-mountain Mongo in "Blazing Saddles" (1974), he displayed not only a knack for comedy, but a willingness to laugh at himself. Over the course of the next decade he took on diverse roles in a variety of TV and film projects that included a role as a gold prospector in the miniseries "Centennial" (NBC, 1978-79) and a turn as a closeted gay bodyguard in "Victor/Victoria" (1982), opposite Julie Andrews and James Garner. Perhaps his most fondly remembered television role would be as the adoptive father of Emmanuel Lewis on the family sitcom "Webster" (ABC, 1983-87; syndicated, 1987-89). Whether it was in the character of athlete, hired thug, lawman, or loving father, Karras endeared himself to audiences with performances that displayed surprising heart and humility for a man known early on as one of the hardest hitters in pro football.
Photos
PAPER LION, Alex Karras, Alan Alda, John Gordy, Joe Schmidt, 1968
FM, Cassie Yates, Cleavon Little, Martin Mull, Alex Carras, Eileen Brennan, Michael Brandon, 1978. (c) Universal Pictures.
AGAINST ALL ODDS, Jeff Bridges, Alex Karras, 1984. ©Columbia Pictures
NOBODY'S PERFEKT, from left: Alex Karras, Robert Klein, 1981. ©Columbia Pictures
NOBODY'S PERFEKT, from left: Robert Klein, Alex Karras, Gabe Kaplan, 1981. ©Columbia Pictures
PAPER LION, Alex Karras, Alan Alda, 1968
VICTOR/VICTORIA, from left: James Garner, Alex Karras, 1982. ©MGM
VICTOR/VICTORIA, Alex Karras, James Garner, 1982, (c)MGM
AGAINST ALL ODDS, Alex Karras, 1984, (c)Columbia Pictures Corporation
BLAZING SADDLES, Mel Brooks, Alex Karras, 1974
VICTOR/VICTORIA, Robert Preston, Julie Andrews, James Garner, Alex Karras, 1982, (c)MGM
BLAZING SADDLES, Slim Pickens, Alex Karras, 1974