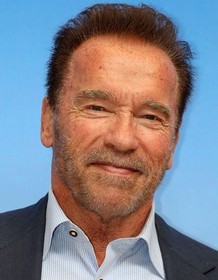 Arnold Schwarzenegger
Highest Rated: 100% The Terminator (1984)
Lowest Rated: Not Available
Birthday: Jul 30, 1947
Birthplace: Thal, Styria, Austria
A combination of determination, personality, and sheer brawn helped to propel Arnold Schwarzenegger from the top of the bodybuilding world to Hollywood stardom and later, political power as the governor of the state of California. Born Arnold Alois Schwarzenegger in the Austrian village of Thal on July 30, 1947, he was the son of the town's chief of police, a strict disciplinarian who reportedly did not believe that Schwarzenegger was his biological child. A middling student but an enthusiastic sportsman, Schwarzenegger discovered bodybuilding in his teenage years, and began competing at a professional level at the age of 17. Inspired by the careers of such former bodybuilders turned actors as Steve Reeves, he won his Junior Mr. Europe title a year later while completing his required service in the Austrian military, and traveled to England to in 1966 to compete in his first Mr. Universe contest. After earning second place, he trained extensively with, among others, three-time Mr. Universe Reg Park, who helped to guide Schwarzenegger to his first Mr. Universe title in 1967. The following year, he relocated to the United States, where he trained at the fmed Gold's Gym in Venice, California with Muscle and Fitness publisher Joe Weider, who also created the Mr. Olympia competition. Schwarzenegger lost his first bid for that title in 1969, but returned the following year to earn his first Mr. Olympia, and would repeat that success from 1971 to 1974 before announcing his retirement from bodybuilding. He was convinced to compete for a fifth title by documentarians George Butler and Robert Fiore, who filmed his training regimen for their 1975 "Pumping Iron" The documentary, which pitted a slimmer Schwarzenegger against the bigger, brawnier Lou Ferrigno, underscored his natural ease and magnetism in front of the camera, and helped to pave the way for Schwarzenegger's film career after he captured the 1975 and 1980 titles. He had already appeared on film, first in the title role for "Hercules in New York" (1969), where his thick Austrian accent was replaced by the voice of another actor, and then as a deaf-mute in Robert Altman's "The Long Goodbye" (1973). But with the success of "Pumping Iron," more substantive roles began to open up for Schwarzenegger: he won a Golden Globe as a cheerful bodybuilder opposite Jeff Bridges and Sally Field in Bob Rafelson's "Stay Hungry" (1976), played broadly opposite Kirk Douglas in the cartoonish "The Villain" (1979), and appeared as one of his bodybuilding idols, Mickey Hargitay, in the ABC TV-movie "The Jayne Mansfield Story" (1979). But in 1982, he found his star-making role as Robert E. Howard's legendary warrior-king, Conan, in John Milius' 'Conan the Barbarian" (1982). After becoming an American citizen in 1983, and reprising Conan in a 1984 sequel, "Conan the Destroyer" (1984), Schwarzenegger accepted a largely silent role in a low-budget science fiction thriller called "The Terminator" (1984). A tense, action-packed crowd-pleaser, the film cemented Schwarzenegger's star status (and launched the directorial career of James Cameron), and led to a string of popular action films, including "Commando" (1985), "The Running Man" (1987) and "Predator" (1988), which helped to mint Schwarzenegger - who had been written off by Hollywood due to his build and accent in the early '70s - as one of the biggest box office draws in the United States. During this period, he also joined one of the most famous political and social dynasties in American history when he married journalist Maria Shriver in 1986. Perhaps as a nod to his deepening roots in mainstream America, Schwarzenegger began adding more family-friendly fare to his movie c.v: unlike many of his fellow action heroes like Sylvester Stallone, Schwarzenegger imbued his roles with a sense of humor, which helped to pave the way for Ivan Reitman's comedy "Twins" (1988), which imagined him as the separated-at-birth twin of Danny DeVito. A sizable hit, it led to more comic efforts, including "Kindergarten Cop" (1990) and "Junior" (1994), which netted him a Golden Globe nomination, though he continued to mine the action vein with films like "Total Recall" (1990). The following year, he reprised his implacable robotic character, the T-800, in Cameron's "Terminator 2: Judgment Day," which was the highest grossing film of 1991. But after scoring a second box office hit with Cameron in "True Lies" (1994), Schwarzenegger's status at the top of the movie heap began to falter; action and comedy efforts like "Eraser" (1996) and Batman & Robin" (1997) were met with less than enthusiastic reviews and ticket sales. He returned to the Terminator franchise again in "Terminator 3: Rise of the Machines" (2003) before largely retiring from the film business. But in 2003, the second phase of his extraordinary career began when he announced his candidacy for governor of California during its historic election recall; Schwarzenegger had always harbored political intentions, and had been close to various presidents as the head of the Council on Physical Fitness and Sports, but with his win of 48.6% of the vote in 2004, he had followed in the footsteps of another idol, Ronald Reagan, and assumed leadership of one of the largest economies in the world. An avowed Republican, Schwarzenegger slowly moved towards a more moderate position during his tenure as governor, embracing actions against climate change and supporting an emissions trading scheme with other U.S. states. Decisions such as these did not win him support among Republicans, and accusations of drug use and sexual harassment prior to his gubernatorial run dogged him throughout his tenure in Sacramento. He eventually left office with basement-level approval ratings in 2011, and took further brickbats when his 25-year marriage to Shriver ended after the Los Angeles Times revealed that he had fathered a son with his family's housekeeper. He made a bid to return to acting, initially in action films like the all-star "Expendables" (2012) series, but later, in a string of smaller, more character-driven action and crime films like "Sabotage" (2014) and the horror film "Maggie" (2015), which saw Schwarzenegger give an impressive turn as a father protecting his daughter as she underwent a monstrous transformation. Most, if not all, were only modest box office successes, including his return to the "Terminator" franchise with "Terminator Genisys" in 2015, and his single season as the host of "The New Celebrity Apprentice" (NBC, 2017) - replacing Donald Trump - was met with disinterest. But Schwarzenegger remained active, both in front of the camera and behind the scenes in a variety of capacities, including the Schwarzenegger Institute for State and Global Policy, which sought to find common ground between political parties, and various climate change initiatives. In 2019, he again returned to the "Terminator" franchise, along with James Cameron and co-star Linda Hamilton, for "Terminator: Dark Fate."
Photos
Arnold Schwarzenegger
TRUE LIES, Arnold Schwarzenegger, 1994 TM and Copyright © 20th Century Fox Film Corp. All rights reserved..
KINDERGARTEN COP, Arnold Schwarzenegger, and his kindergarten class, 1990.
COLLATERAL DAMAGE, Arnold Schwarzenegger, 2002 (c) Warner Brothers. .
ERASER, Vanessa Williams (bottom), Arnold Schwarzenegger, 1996, © Warner Brothers
THE VILLAIN, Kirk Douglas, Ann-Margret, Arnold Schwarzenegger, 1979, (c) Columbia
MAGGIE, from left: Arnold Schwarzenegger, Abigail Breslin, 2015. ph: Tracy Bennett/© Roadside Attractions
KINDERGARTEN COP, Arnold Schwarzenegger (right), 1990, sitting with the children
MAGGIE, from left: Arnold Schwarzenegger, Abigail Breslin, 2015. ph: Tracy Bennett/© Roadside Attractions
THE VILLAIN, Arnold Schwarzenegger, Ann-Margret, 1979, (c) Columbia
KINDERGARTEN COP, Arnold Schwarzenegger (right), 1990, playing the ukulele
KINDERGARTEN COP, Penelope Ann Miller, Arnold Schwarzenegger, 1990, feeding the faun
KINDERGARTEN COP, Arnold Schwarzenegger (center), 1990, playing with the hula hoop
TERMINATOR, Arnold Schwarzenegger, 1984. ©MGM
KINDERGARTEN COP, Arnold Schwarzenegger, and his kindergarten class, 1990.
VILLAIN, Kirk Douglas, Arnold Schwarzenegger, 1979, © Columbia Pictures
ESCAPE PLAN, (aka THE TOMB), from left: Arnold Schwarzenegger, Sylvester Stallone, 2013. ph: Alan Markfield/©Summit Entertainment
THE VILLAIN, Arnold Schwarzenegger, Ann-Margret, 1979, (c) Columbia
STAY HUNGRY, Arnold Schwarzenegger, Jeff Bridges, 1976
CONAN THE BARBARIAN, Arnold Schwarzenegger, Valerie Quennessen, 1982, © Universal