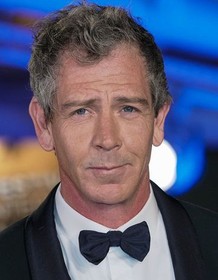 Ben Mendelsohn
Highest Rated: 99% Starred Up (2013)
Lowest Rated: 9% Trespass (2011)
Birthday: Apr 3, 1969
Birthplace: Melbourne, Victoria, Australia
Australian actor Ben Mendelsohn may have missed out on the first wave of Aussies to invade Hollywood in the '90s, but his standout role in 2010's crime drama "Animal Kingdom" marked the beginning of a new chapter in his long career. A fixture on '80s Down Under shows such as "Neighbours" (Seven Network, 1985- ), Mendelsohn landed a breakout role as a loud-mouthed rugby player in the 1987 critically-acclaimed film "The Year My Voice Broke." Though he continued working steadily in both Australia and the U.S., most notably appearing opposite Anthony Hopkins in "The Efficiency Expert" (1992), Mendelsohn languished in minor projects until being cast in the high-profile films "The New World" (2005) and "Australia" (2008). Then came "Animal Kingdom," which led to even bigger roles in the gritty "Killing Them Softly" (2012); the blockbuster "The Dark Knight Rises" (2012); and the indie success "The Place Beyond the Pines" (2013), and finally the massively successful "Rogue One: A Star Wars Story" (2016). Finally, Hollywood had caught up to the talented actor from Oz.
Photos
BEAUTIFUL KATE, from left: director Rachel Ward, Ben Mendelsohn, on sset, 2009. ©Roadshow Films
ROGUE ONE: A STAR WARS STORY, BEN MENDELSOHN (CENTER), 2016. PH: JONATHAN OLLEY/© WALT DISNEY STUDIOS MOTION PICTURES/LUCASFILM LTD.
HUNT ANGELS, Ben Mendelsohn, 2006, © Palace Films
VERTICAL LIMIT, Chris O'Donnell, Izabella Scorupco, Alexander Siddig, Steve Le Marquand, Ben Mendelsohn, 2000
COSI, Ben Mendelsohn, Rachel Griffiths, 1996, (c) Miramax
COSI, Rachel Griffiths, Ben Mendelsohn, 1996, (c)Miramax
COSI, Toni Collette (left), Ben Mendelsohn (center), 1996, (c) Miramax
EFFICIENCY EXPERT, THE, Ben Mendelsohn, Anthony Hopkins, 1992
COSI, Ben Mendelsohn, Barry Otto, 1996, (c)Miramax
ANIMAL KINGDOM, Ben Mendelsohn, 2010. ph: Bronwyn Rennex/©Sony Pictures Classics
KILLING THEM SOFTLY, Ben Mendelsohn, 2012, ph: Melinda Sue Gordon/©Weinstein Company
Girls, Ben Mendelsohn (L), Jemima Kirke (R), 'Video Games', Season 2, Ep. #7, 02/24/2013, ©HBO
Girls, Jemima Kirke (L), Ben Mendelsohn (R), 'Video Games', Season 2, Ep. #7, 02/24/2013, ©HBO
KILLING THEM SOFTLY, Ben Mendelsohn, 2012, ph: Melinda Sue Gordon/©Weinstein Company
KILLING THEM SOFTLY, from left: Ben Mendelsohn, Scoot McNairy, 2012. ph: Melinda Sue Gordon/©The Weinstein Company
Bloodline, Ben Mendelsohn (L), Kyle Chandler (R), 03/20/2015, ©NETFLIX
DARKEST HOUR, FROM LEFT: BEN MENDELSOHN AS KING GEORGE VI, GARY OLDMAN AS WINSTON CHURCHILL, 2017. © FOCUS FEATURES
Bloodline, Kyle Chandler (L), Ben Mendelsohn (R), 03/20/2015, ©NETFLIX
Bloodline, Ben Mendelsohn, 03/20/2015, ©NETFLIX
Girls, Ben Mendelsohn (L), Rosanna Arquette (R), 'Video Games', Season 2, Ep. #7, 02/24/2013, ©HBO