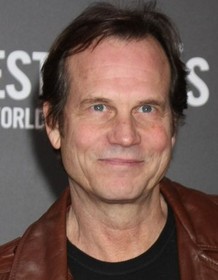 Bill Paxton
Highest Rated: 100% The Terminator (1984)
Lowest Rated: Not Available
Birthday: May 17, 1955
Birthplace: Fort Worth, Texas, USA
After receiving his start playing larger than life goofs in the 1980s, actor Bill Paxton transformed himself from oddball character parts to a dramatic performer with considerable gravitas in acclaimed features and television series. Paxton first gained significant notice as the bullying Chet in "Weird Science" (1985), before famously playing loud-mouthed Private Hudson for James Cameron in "Aliens" (1986). In the following decade, he was landing leading roles in movies like "Brain Dead" (1990), "The Vagrant" (1992), and "One False Move" (1992). After portraying Morgan Earp opposite Kurt Russell's Wyatt Earp in "Tombstone" (1993), Paxton graduated to a dependable featured player and leading man in blockbusters such as "Apollo 13" (1995), "Twister" (1996), and "Titanic" (1997), while maintaining a footing in smaller films like "Traveller" (1997), "A Simple Plan" (1998) and "Frailty" (2002), the latter of which also marked his debut as a feature director. Having spent his entire career in features, Paxton starred in his first TV drama a polygamist husband of three wives on HBO's acclaimed series "Big Love" (2006-2011), a role that earned him widespread acclaim while opening new doors for his career. Along with co-starring opposite Kevin Costner in "Hatfields & McCoys" (History Channel, 2012) and enjoying a recurring role on "Agents of SHIELD" (ABC 2013- ), Paxton maintained a steady presence on the big screen, juggling art house staples like the neo-noir "Nightcrawler" (2014), cult favorites such as "2 Guns" (2013) and heartwarming family-friendly sports dramas like "Million Dollar Arm" (2014). Paxton returned to series TV in earnest with his lead role as the morally-suspect police detective Frank Roarke in the series "Training Day" (CBS 2017). Sadly, shortly after the series went to air, Bill Paxton died unexpectedly on February 25, 2017, suffering a massive stroke just after undergoing heart surgery. He was 61 years old. Throughout his career, Paxton was a solidly enjoyable performer capable of keeping audiences constantly surprised by the breadth of his versatility.
Photos
APOLLO 13, Bill Paxton, Tom Hanks, Kevin Bacon, 1995
U-571, Bill Paxton, 2000, © Universal
APOLLO 13, Kevin Bacon, Tom Hanks, Bill Paxton, 1995, (c) Universal
WEIRD SCIENCE, Bill Paxton, Ilan Mitchell-Smith, 1985. (c) Universal Pictures.
PASS THE AMMO, Bill Paxton, 1988, (c)New Century Vista Film Company
NEAR DARK, Lance Henriksen, Jenette Goldstein, Bill Paxton, 1987
EDGE OF TOMORROW, Bill Paxton, 2014. ph: David James/©Warner Bros.
APOLLO 13, Bill Paxton, Kevin Bacon, Tom Hanks, 1995
THUNDERBIRDS, Bill Paxton, Brady Corbet, 2004, (c) Universal
APOLLO 13, Bill Paxton, Kevin Bacon, Tom Hanks, 1995, (c) Universal
SIMPLE PLAN, Billy Bob Thornton, Bridget Fonda, Bill Paxton, 1998
BROKEN LIZARD'S CLUB DREAD, Bill Paxton, Paul Soter, Jay Chandrasekhar, Brittany Daniel, Jordan Ladd, Steve Lemme, Eric Stolhanske, Kevin Heffernan, 2004, (c) Fox Searchlight
THE VAGRANT, Bill Paxton, 1992, ©MGM
THE LAST OF THE FINEST, from left: Jeff Fahey, Bill Paxton, Joe Pantoliano, Brian Dennehy, 1990. ©Orion
FRAILTY, Bill Paxton, 2002
SLIPSTREAM, Bill Paxton, 1989, © Image Entertainment
THE COLONY, from left: Laurence Fishburne, Bill Paxton, Kevin Zegers, 2013. ©Image Entertainment
TRAVELLER, Bill Paxton, James Gammon (center), 1997, (c)October Films
FRAILTY, Jeremy Sumpter, Matthew O'Leary, Bill Paxton, 2002
FRAILTY, Bill Paxton, 2002