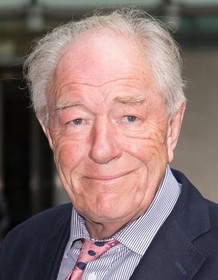 Michael Gambon
Highest Rated: 100% The Alps (2007)
Lowest Rated: 9% Mobsters (1991)
Birthday: Oct 19, 1940
Birthplace: Dublin, Ireland
One of the most respected and accomplished actors on stage, film and television since the 1960s, Sir Michael Gambon essayed men of complex passions, flaws and appetites in projects ranging from classical theater and "The Cook, The Thief, His Wife and Her Lover" (1989) to the "Harry Potter" franchise, where he replaced Richard Harris as the fatherly wizard Dumbledore. An acolyte of Laurence Olivier, he honed his craft on the British stage in productions of plays by Samuel Beckett and Alan Ayckbourn; major theater awards precipitated celebrated turns on television in "The Singing Detective" (BBC1, 1986), which in turn launched a film career as dastards like his brutal gangster in "Thief" or men hobbled by regret in "Dancing in Lunghnasa" (1998). Hits in Hollywood like "Sleepy Hollow" (1999) boosted his profile, which led to Emmy nominations for "The Path to War" (HBO, 2002) and "Emma" (BBC1, 2009) as well as steady work on stage and in front of the camera. While most moviegoers recognized him as Dumbledore, his vast and storied career displayed a breadth of talent that made him an actor worthy of his late mentor's mantle of the world's finest working actor.
Photos
HARRY POTTER AND THE PRISONER OF AZKABAN, Michael Gambon, 2004, © Warner Brothers
HARRY POTTER AND THE ORDER OF THE PHOENIX, Michael Gambon, 2007. ©Warner Bros.
HARRY POTTER AND THE GOBLET OF FIRE, Clemence Poesy, Michael Gambon, 2005, (c) Warner Brothers
HARRY POTTER AND THE PRISONER OF AZKABAN, Michael Gambon, 2004, (c) Warner Brothers
THE BROWNING VERSION, from left: Julian Sands, Ben Silverstone, Michael Gambon, 1994, © Paramount
CLEAN SLATE, Christopher Meloni, Michael Gambon, Dana Carvey, Mark Bringleson, 1994, (c) MGM
TWO DEATHS, Michael Gambon, 1995, ©Castle Hill /
ALI G INDAHOUSE, Sacha Baron Cohen (aka Ali G), Michael Gambon, 2002, (c) Universal
A DRY WHITE SEASON, Michael Gambon, Marlon Brando, 1989, (c) MGM
HARRY POTTER AND THE HALF-BLOOD PRINCE, from left: Daniel Radcliffe, Michael Gambon, 2009. ©Warner Bros.
SLEEPY HOLLOW, Casper Van Dien, Christina Ricci, Michael Gambon, Miranda Richardson, Johnny Depp, Marc Pickering, Jeffrey Jones, 1999, (c)Paramount
TOYS, Robin Williams, Michael Gambon, 1992, TM & Copyright (c) 20th Century Fox Film Corp. All rights reserved.
A MAN OF NO IMPORTANCE, Michael Gambon, Albert Finney, Brenda Fricker, 1994, (c)Sony Pictures Classics
LAYER CAKE, Michael Gambon, 2004, (c) Sony Pictures Classics
GOSFORD PARK, Michael Gambon, Emily Watson, Richard E. Grant, 2001
SLEEPY HOLLOW, Michael Gambon, 1999, (c)Paramount
CHARLOTTE GRAY, Michael Gambon, Billy Crudup, 2001, (c)Warner Bros.
GOSFORD PARK, Natasha Wightman, Tom Hollander, Claudie Blakley, Michael Gambon, Geraldine Somerville, Kristin Scott Thomas, 2001
LAYER CAKE, Michael Gambon, Daniel Craig, 2004, (c) Sony Pictures Classics
THE LIFE AQUATIC WITH STEVE ZISSOU, director Wes Anderson, Michael Gambon, Bill Murray, Anjelica Huston on set, 2004, (c) Touchstone