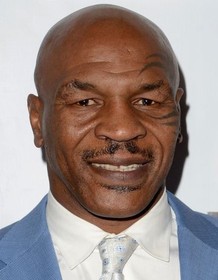 Mike Tyson
Highest Rated: 100% Lennox Lewis: The Untold Story (2020)
Lowest Rated: Not Available
Birthday: Jun 30, 1966
Birthplace: Brooklyn, New York, USA
Boxing legend Mike Tyson went from the shame of a lengthy prison stay into a wholly unexpected second career as an actor. Born in Brooklyn, he led a troubled childhood that included being arrested multiple times before he had even reached his teen years. After his mother died when he was 16, Tyson came under the legal guardianship of boxing trainer Cus D'Amato, who focused the teen's energies entirely on the ring. Tyson became a professional boxer at 18 and quickly captured the imagination of the public. He went on to win 26 of his first 28 fights by knockout, utilizing a bludgeoning attack that often had opponents psyched out before they even stepped in the ring. He went on to become the undisputed heavyweight champion in 1987. After D'Amato's death in 1985, however, Tyson's focus began to wane. His marriage and subsequent divorce from actress Robin Givens included accusations of assault. In 1990, he lost his championship belts to the unheralded Buster Douglas in a stunning upset. Things went from bad to worse, when he was arrested in 1991 and accused of raping 18-year-old beauty pageant contestant Desiree Washington in Indianapolis, Indiana. His subsequent conviction carried a six-year prison sentence. Upon his release in 1995, he returned to boxing with mixed results. In perhaps his most infamous moment in the ring, Tyson bit off part of heavyweight champion Evander Holyfield's right ear during their 1997 rematch. The incident resulted in a two-year ban from boxing. He ended up in jail again in 1999 after being convicted of assaulting two people over a traffic accident. By 2003, Tyson declared bankruptcy despite career earnings in the hundreds of millions. With his boxing career effectively over by 2005, Tyson struggled with drug addiction, suffered through the accidental death of his four-year-old daughter, and had more run-ins with the law. Throughout his career, he often appeared in cameos as himself, including in Sylvester Stallone's "Rocky Balboa" (2006). His fortunes changed, though, when he received positive reviews for his appearance in the smash comedy "The Hangover" (2009). Playing a fictional version of himself, Tyson was a hit with audiences. He began acting more regularly, including in the sequel "The Hangover Part II," usually playing some variation of the same fictional alter-ego. He created and voiced the lead character for the sly animated "Mike Tyson Mysteries" (Adult Swim, 2014-18), earning additional accolades. As his acting career continued, he began branching into roles where he was playing a character separate from himself in films like "Kickboxer: Retaliation" (2018) and "The Devil May Care" (2018).
Photos
Law & Order: Special Victims Unit, Mike Tyson, 'Monster's Legacy', Season 14, Ep. #12, 02/06/2013, ©NBC
TYSON, Mike Tyson, 2008. ©Sony Pictures Classics
THE HANGOVER, Mike Tyson, 2009. Ph: Frank Masi/©Warner Bros.
The View, Mike Tyson, 08/11/1997, ©ABC
Jimmy Kimmel Live, Mike Tyson, 'Episode 160', Season 11, Ep. #161, 11/26/2013, ©ABC
Jimmy Kimmel Live, Mike Tyson, 'Episode 160', Season 11, Ep. #161, 11/26/2013, ©ABC
Jimmy Kimmel Live, Mike Tyson, 'Episode 160', Season 11, Ep. #161, 11/26/2013, ©ABC
Jimmy Kimmel Live, Mike Tyson, 'Episode 92', Season 12, Ep. #92, 06/18/2014, ©ABC
Comedy Central Roasts, Mike Tyson, ©CC
TYSON, Mike Tyson, 2008. ©Sony Pictures Classics
The View, from left: Mike Tyson, Sherri Shepherd, Joe Scarborough, Jenny McCarthy, 08/11/1997, ©ABC
The View, Barbara Walters (L), Mike Tyson (C), Sherri Shepherd (R), 08/11/1997, ©ABC
Comedy Central Roasts, Jeffrey Ross (L), Mike Tyson (R), ©CC
The View, Barbara Walters (L), Mike Tyson (C), Sherri Shepherd (R), 08/11/1997, ©ABC
TYSON, Mike Tyson, 2008. ©Sony Pictures Classics
TYSON, Mike Tyson, 2008. ©Sony Pictures Classics
TYSON, Mike Tyson, 2008. ©Sony Pictures Classics
TYSON, Mike Tyson, 2008. ©Sony Pictures Classics
TYSON, Mike Tyson, 2008. ©Sony Pictures Classics
TYSON, Mike Tyson, 2008. ©Sony Pictures Classics