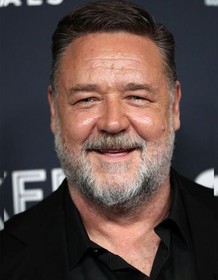 Russell Crowe
Highest Rated: 100% The Ghost of Richard Harris (2022)
Lowest Rated: 9% Poker Face (2022)
Birthday: Apr 7, 1964
Birthplace: Wellington, North Island, New Zealand
A galvanizing presence who earned Hollywood's highest acting accolades, actor Russell Crowe ultimately built a reputation as an A-list leading man. With an intense breakout performance as a racist skinhead in the Australian-made "Romper Stomper" (1992), Crowe established himself as an actor on the rise. Crossing the Pacific, he exploded off the screen as a violent 1950s police detective in "L.A. Confidential" (1997), announcing loudly to American audiences that he had arrived. Two years later, Crowe earned his first Academy Award nomination with a sterling performance as a tobacco executive trapped between telling the truth and protecting his family in "The Insider" (1999). But it was his turn as a Roman general in "Gladiator" (2000) that brought home Oscar glory. He was exceptional as schizophrenic math genius John Nash in "A Beautiful Mind" (2001), and followed up with acclaimed roles in "Cinderella Man" (2005) and "3:10 to Yuma" (2007). He also turned in fine performances in "American Gangster" (2007), "State of Play" (2009) and "Robin Hood" (2010). After starring in Paul Haggis' thriller "The Next Three Days" (2010) and RZA's stylish action drama "The Man with the Iron Fists" (2012), Crowe co-starred in the ensemble musical drama "Les Miserables" (2012) and appeared as the mayor of New York in Allen Hughes' crime drama "Broken City" (2013). A period of high-profile critical disappointments followed, including supporting roles in "Man of Steel" (2013), Akiva Goldsman's "Winter's Tale" (2014) and Darren Aronofsky's Biblical epic "Noah" (2014), before Crowe made his directorial debut with the indie drama "The Water Diviner" (2014). Starring roles in Italian-American drama "Fathers and Daughters" (2015) and Shane Black's '70s-set crime comedy "The Nice Guys" (2016) followed, along with a supporting role as Jeckyll and Hyde in "The Mummy" reboot (2017). The following year, Crowe starred opposite Nicole Kidman and Lucas Hedges in dysfunctional family drama "Boy Erased" (2018).
Photos
Russell Crowe
FOR THE MOMENT, Peter Outerbridge, Russell Crowe, 1993.
THE NEXT THREE DAYS, from left: Elizabeth Banks, Russell Crowe, 2010. photo: Phil Caruso/©Summit Entertainment
NOAH, Russell Crowe, 2014. ph: Niko Tavernise/©Paramount Pictures
MASTER AND COMMANDER, Russell Crowe, 2003, TM & Copyright (c) 20th Century Fox Film Corp. All rights reserved.
GLADIATOR, Joaquin Phoenix, 2000. ©DreamWorks
THE QUICK AND THE DEAD, Sharon Stone, Russell Crowe, 1995, (c)TriStar Pictures
LES MISERABLES, Russell Crowe, 2012. ph: Laurie Sparham/©Universal Pictures
THE WATER DIVINER, from left: director Russell Crowe, cinematographer Andrew Lesnie, on set, 2014. ph: Mark Rogers/©Warner Bros. Pictures
STATE OF PLAY, Russell Crowe, 2009. ©Universal
A BEAUTIFUL MIND, Russell Crowe, Jennifer Connelly, 2001, (c) Universal
3:10 TO YUMA, (aka THREE TEN TO YUMA), Christian Bale, Russell Crowe, 2007. ©Lion's Gate
GLADIATOR, Russell Crowe, 2000. ©DreamWorks
CINDERELLA MAN, Ariel Waller, Russell Crowe, 2005, (c) Universal
THE INSIDER, Russell Crowe, 1999, (c)Touchstone Pictures
ROUGH MAGIC, Russell Crowe, Bridget Fonda, 1995
The Late Late Show With James Corden, Russell Crowe, 03/23/2015, ©CBS
THE NICE GUYS, from left: Russell Crowe, Ryan Gosling, 2016. ph: Daniel McFadden/© Warner Bros.
GLADIATOR, Russell Crowe (right), 2000. ©DreamWorks
CINDERELLA MAN, Russell Crowe, Renee Zellweger on set, 2005, (c) Universal