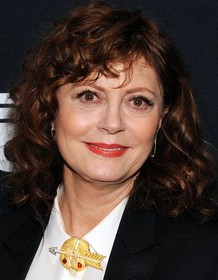 Susan Sarandon
Highest Rated: 100% Atlantic City (1980)
Lowest Rated: 7% The Big Wedding (2013)
Birthday: Oct 4, 1946
Birthplace: New York, New York, USA
As well known for her political activism as for her varied screen roles, actress Susan Sarandon defied being stereotyped in both her career and her personal life. The former Ford model, often playing seductive older women, demonstrated throughout her career considerable range and fearlessness, excelling equally as devoted mother and sultry screen siren. Though her film debut was in 1970, Sarandon made her first measurable impression as the wide-eyed, WASP-ish ingénue in the long-running "Rocky Horror Picture Show" (1975), then achieved critical acclaim and an Oscar nod as a casino worker run afoul with the mob in "Atlantic City" (1980). But it was her performance as the sexy baseball groupie in "Bull Durham" (1988) that propelled her to stardom. What followed was a string of Oscar-nominated roles in "Thelma & Louise" (1991), "Lorenzo's Oil" (1992) and "The Client" (1994) that paved the way for Academy Award gold with a strong, dignified performance as a Catholic nun fighting for the redemption of a death row inmate (Sean Penn) in "Dead Man Walking" (1995). Though her career slacked a bit following that performance - especially in ill-received films like "The Banger Sisters" (2002) and "Elizabethtown" (2005) - Sarandon nonetheless kept working as a sultry leading lady, well past the age most actresses found themselves struggling to maintain their careers.
Photos
Susan Sarandon
Star Talk, Susan Sarandon (L), Neil DeGrasse Tyson (R), 04/20/2015, ©NATGEO
LITTLE WOMEN, Susan Sarandon, Kirsten Dunst, Trini Alvarado, Winona Ryder, Claire Danes, 1994, (c) Columbia
BULL DURHAM, Kevin Costner, Susan Sarandon, 1988
WHITE PALACE, Susan Sarandon, 1990, ©Universal
KING OF THE GYPSIES, Eric Roberts, Susan Sarandon, Brooke Shields, 1978, (c) Paramount
JOE, Susan Sarandon, Peter Boyle, 1970
SHALL WE DANCE?, Susan Sarandon, 2004, (c) Miramax
SHALL WE DANCE?, Susan Sarandon, Richard Gere, 2004, (c) Miramax
THELMA & LOUISE, Susan Sarandon, Geena Davis, 1991. (c) MGM.
ROCKY HORROR PICTURE SHOW, Susan Sarandon, 1975. TM and Copyright (c) 20th Century Fox Film Corp. All rights reserved.
PRETTY BABY, Susan Sarandon, 1978, ©Paramount
ELIZABETHTOWN, Susan Sarandon, 2005, (c) Paramount
BULL DURHAM, Susan Sarandon, Tim Robbins, 1988, (c) Orion
SAFE PASSAGE, Susan Sarandon, 1994
JANUARY MAN, Susan Sarandon, Kevin Kline, Mary Elizabeth Mastrantonio, 1989, (c)MGM
JANUARY MAN, (l-r): Mary Elizabeth Mastrantonio, Rod Steiger, Danny Aiello, Kevin Kline, Harvey Keitel, Susan Sarandon, 1989, (c)MGM
THE GREAT WALDO PEPPER, Robert Redford, Susan Sarandon, 1975
THE GREAT WALDO PEPPER, Susan Sarandon, 1975
LITTLE WOMEN, Trini Alvarado, Susan Sarandon, Winona Ryder, Claire Danes, Kirsten Dunst, 1994, (c) Columbia