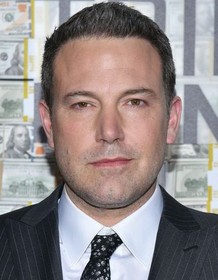 Ben Affleck
Highest Rated: 100% Kiss the Future (2023)
Lowest Rated: Not Available
Birthday: Aug 15, 1972
Birthplace: Berkeley, California, USA
American actor, director, producer, and writer Ben Affleck experienced some of the highest highs and lowest lows possible over the course of a three-plus-decade career. He went from child actor to indie darling to Oscar winner to action star to paparazzi pariah to walking punchline to respected filmmaker to superhero to cautionary tale, but somehow always managed to stay an integral part of the zeitgeist, one of the last true leading men of Hollywood. Born in Berkeley, CA on August 15, 1972, Affleck's mother, Christopher Anne "Chris" Boldt, was a Harvard-educated elementary school teacher, while his father, Timothy Byers Affleck, was an aspiring playwright who held down a number of odd jobs over the years, including carpenter, auto mechanic, bookie, electrician, bartender, and most importantly, janitor at Harvard. When Affleck was three, his family moved from the West Coast back to Cambridge, MA, where younger brother and future co-star Casey was born. His childhood was far from happy: Affleck's father was a chronic alcoholic, and when his parents finally divorced in 1984, he recalled feeling a sense of "relief" that his father was out of the house (Timothy Affleck would eventually become homeless for two years due to his addiction, before entering rehab in Indio, CA, spending a full twelve years at the facility working as an addiction counselor). Around this time, 12-year-old Affleck began getting serious about pursuing a career in acting. He had already made an uncredited appearance in the indie drama "The Dark End of the Street" (1981) three years prior, but he soon landed his first big role in the PBS educational film "The Voyage of the Mimi" (PBS, 1984), thanks to his mother's friendship with a Cambridge-area casting director (though she secretly thought that acting was an insecure and "frivolous" profession, and hoped that her son would reconsider and become a teacher instead). Before long, Affleck was traveling across the country for auditions, often alongside Matt Damon, a friend from elementary school who proved to be just as ambitious and driven as Affleck was. The two teens saved their earnings in a joint bank account, and dreamed of one day moving to Los Angeles. After following a girlfriend to school at the University of Vermont, but dropping out after a few months after a basketball injury, Affleck moved to Los Angeles at the age of 18, where he majored in Middle Eastern affairs at Occidental College for a year and a half. While at Occidental, he directed student films, and landed a few small roles here and there, including playing Patrick Duffy's son in the TV film "Daddy" (NBC, 1991), taking an uncredited role as a basketball player in "Buffy the Vampire Slayer" (1992), and popping up as a prep school student in "School Ties" (1992). The following year, Affleck landed what would prove to be his breakout role, when he was cast in Richard Linklater's beloved high school stoner comedy "Dazed and Confused" (1993). Set on the last day of school in a Texas high school in 1976, Affleck played O'Bannon, an obnoxious, borderline psychotic jock who purposely flunks his senior year so that he can participate in the school's annual freshman hazing tradition. Though "Dazed and Confused" was a flop upon its initial release, it has since grown into a cult classic. Affleck's first leading role was an aimless sad sack art student in the indie drama "Glory Daze" (1995); that same year he collaborated with the first time with writer/director Kevin Smith, playing a violent yuppie creep who manages a menswear outlet in Smith's sophomore film, "Mallrats" (1995). Though he had enjoyed some success up to that point, 1997 would prove to be the year that put Affleck on the map: he received rave reviews for his performance as a Korean War vet in "Going All the Way" (1997), and reunited with Smith for the acclaimed romantic comedy "Chasing Amy" (1997), in which he played a cartoonist who is madly in love with a woman who identifies as a lesbian. However, it was the success of Affleck's third film that year, "Good Will Hunting" (1997), that changed everything. What began as a 40-page assignment written by Damon for a playwriting class at Harvard, the pair decided to expand into a feature-length screenplay after becoming roommates in Los Angeles in 1992. Affleck and Damon sold the screenplay to Castle Rock Entertainment in 1994, but after a lengthy battle with the studio over finding a proper director, the rights were sold to Miramax, who hired indie auteur Gus Van Sant to direct. Affleck and Damon spent the next two years in Boston. Upon its release in the fall of 1997, "Good Will Hunting" was an instant sensation. Damon starred as Will Hunting, a janitor from South Boston working at Harvard who is secretly a genius-level prodigy (or, as Casey Affleck's character Morgan puts it at one point, "wicked smaaaht.") After a brush with the law, he accepts a plea deal which involves training under a strict, self-serious mathematics professor (Stellen Skarsgaard), and receiving counseling from a therapist with a broken heart and a similar blue collar background (Robin Williams), who helps Will to cope with his abusive childhood and pursue a relationship with Harvard med student Skylar (Minnie Driver). Affleck played the integral supporting role of Chucky, Will's best friend who eventually provides him the tough love he needs to pursue a better life for himself. Beautifully observed, endlessly quotable, heartbreaking, funny, and perfectly scored to the music of Philip Glass and the songs of Elliott Smith, "Good Will Hunting" received rave reviews from critics, and eventually pulled in over $100 million at the box office. Come Oscar season, the film was nominated for nine awards, including Best Picture, and walked away with two: Best Supporting Actor for Robin Williams, and for Best Original Screenplay, 25-year-old Ben Affleck and 27-year-old Matt Damon. To this day, Affleck is the youngest person to ever win in that category. Practically overnight, Damon became a serious prestige actor, while Affleck went down the road of leading man. The following year, he starred in "Armageddon" (1998), director Michael Bay's sci-fi action spectacle about a group of oil drillers trained by NASA to blow up a meteor that could wipe out all life on Earth. Critics scoffed, but "Armageddon" was the highest grossing film of the year. Affleck rounded out 1998 by appearing alongside then-girlfriend Gwyneth Paltrow in that year's Best Picture Oscar winner, the period romance "Shakespeare in Love" (1998). Next up was a detour into romantic comedy alongside Sandra Bullock in "Forces of Nature" (1999), and an onscreen reunion with Damon, for Kevin Smith's highly controversial, satirical look at Catholicism, "Dogma" (1999), in which the Affleck and Damon played a pair of fallen angels on a mission to destroy Earth and gain re-entry into the kingdom of Heaven. Meanwhile, Affleck was beginning to become interested in directing, and used the opportunity of appearing in the middling heist thriller "Reindeer Games" (2000) to shadow its vastly overqualified director, John Frankenheimer, on what turned out to be his final film before passing away in 2002. He also took a small turn as a corporate shark in "Boiler Room" (2000), and reunited with Paltrow for the romantic drama "Bounce" (2000), which was released right around the time the couple split up. Affleck then reunited with Michael Bay for the historical epic "Pearl Harbor" (2001), which found our leading man in a love triangle with a nurse (Kate Beckinsale) and his childhood best friend (Josh Hartnet). While the film's action scenes were predictably impressive, Bay proved to be utterly non-equipped to handle a splashy three-hour doomed romance, and Affleck's unfortunate Southern accent didn't help matters. The film made money, but critics scoffed. After a very meta cameo (playing both himself and his "Chasing Amy" character) in Kevin Smith's "Jay and Silent Bob Strike Back" (2001), and an unsuccessful attempt at becoming the next Jack Ryan in "The Sum of All Fears" (2002), Affleck earned rave reviews for his performance as a morally compromised businessman pushed to the edge in the thriller "Changing Lanes" (2002). It would turn out to be the last accolades he would receive for awhile. In 2003, Affleck began dating Jennifer Lopez. While he had always been a tabloid fixture, the paparazzi's interest in "Bennifer," as they became known, pushed his public exposure to a point of over-saturation, to the point that GQ magazine named him the "world's most over-exposed actor." What didn't help matters was a series of high profile misfires and bombs: the ludicrous superhero flick "Daredevil" (2003), John Woo's futuristic thriller "Paycheck" (2003), and the dreaded "Gigli" (2003), one of the most notorious flops in recent memory, in which Affleck co-starred with Lopez, who by then was his fiancé. Affleck's bad luck continued into 2004, which found him appearing in Kevin Smith's ill-advised attempt at serious filmmaking, "Jersey Girl" (2004), and the horrendous family "comedy," "Surviving Christmas" (2004). To make matters worse, Affleck and Lopez called off their wedding the night before the ceremony was to take place, leading to much shaddenfreude in the press. A few months later, their relationship ended for good, and Affleck decided to take a much-needed break from acting. During this self-imposed hiatus, Affleck met and married actress Jennifer Garner, received rave reviews for his small role as "Superman" actor George Reeves in the neo-noir "Hollywoodland" (2006), and decided to take a dive into directing. His debut behind the camera was "Gone Baby Gone" (2007), a police procedural set in working class Boston, and starring his younger brother, Casey Affleck, as a private eye who uncovers a conspiracy surrounding the disappearance of a young girl. While it didn't light up the box office, the film was warmly received by critics, who noted Affleck's genuine talent as a director. While he continued to appear in small roles over the next few years, including turns in "He's Just Not That Into You" (2009), "State of Play" (2009), "Extract" (2009), and "The Company Men" (2010), Affleck was clearly focused on his directorial career. His sophomore effort, "The Town" (2010), was a kinetic heist film set in South Boston, and starred Affleck, Jeremy Renner, Blake Lively, and Rebecca Hall. Critics praised it, and it was a surprise box office hit. For his third film, "Argo" (2012), Affleck starred as a CIA agent who devises a plan to rescue six stranded U.S. diplomats during the 1979 Iran hostage crisis by pretending to be location scouting for a big budget sci-fi epic. "Argo" was a major hit with both critics and audiences, and despite the surprise of Affleck being snubbed for a Best Director nomination at that year's Oscars, "Argo" became the first film since the 1930s to win Best Picture without said nomination. Affleck then starred in Terrence Malick's little-seen "To the Wonder" (2012) and the flop thriller "Runner Runner" (2013) before taking on one of his most acclaimed leading roles, as a husband suspected of murdering his missing wife in David Fincher's adaptation of the popular novel "Gone Girl" (2014). The film was a box office hit, and critics noted Fincher's smart decision to cast Affleck as a character who is dealing with intense media scrutiny into his private life. Affleck's next move surprised everyone: he was cast as none other than Batman for Zach Snyder's superhero epic "Batman v Superman: Dawn of Justice" (2016). While many initially questioned whether Affleck was right for the role, when the film was released, critics had many complaints, but the uniform opinion was that Affleck's take on both the caped crusader and his alter ego, Bruce Wayne, was one of the film's rare high points. Affleck would reprise the role for a cameo in "Suicide Squad" (2016), and as the lead of "Justice League" (2017), and there were plans for a stand-alone Batman film, which Affleck would also direct. However, the actor fell on some hard times. Despite receiving treatment for alcohol addiction in the past, Affleck fell off the wagon hard following the failure of his fourth directorial effort, the period gangster piece "Live by Night" (2016). 2017 saw Affleck take a break from the business, and focus instead on getting sober. During this time, the Batman project fell apart, and he and Garner separated after more than a decade of marriage, allegedly due to Affleck having an affair with their nanny. Their divorce was finalized in 2018, and Affleck sadly spent the next few years in a very public fight for sobriety, relapsing a number of times. Despite his woes, Affleck continued to work, in films including Gavin O'Connor's sports drama "The Way Back" (2020), and Dee Rees's political thriller "The Last Thing He Wanted" (2020).
Photos
GONE BABY GONE, director Ben Affleck (left), on set, 2007. ©Miramax
PHANTOMS, Rose McGowan, Liev Schreiber, Joanna Going, Ben Affleck, 1998, (c) Dimension Films
ARMAGEDDON, Ben Affleck, 1998, (c) Touchstone
CHASING AMY, Joey Lauren Adams, Jason Mewes, Kevin Smith, Jason Lee, Ben Affleck, 1997. (c) Miramax Films.
SUM OF ALL FEARS, Ben Affleck, 2002, (c) Paramount
JERSEY GIRL, Kevin Smith (top), George Carlin, Raquel Castro, Ben Affleck, Jason Biggs, Liv Tyler, 2004, (c) Miramax
PAYCHECK, Ben Affleck, Uma Thurman, 2003, (c) Paramount
JERSEY GIRL, top: Liv Tyler, Ben Affleck, bottom: Ben Affleck, Raquel Castro, 2004, (c) Miramax
PAYCHECK, Uma Thurman, Ben Affleck, 2003, (c) Paramount
THE THIRD WHEEL, from left: Denise Richards, Luke Wilson, Ben Affleck, Jay Lacopo, 2002, © Miramax
BOUNCE, Ben Affleck, Gwyneth Paltrow, 2000, (c) Miramax
JERSEY GIRL, Ben Affleck, 2004, (c) Miramax
LIVE BY NIGHT, FROM LEFT: BEN AFFLECK, ZOE SALDANA, 2016. PH: CLAIRE FOLGER/© WARNER BROS.
PEARL HARBOR, Ben Affleck as Rafe McCawley, 2001
SCHOOL TIES, Ben Affleck, 1992. (c) Paramount Pictures.
DAREDEVIL, Ben Affleck, 2003, TM & Copyright (c) 20th Century Fox Film Corp. All rights reserved.
JAY AND SILENT BOB STRIKE BACK, Will Ferrell, Shannon Elizabeth, Ben Affleck, Jason Mewes, Kevin Smith, Chris Rock, Jason Lee, 2001, (c) Dimension
PEARL HARBOR, Ben Affleck, 2001, (c) Buena Vista
CHASING AMY, Joey Lauren Adams, Ben Affleck, 1997
DAREDEVIL, Ben Affleck, 2003, TM & Copyright (c) 20th Century Fox Film Corp. All rights reserved.
Filmography
Movies
Credit

No Score Yet

No Score Yet

This Is Me... Now: The Film
Screenwriter
-
2024

No Score Yet

No Score Yet

Aquaman and the Lost Kingdom
Bruce Wayne/Batman (Character)
-
2023

32%

62%

Hypnotic
Daniel Rourke (Character)
$4.5M
2023

93%

98%

Air
Phil Knight (Character),
Director,
Producer
$52.4M
2023

No Score Yet

No Score Yet

The Instigators
Producer
-
2023

No Score Yet

No Score Yet

For People in Trouble
Producer
-
2023

100%

No Score Yet

Kiss the Future
Producer
-
2023

No Score Yet

No Score Yet

Going All the Way: The Director's Edit
Gunner Casselman (Character)
-
2022

35%

24%

Deep Water
Vic (Character)
-
2022

51%

69%

The Tender Bar
Uncle Charlie (Character)
-
2021

82%

48%

Clerk
Self
-
2021

85%

81%

The Last Duel
Count Pierre d'Alençon (Character),
Screenwriter,
Executive Producer
$10.8M
2021

72%

93%

Zack Snyder's Justice League
Batman/Bruce Wayne (Character),
Executive Producer
-
2021

84%

84%

The Way Back
Jack Cunningham (Character)
-
2020

5%

13%

The Last Thing He Wanted
Treat Morrison (Character)
-
2020

64%

93%

Jay and Silent Bob Reboot
Holden McNeil (Character)
$2.8M
2019

70%

58%

Triple Frontier
Tom "Redfly" Davis (Character)
-
2019

No Score Yet

No Score Yet

Far Bright Star
Director
-
2018

39%

67%

Justice League
Batman/Bruce Wayne (Character),
Executive Producer
$227.0M
2017

100%

76%

Bending the Arc
Executive Producer
$12.2K
2017

35%

42%

Live by Night
Joe Coughlin (Character),
Director,
Screenwriter,
Producer
$10.4M
2016

52%

76%

The Accountant
Christian Wolff (Character)
$86.2M
2016

29%

63%

Batman v Superman: Dawn of Justice
Bruce Wayne/Batman (Character)
$330.2M
2016

0%

16%

The Leisure Class
Executive Producer
-
2015

88%

87%

Gone Girl
Nick Dunne (Character)
$167.8M
2014

7%

33%

Runner Runner
Ivan Block (Character)
$19.3M
2013

47%

37%

To the Wonder
Neil (Character)
$586.3K
2012

96%

90%

Argo
Tony Mendez (Character),
Director,
Producer
$136.0M
2012

68%

55%

The Company Men
Bobby Walker (Character)
$4.4M
2010

92%

85%

The Town
Doug MacRay (Character),
Director,
Screenwriter
$92.2M
2010

No Score Yet

94%

Reporter
Executive Producer
-
2009

62%

38%

Extract
Dean (Character)
$10.8M
2009

84%

73%

State of Play
Stephen Collins (Character)
$37.0M
2009

41%

59%

He's Just Not That Into You
Neil (Character)
-
2009

94%

86%

Gone Baby Gone
Director,
Writer
$20.3M
2007

31%

62%

Smokin' Aces
Jack Dupree (Character)
$35.6M
2007

38%

29%

Man About Town
Jack (Character)
-
2006

55%

60%

Feast
Executive Producer
-
2006

68%

48%

Hollywoodland
George Reeves (Character)
$14.4M
2006

63%

84%

Clerks II
Gawking Guy (Character)
$24.1M
2006

8%

30%

Surviving Christmas
Drew Latham (Character)
$11.2M
2004

82%

70%

Fahrenheit 9/11
Self
$119.1M
2004

43%

48%

Jersey Girl
Ollie Trinke (Character)
$25.3M
2004

27%

45%

Paycheck
Michael Jennings (Character)
$53.8M
2003

39%

48%

The Battle of Shaker Heights
Executive Producer
$279.3K
2003

6%

13%

Gigli
Gigli (Character)
$5.7M
2003

43%

35%

Daredevil
Matt Murdock/Daredevil (Character)
$102.5M
2003

33%

32%

The Third Wheel
Michael (Character),
Executive Producer
-
2002

59%

49%

The Sum of All Fears
Jack Ryan (Character)
$118.5M
2002

77%

53%

Changing Lanes
Gavin Banek (Character)
$66.8M
2002

36%

66%

Stolen Summer
Producer
$119.8K
2002

86%

54%

Daddy and Them
Lawrence Bowen (Character)
-
2001

52%

75%

Jay and Silent Bob Strike Back
Holden/Ben/Chuckie (Character)
$30.1M
2001

24%

66%

Pearl Harbor
Rafe McCawley (Character)
$198.5M
2001

No Score Yet

63%

Joseph: King of Dreams
Joseph (Voice)
-
2000

53%

32%

Bounce
Buddy Amaral (Character)
$36.8M
2000

25%

27%

Reindeer Games
Rudy Duncan (Character)
$23.4M
2000

66%

78%

Boiler Room
Jim Young (Character)
$16.9M
2000

30%

59%

200 Cigarettes
Bartender (Character)
$6.9M
1999

68%

85%

Dogma
Bartleby/Barry (Character)
$30.7M
1999

45%

34%

Forces of Nature
Ben Holmes (Character)
$52.9M
1999

10%

27%

Phantoms
Sheriff Bryce Hammond (Character)
$5.7M
1998

43%

73%

Armageddon
A.J. Frost (Character)
$201.6M
1998

92%

80%

Shakespeare in Love
Ned Alleyn (Character)
$100.2M
1998

97%

94%

Good Will Hunting
Chuckie Sullivan (Character),
Writer
$138.3M
1997

87%

83%

Chasing Amy
Holden McNeil (Character)
$12.0M
1997

65%

24%

Going All the Way
Gunner Casselman (Character)
$86.2K
1997

No Score Yet

43%

Last Call
Jack (Character)
-
1996

58%

82%

Mallrats
Shannon Hamilton (Character)
$1.8M
1995

93%

90%

Dazed and Confused
Fred O'Bannion (Character)
$8.0M
1993

60%

69%

School Ties
Chesty Smith (Character)
$12.5M
1992

No Score Yet

53%

Daddy
Ben Watson (Character)
-
1991
TV