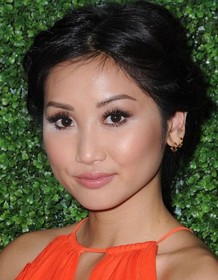 Brenda Song
Highest Rated: 96% The Social Network (2010)
Lowest Rated: 12% College Road Trip (2008)
Birthday: Mar 27, 1988
Birthplace: Carmichael, California, USA
Brenda Song launched her career as a teen role model by starring on family-friendly television shows and in feature films. The Disney Channel often cast the Asian-American star in roles that showcased her comedic wit, likeability, and natural star quality. Her scene-stealing portrayal of a spoiled yet charming hotel heiress on Disney Channel hits "The Suite Life of Zack and Cody" (2005-07) and its spin-off "The Suite Life on Deck" (2008-11) made Song one of the most popular and well loved young actresses of her generation, while her role made history as one of the longest-running female characters on the network. She made a subtle yet inspired transition into more mature projects, playing a seductive co-ed in 2010's Oscar-nominated "The Social Network." Song's performance in the semi-biographical drama about the creators of Facebook earned the versatile actress rave critical reviews and poised her to take on much heavier roles throughout her career.
Photos
Brenda Song
Dads, Seth Green (L), Brenda Song (C), Giovanni Ribisi (R), 'Funny Girl', Season 1, Ep. #4, 10/08/2013, ©FOX
COLLEGE ROAD TRIP, Margo Harshman, Raven Symone, Brenda Song, 2008. ©Walt Disney Co.
Dads, Giovanni Ribisi (L), Brenda Song (C), Seth Green (R), 'My Dad is Hotter Than Your Dad', Season 1, Ep. #5, 10/15/2013, ©FOX
Dads, Seth Green (L), Brenda Song (C), Giovanni Ribisi (R), 'The Glitch That Stole Christmas', Season 1, Ep. #11, 12/03/2013, ©FOX
Dads, from left: Seth Green, Peter Riegert, Giovanni Ribisi, Brenda Song, 'Have a Heart... Attack!', Season 1, Ep. #18, 02/11/2014, ©FOX
Dads, Brenda Song (L), Ryan Sypek (C), Seth Green (R), 'Have a Heart... Attack!', Season 1, Ep. #18, 02/11/2014, ©FOX
Dads, from left: Seth Green, Giovanni Ribisi, Martin Mull, Ray Abruzzo, Brenda Song, 'Warner's Got it Made', Season 1, Ep. #16, 02/04/2014, ©FOX
Dads, Brenda Song (L), Seth Green (C), Martin Mull (R), 'Warner's Got it Made', Season 1, Ep. #16, 02/04/2014, ©FOX
Dads, from left: Brenda Song, Tonita Castro, Seth Green, Peter Riegert, Martin Mull, 'Warner's Got it Made', Season 1, Ep. #16, 02/04/2014, ©FOX
Dads, Giovanni Ribisi (L), Seth Green (C), Brenda Song (R), 'Baby Face', Season 1, Ep. #15, 01/28/2014, ©FOX
Dads, Brenda Song (L), Seth Green (R), 'Eli Nightingale', Season 1, Ep. #13, 01/14/2014, ©FOX
Dads, Brenda Song (L), Seth Green (R), 'Eli Nightingale', Season 1, Ep. #13, 01/14/2014, ©FOX
Dads, Seth Green (L), Brenda Song (C), Giovanni Ribisi (R), 'The Glitch That Stole Christmas', Season 1, Ep. #11, 12/03/2013, ©FOX
Dads, Seth Green (L), Brenda Song (R), 'Eli Nightingale', Season 1, Ep. #13, 01/14/2014, ©FOX
Dads, Brenda Song (L), Seth Green (R), 'Eli Nightingale', Season 1, Ep. #13, 01/14/2014, ©FOX
Dads, Giovanni Ribisi (L), Seth Green (C), Brenda Song (R), 'The Glitch That Stole Christmas', Season 1, Ep. #11, 12/03/2013, ©FOX
Dads, Brenda Song (L), Seth Green (R), 'Eli Nightingale', Season 1, Ep. #13, 01/14/2014, ©FOX
Dads, from left: Giovanni Ribisi, Seth Green, Martin Mull, Brenda Song, Peter Riegert, 'Eli Nightingale', Season 1, Ep. #13, 01/14/2014, ©FOX
NEW GIRL, from left: Max Greenfield, Brooklyn Decker, Lamorne Morris, Brenda Song, 'Cooler', Season 2, Ep. #15, 01/29/2013, ©FOX