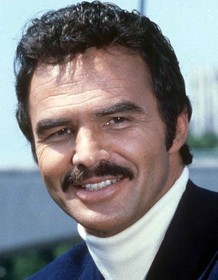 Burt Reynolds
Highest Rated: 94% Boogie Nights (1997)
Lowest Rated: Not Available
Birthday: Feb 11, 1936
Birthplace: Lansing, Michigan, USA
One of the most popular stars in the world for decades, Burt Reynolds was the boyishly charming but undeniably rugged star of such action and drama films as "Deliverance" (1972), "The Longest Yard" (1975), "Smokey and the Bandit" (1977), "The Cannonball Run" (1981) and "Boogie Nights" (1997). He discovered acting in the late 1950s after injuries put an end to his dreams of football stardom, but he struggled to find his niche for over a decade until his turn in the gripping thriller "Deliverance" thrust him into the spotlight. His easygoing nature and ladies' man reputation made him enormously popular with audiences, which he parlayed into a string of popular comedies and action films through the 1970s and '80s. But a string of flops and personal setbacks knocked him off his perch at the top of the box office, and by the early '90s, he was not only out of step with the movie industry, but financially bankrupt. Redemption came in the unlikely form of "Boogie Nights," an indie drama about the lives of adult film stars; Reynolds' graying presence meshed perfectly with his character, an ambitious but flawed director, and he earned an Oscar nod as well as a career revival. He was remarkably active, though if not at the level of his '70s heyday, for much of the next decade, and retained the roguish, self-deprecating persona that made him such a superstar decades before. Burt Reynolds died in his adopted hometown of Jupiter, Florida on September 6, 2018. He was 82.
Photos
NICKELODEON, Burt Reynolds, Jane Hitchcock, Ryan O'Neal, 1976
GATOR, Jerry Reed, Burt Reynolds, 1976
HOOPER, Terry Bradshaw, Burt Reynolds, 1978
GATOR, Lauren Hutton, Burt Reynolds, 1976
THE LONGEST YARD, Burt Reynolds, 1974
THE END, Dom DeLuise, Burt Reynolds, 1978, (c) United Artists
THE END, Dom DeLuise, Burt Reynolds, 1978, (c) United Artists
FUZZ, Burt Reynolds, 1972
The Late Show With Stephen Colbert, Burt Reynolds, 09/08/2015, ©CBS
FUZZ, Burt Reynolds (back), Jack Weston, 1972
THE END, Burt Reynolds, 1978, (c) United Artists
HUSTLE, Burt Reynolds, Catherine Deneuve, 1975
THE LONGEST YARD, Chris Rock, Burt Reynolds, Adam Sandler, 2005, (c) Paramount
SMOKEY AND THE BANDIT, Burt Reynolds, 1977.
HUSTLE, Burt Reynolds, 1975
HUSTLE, Burt Reynolds, 1975
COP & 1/2, (aka COP AND ONE HALF), from left: Norman D. Golden II, Burt Reynolds, 1993. ©Universal Pictures
COP & 1/2, (aka COP AND ONE HALF), from left: Norman D. Golden II, Burt Reynolds, 1993. ©Universal Pictures
COP & 1/2, (aka COP AND ONE HALF), Burt Reynolds, 1993. ©Universal Pictures
HUSTLE, Burt Reynolds, 1975
Filmography
Movies
Credit

No Score Yet

No Score Yet

Burt Reynolds: The Last Interview
Self
-
2023

No Score Yet

67%

Defining Moments
Chester (Character)
-
2021

No Score Yet

No Score Yet

Shadow Fighter
Paddy Grier (Character)
-
2018

No Score Yet

No Score Yet

Miami Love Affair
Robert (Character)
-
2017

No Score Yet

No Score Yet

Henri
George Duncan (Character)
-
2017

59%

73%

The Last Movie Star
Vic Edwards (Character)
$8.0K
2017

No Score Yet

100%

John G. Avildsen: King of the Underdogs
Self
-
2017

No Score Yet

38%

Apple of My Eye
Charlie (Character)
-
2017

No Score Yet

No Score Yet

Elbow Grease
Grandpa Barnes (Character)
-
2016

86%

86%

The Bandit
Self
-
2016

No Score Yet

29%

Hollow Creek
Seagrass Lambert (Character)
-
2016

No Score Yet

84%

Pocket Listing
Ron Glass (Character)
-
2015

No Score Yet

29%

Shangri-La Suite
Narrator
$13.3K
2015

No Score Yet

20%

A Magic Christmas
Buster (Voice)
-
2014

No Score Yet

44%

Hamlet & Hutch
Hutch (Character)
-
2014

No Score Yet

No Score Yet

Category 5
Pops (Character)
-
2014

No Score Yet

28%

Reel Love
Wade Whitman (Character)
-
2011

No Score Yet

10%

Not Another Not Another Movie
C.J. Waters (Character)
-
2011

12%

26%

Delgo
Delgo's Father (Voice)
$511.9K
2008

3%

38%

Deal
Tommy Vinson (Character)
$57.2K
2008

No Score Yet

43%

A Bunch of Amateurs
Jefferson Steel (Character)
-
2008

No Score Yet

No Score Yet

Rona Barrett's Hollywood: Nothing but the Truth
Unknown (Character)
-
2008

4%

23%

In the Name of the King: A Dungeon Siege Tale
King Konreid (Character)
$4.5M
2007

No Score Yet

18%

Forget About It
Sam LeFleur (Character)
-
2006

5%

87%

Broken Bridges
Jake Delton (Character)
$251.8K
2006

No Score Yet

21%

Grilled
Goldbluth (Character)
-
2006

No Score Yet

22%

End Game
General Montgomery (Character)
-
2006

67%

17%

Cloud 9
Unknown (Character)
-
2006

No Score Yet

39%

The Legend of Frosty the Snowman
Narrator
-
2005

14%

46%

The Dukes of Hazzard
Boss Hogg (Character)
$80.3M
2005

31%

62%

The Longest Yard
Coach Nate Scarborough (Character)
$158.1M
2005

No Score Yet

17%

The Librarians
Irish (Character)
-
2004

14%

68%

Without a Paddle
Del Knox (Character)
$58.2M
2004

No Score Yet

43%

Hard Ground
John 'Chill' McKay (Character)
-
2003

No Score Yet

38%

Time of the Wolf
Archie MacGregor (Character)
-
2002

No Score Yet

44%

Miss Lettie and Me
Samuel Madison (Character)
-
2002

No Score Yet

56%

Snapshots
Larry Goldberg (Character)
-
2002

No Score Yet

48%

Johnson County War
Unknown (Character)
-
2002

No Score Yet

No Score Yet

Johnson County War
Hunt Lawton (Character)
-
2002

41%

31%

Hotel
The Flamenco Manager (Character)
$28.8K
2001

No Score Yet

28%

Tempted
Charlie Le Blanc (Character)
-
2001

No Score Yet

24%

The Hollywood Sign
Kage Mulligan (Character)
-
2001

14%

33%

Driven
Carl Henry (Character)
$32.6M
2001

20%

34%

The Crew
Joey 'Bats' Pistella (Character)
$13.0M
2000

33%

No Score Yet

The Last Producer
Sonny Wexler (Character),
Director
-
2000

No Score Yet

22%

Hostage Hotel
Det. Logan McQueen (Character)
-
1999

No Score Yet

25%

The Premonition
Det. Logan McQueen (Character),
Director
-
1999

No Score Yet

60%

Waterproof
Eli Zeal (Character)
-
1999

90%

73%

Pups
Daniel Bender (Character)
$4.4K
1999

37%

66%

Mystery, Alaska
Judge Walter Burns (Character)
$8.9M
1999

No Score Yet

0%

Big City Blues
Connor (Character)
-
1999

No Score Yet

No Score Yet

Stringer
Wolko (Character)
-
1999

No Score Yet

No Score Yet

Hard Time II: The Premonition
Det. Logan McQueen (Character),
Director
-
1999

No Score Yet

40%

The Hunter's Moon
Clayton Samuels (Character)
-
1999

20%

27%

Universal Soldier III: Unfinished Business
Mentor/CIA Deputy Director/GR88 (Character)
-
1998

0%

9%

Universal Soldier II: Brothers in Arms
Mentor (Character)
-
1998

No Score Yet

15%

Hard Time
Det. Logan McQueen (Character),
Director
-
1998

No Score Yet

21%

Crazy Six
Dakota (Character)
-
1998

43%

53%

Bean
General Newton (Character)
$45.3M
1997

13%

31%

Meet Wally Sparks
Lenny Spencer (Character)
$4.1M
1997

94%

89%

Boogie Nights
Jack Horner (Character)
$26.4M
1997

No Score Yet

No Score Yet

Hunter's Moon
Unknown (Character)
-
1997

No Score Yet

6%

Raven
Jerome "Raven" Katz (Character)
-
1996

No Score Yet

60%

The Cherokee Kid
Otter Bob (Character)
-
1996

17%

48%

Mad Dog Time
'Wacky' Jacky Jackson (Character)
$102.9K
1996

13%

24%

Striptease
Congressman David Dilbeck (Character)
$32.8M
1996

81%

73%

Citizen Ruth
Blaine Gibbons (Character)
$278.5K
1996

No Score Yet

58%

Frankenstein and Me
Les Williams (Character)
-
1996

No Score Yet

36%

The Maddening
Roy Scudder (Character)
-
1995

No Score Yet

No Score Yet

Wind in the Wire
Unknown (Character)
-
1994

No Score Yet

61%

The Man From Left Field
Jack Robinson (Character),
Director,
Executive Producer
-
1993

13%

34%

Cop and a Half
Nick McKenna (Character)
$30.1M
1993

No Score Yet

56%

Modern Love
Colonel Frank Parker (Character)
$37.7K
1990

No Score Yet

No Score Yet

B.L. Stryker: Winner Takes All
B.L. Stryker (Character)
-
1990

No Score Yet

No Score Yet

B.L. Stryker: Plates
B.L. Stryker (Character)
-
1990

No Score Yet

No Score Yet

Amazing Stories: The Movie III
Director
-
1990

No Score Yet

No Score Yet

B.L. Stryker: High Rise
B.L. Stryker (Character)
-
1990

No Score Yet

No Score Yet

B.L. Stryker
B.L. Stryker (Character)
-
1990

No Score Yet

No Score Yet

B.L. Stryker: Grand Theft Hotel
B.L. Stryker (Character)
-
1990

No Score Yet

No Score Yet

B.L. Stryker: Night Train
B.L. Stryker (Character),
Director
-
1990

80%

42%

Breaking In
Ernie Mullins (Character)
$1.8M
1989

22%

11%

Physical Evidence
Joe Paris (Character)
$3.5M
1989

44%

63%

All Dogs Go to Heaven
Charlie B. Barkin (Voice)
$26.2M
1989

No Score Yet

No Score Yet

B.L. Stryker: Die Laughing
B.L. Stryker (Character),
Director
-
1989

No Score Yet

No Score Yet

B.L. Stryker: Blind Chess
B.L. Stryker (Character)
-
1989

No Score Yet

No Score Yet

B.L. Stryker: The Dancer's Touch
B.L. Stryker (Character)
-
1989

No Score Yet

No Score Yet

B.L. Stryker: The King of Jazz
B.L. Stryker (Character)
-
1989

No Score Yet

No Score Yet

B.L. Stryker: Blues for Buder
B.L. Stryker (Character),
Director
-
1989

No Score Yet

No Score Yet

B.L. Stryker: Auntie Sue
B.L. Stryker (Character)
-
1989

No Score Yet

No Score Yet

B.L. Stryker: Carolann
B.L. Stryker (Character)
-
1989

60%

32%

Switching Channels
John L. Sullivan IV (Character)
$8.2M
1988

8%

17%

Rent-A-Cop
Tony Church (Character)
$294.3K
1988

25%

27%

Heat
Mex (Character)
$2.4M
1987

29%

35%

Malone
Richard Malone (Character)
$2.5M
1987

No Score Yet

No Score Yet

Nick, al rojo vivo
Unknown (Character)
-
1987

No Score Yet

No Score Yet

Shattered: If Your Kid's on Drugs
Unknown (Character)
-
1986

No Score Yet

11%

Uphill All the Way
Gambler (Character)
-
1985

38%

37%

Stick
Stick (Character),
Director
-
1985

22%

24%

City Heat
Mike Murphy (Character)
-
1984

13%

45%

Cannonball Run II
J.J. McClure (Character)
-
1984

19%

50%

Stroker Ace
Stroker Ace (Character)
-
1983

33%

39%

The Man Who Loved Women
David Fowler (Character)
-
1983

17%

17%

Smokey and the Bandit Part 3
The Real Bandit (Character)
-
1983

62%

30%

Best Friends
Richard Babson (Character)
-
1982

46%

68%

The Best Little Whorehouse in Texas
Sheriff (Character)
-
1982

No Score Yet

22%

Paternity
Buddy Evans (Character)
-
1981

29%

61%

The Cannonball Run
J.J. McClure (Character)
-
1981

83%

62%

Sharky's Machine
Sgt. Tom Sharky (Character),
Director
-
1981

25%

43%

Smokey and the Bandit II
Bandit (Character)
-
1980

No Score Yet

12%

Rough Cut
Jack Rhodes (Character)
-
1980

86%

58%

Starting Over
Phil Potter (Character)
-
1979

No Score Yet

No Score Yet

Merci d'avoir été ma femme
Unknown (Character)
-
1979

57%

60%

Hooper
Sonny Hooper (Character)
-
1978

60%

49%

The End
Wendell Sonny Lawson (Character),
Director
-
1978

83%

33%

Semi-Tough
Billy Clyde Puckett (Character)
-
1977

72%

85%

Smokey and the Bandit
'Bandit'/Bo Darville (Character)
-
1977

17%

44%

Gator
Gator McKlusky (Character),
Director
-
1976

7%

49%

Nickelodeon
Buck Greenway (Character)
-
1976

82%

72%

Silent Movie
Self
-
1976

33%

38%

Lucky Lady
Walker Ellis (Character)
-
1975

50%

48%

Hustle
Lt. Phil Gaines (Character)
-
1975

No Score Yet

28%

W.W. and the Dixie Dancekings
W.W. Bright (Character)
-
1975

22%

40%

At Long Last Love
Michael Oliver Pritchard III (Character)
-
1975

76%

75%

The Longest Yard
Paul Crewe (Character)
-
1974

25%

40%

Shamus
Shamus McCoy (Character)
-
1973

71%

61%

White Lightning
Gator McKlusky (Character)
-
1973

No Score Yet

47%

The Man Who Loved Cat Dancing
Jay Grobart (Character)
-
1973

No Score Yet

16%

Fuzz
Det. Steve Carella (Character)
-
1972

88%

69%

Everything You Always Wanted to Know About Sex (But Were Afraid to Ask)
Sperm Switchboard Chief (Character)
-
1972

89%

82%

Deliverance
Lewis Medlock (Character)
-
1972

No Score Yet

No Score Yet

The Trouble With Women
Lt. Dan August (Character)
-
1971

No Score Yet

No Score Yet

Dan August: The Jealousy Factor
Lt. Dan August (Character)
-
1971

No Score Yet

No Score Yet

The Relative Solution
Lt. Dan August (Character)
-
1971

No Score Yet

No Score Yet

The Killing Affairs
Unknown (Character)
-
1971

No Score Yet

No Score Yet

Dan August: The Lady Killers
Lt. Dan August (Character)
-
1971

No Score Yet

No Score Yet

Once Is Never Enough
Detective Lieutenant Dan August (Character)
-
1970

No Score Yet

22%

Run, Simon, Run
Simon Zuniga (Character)
-
1970

No Score Yet

No Score Yet

Double Jeopardy
Unknown (Character)
-
1970

No Score Yet

No Score Yet

Murder My Friend
Lt. Dan August (Character)
-
1970

No Score Yet

No Score Yet

Hunters Are for Killing
L.G. Floran (Character)
-
1970

No Score Yet

No Score Yet

Skullduggery
Douglas Temple (Character)
-
1970

No Score Yet

29%

Shark!
Caine (Character)
-
1969

No Score Yet

42%

100 Rifles
Yaqui Joe Herrera (Character)
-
1969

No Score Yet

0%

Impasse
Pat Morrison (Character)
-
1969

No Score Yet

26%

Sam Whiskey
Sam Whiskey (Character)
-
1969

No Score Yet

No Score Yet

Fade-In
Rob (Character)
-
1968

No Score Yet

54%

Navajo Joe
Navajo Joe (Character)
-
1966

No Score Yet

No Score Yet

Operation C.I.A.
Mark Andrews (Character)
-
1965

No Score Yet

12%

Angel Baby
Hoke Adams (Character)
-
1961
TV