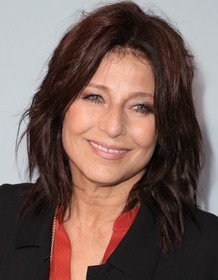 Catherine Keener
Highest Rated: 98% Get Out (2017)
Lowest Rated: Not Available
Birthday: Mar 23, 1959
Birthplace: Miami, Florida, USA
A solid force in American independent cinema, Catherine Keener built up a following in films from directors like Tom DiCillo and Nicole Holofcener during the 1990s. The effortless, naturalistic acting style that landed her roles as wry, likable bohemians and stern, archly observed professionals found wider audiences the following decade with diverse offerings like Spike Jonze's "Being John Malkovich" (2000), Judd Apatow's monster summer comedy "40-Year-Old Virgin" (2005), and the gripping period literary drama "Capote" (2005). Aging gracefully into maternal roles, Keener continued alternating between lead roles in art house favorites such as Nicole Holofcener's "Friends With Money" (2006) and David Schwimmer's "Trust" (2010) and supporting roles in hits ranging from animated smash "The Croods" (2013) to Jordan Peele's horror hit "Get Out" (2017). For an actress with a dedication to interesting, well-developed female characters, Keener managed to beat the odds and maintain a steady presence in movie theaters as the go-to actress for vanity-free portraits of real women with relatable quirks and foibles.
Photos
Catherine Keener
THE INTERPRETER, Catherine Keener, 2005, © Universal
FRIENDS WITH MONEY, Jennifer Aniston, Catherine Keener, Joan Cusack, 2006, (c) Sony Pictures Classics
WALKING AND TALKING, director Nicole Holofcener, Catherine Keener, on set, 1996. (c)Miramax
WALKING AND TALKING, Catherine Keener, 1996, © Miramax
UNLESS, Catherine Keener, 2016, ©Mongrel Cinema
JOHNNY SUEDE, Brad Pitt, Catherine Keener, 1991. ©Miramax Films.
LIVING IN OBLIVION, Steve Buscemi, Catherine Keener, Dermot Mulroney, 1995, (c) Sony Pictures Classics
WHERE THE WILD THINGS ARE, from left: Max Records, Catherine Keener, 2009. ©Warner Bros.
JOHNNY SUEDE, Brad Pitt, Catherine Keener, 1991
YOUR FRIENDS AND NEIGHBORS, Nastassja Kinski, Catherine Keener, 1998, laughing
THE REAL BLONDE, (aka UNA RUBIA AUTENTICA), from left: Matthew Modine, Catherine Keener, 1997, © Paramount
THE REAL BLONDE, (aka UNA RUBIA AUTENTICA), from left: Matthew Modine, Catherine Keener, 1997, © Paramount
LOVELY & AMAZING, Catherine Keener, 2001
WALKING AND TALKING, Catherine Keener, Liev Schreiber, 1996
LIVING IN OBLIVION, Catherine Keener, Peter Dinklage, 1995
JOHNNY SUEDE, Catherine Keener, Brad Pitt, 1991
OUT OF SIGHT, Catherine Keener, Jennifer Lopez, 1998
JOHNNY SUEDE, Catherine Keener, Brad Pitt, 1991
FRIENDS WITH MONEY, Jennifer Aniston, Catherine Keener, Joan Cusack, Jason Isaacs, Greg Germann, Simon McBurney, Frances McDormand, 2006, (c) Sony Pictures Classics