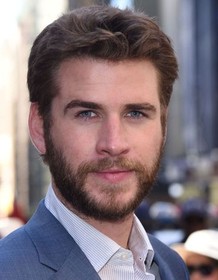 Liam Hemsworth
Highest Rated: 90% The Hunger Games: Catching Fire (2013)
Lowest Rated: 7% Paranoia (2013)
Birthday: Jan 13, 1990
Birthplace: Melbourne, Victoria, Australia
Liam Hemsworth was born in Melbourne, Australia in 1990, and grew up largely on Phillip Island, where his favorite pastime during his youth was surfing.He eventually began following in the footsteps of his older brothers Luke and Chris, acting in school plays and eventually signing with a professional agent. He joined the cast of the long-running Australian soap opera "Neighbors" (Network 10, 1985-) in 2007 and stuck with the show for over a year before moving on to co-star on "The Elephant Princess" (Network 10, 2008-) as Marcus. By 2009, Hemsworth's brothers had both taken the leap to try their hands at fame in the United States, and he decided to join them. He moved to Los Angeles where he shared an apartment with brother Chris while he began the process of auditioning. Though he was at first cast in the action movie "The Expendables" (2009), his part was cut from the film. Soon however, Hemsworth landed a part opposite Miley Cyrus in the romantic drama "The Last Song" (2010). The role immediately put Hemsworth on the map, and he began a romantic relationship with Cyrus as well. Within two years, Hemsworth was acting in one of the biggest franchises of the decade, playing Gale Hawthorne in "The Hunger Games" (2012)-as well as finally appearing in the "Expendables" franchise with a role in "The Expendables 2" (2012). Hemsworth reprised the role of Gale for the "Hunger Games" sequels "The Hunger Games: Catching Fire" (2013), "The Hunger Games: Mockingjay - Part 1" (2014) and "The Hunger Games: Mockingjay - Part 2" (2015). With his status now cemented as a major star, Hemsworth moved on from the franchise to star in the latter-day sequel "Independence Day: Resurgence" (2015). He and Cyrus finally married in 2018, though they would divorce the following year. Professionally however, the actor continued to shine. He next appeared opposite fellow Australian actor Rebel Wilson in the romantic comedy spoof "Isn't It Romantic" (2019) and starred in the gritty crime thriller "Killerman" (2019).
Photos
Jimmy Kimmel Live: After the Oscars, Liam Hemsworth, 02/24/2013, ©ABC
INDEPENDENCE DAY: RESURGENCE, Liam Hemsworth, 2016. ph: Claudette Barius/TM and Copyright © 20th Century Fox Film Corp. All rights reserved.
PARANOIA, from left: Amber Heard, Harrison Ford, Liam Hemsworth, 2013. ph: Peter Iovino/©Relativity Media
None
CUT BANK, from left: Teresa Palmer, Liam Hemsworth, 2014.
None
None
THE DRESSMAKER, from left: Judy Davis, Liam Hemsworth, 2015. ph: Ben King/© Broad Green Pictures
THE HUNGER GAMES: MOCKINGJAY - PART 2, from left: Liam Hemsworth, Sam Claflin (back), Evan Ross, Jennifer Lawrence, 2015. ph: Murray Close/©Lionsgate
THE HUNGER GAMES: MOCKINGJAY - PART 2, from left: Jennifer Lawrence, Mahershala Ali, Liam Hemsworth, 2015. ph: Murray Close/©Lionsgate
ISN'T IT ROMANTIC, FROM LEFT: REBEL WILSON, LIAM HEMSWORTH, 2019. PH MICHAEL PARMELEE/© WARNER BROS.
THE LAST SONG, from left: Greg Kinnear, Bobby Coleman, Miley Cyrus, Liam Hemsworth, 2010. Ph: Sam Emerson/©Walt Disney S tudios Motion Pictures
THE LAST SONG, from left: Miley Cyrus, Liam Hemsworth, 2010. Ph: Sam Emerson/©Walt Disney Studios Motion Pictures
CUT BANK, from left: Liam Hemsworth, John Malkovich, 2014. ph: Dan Power/©A24
THE LAST SONG, from left: Liam Hemsworth, Miley Cyrus, 2010. Ph: Sam Emerson/©Walt Disney Studios Motion Pictures
THE LAST SONG, from left: Liam Hemsworth, Miley Cyrus, 2010. Ph: Sam Emerson/©Walt Disney Studios Motion Pictures
Jimmy Kimmel Live, Liam Hemsworth, 'Episode 16', Season 11, Ep. #16, 01/29/2013, ©ABC
PARANOIA, from left: Gary Oldman, Liam Hemsworth, Harrison Ford, 2013. ph: Peter Iovino/©Relativity Media
Jimmy Kimmel Live, Liam Hemsworth, 'Episode 16', Season 11, Ep. #16, 01/29/2013, ©ABC
THE DRESSMAKER, Liam Hemsworth (center), 2015. ph: Ben King/© Broad Green Pictures