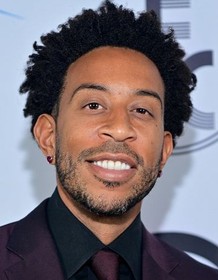 Ludacris
Highest Rated: 82% Hustle & Flow (2005)
Lowest Rated: Not Available
Birthday: Sep 11, 1977
Birthplace: Champaign, Illinois, USA
Rapper-actor-record label chief Ludacris was one of the most successful hip-hop artists of the early 2000s, rising from obscurity with a self-released album in 2000 to a multi-platinum-selling, award-winning rapper with such Top 5 hits as ""Area Codes," "Stand Up," "Splash Waterfalls" and "Yeah!" (with Usher and T-Pain) to his impressive list of musical credits. Key to Ludacris' popularity was his quick-witted delivery, which tempered the genre's de rigueur references to sex, violence and drugs with a humor that occasionally bordered on the absurd. His between-song comic skits generated enough praise that Hollywood inevitably came calling, and he soon enjoyed a critically praised second career as an actor in "2 Fast 2 Furious" (2003), "Crash" (2004), "Hustle & Flow" (2005) and "No Strings Attached" (2011). Ludacris' ability to consistently produce projects that not only matched his past glories but, on occasion, surpass them made him one of the more respected rappers in the ever-changing hip-hop game.
Photos
Chris "Ludacris" Bridges
CRASH, Terrence Dashon Howard, Chris 'Ludacris' Bridges, 2005, (c) Lions Gate
Rising Star, Brad Paisley (L), Ke$ha (C), Ludacris (R), 'Duels #2', Season 1, Ep. #5, 07/20/2014, ©ABC
Mark Strong, Chris Bridges and Jeremy Piven in "RocknRolla"
FURIOUS 7, (aka FAST & FURIOUS 7), from left: Ludacris, Tyrese Gibson, 2015. ph: Scott Garfield/©Universal Pictures
The Tonight Show With Jay Leno, from left: Ludacris, Jay Leno, Rumer Willis, Craig T. Nelson, 'Season', ©NBC
FURIOUS 7, (aka FAST & FURIOUS 7), from left: Nathalie Emmanuel, Ludacris, 2015. ph: Scott Garfield/©Universal Pictures
FURIOUS 7, (aka FAST & FURIOUS 7), Ludacris, 2015. ph: Scott Garfield/©Universal Pictures
FURIOUS 7, (aka FAST & FURIOUS 7), Ludacris, 2015. ph: Scott Garfield/©Universal Pictures
FURIOUS 7, (aka FAST & FURIOUS 7), from left: Ludacris, Tyrese Gibson, 2015. ph: Scott Garfield/©Universal Pictures
FURIOUS 7, (aka FAST & FURIOUS 7), from left: Tyrese Gibson, Jordana Brewster, Paul Walker, Ludacris, 2015. ph: Scott Garfield/©Universal Pictures
FURIOUS 7, (aka FAST & FURIOUS 7), Ludacris, 2015. ph: Scott Garfield/©Universal Pictures
FURIOUS 7, (aka FAST & FURIOUS 7), Ludacris, 2015. ph: Scott Garfield/©Universal Pictures
FURIOUS 7, (aka FAST & FURIOUS 7), from left: Nathalie Emmanuel, Ludacris, 2015. ph: Scott Garfield/©Universal Pictures
Empire, Ludacris, 01/07/2015, ©FOX
FURIOUS 7, (aka FAST & FURIOUS 7), from left: Tyrese Gibson, Jordana Brewster, Paul Walker, Ludacris, 2015. ph: Scott Garfield/©Universal Pictures
FURIOUS 7, (aka FAST & FURIOUS 7), from left: Tyrese Gibson, Jordana Brewster, Paul Walker, Ludacris, 2015. ph: Scott Garfield/©Universal Pictures
Jimmy Kimmel Live, from left: Brad Paisley, Jimmy Kimmel, Ludacris, Josh Groban, 'Episode 91', Season 12, Ep. #91, 06/17/2014, ©ABC
FAST & FURIOUS 8, (AKA THE FATE OF THE FURIOUS), FROM LEFT, TYRESE GIBSON, LUDACRIS, SCOTT EASTWOOD, DWAYNE JOHNSON, NATHALIE EMMANUEL, MICHELLE RODRIGUEZ, 2017. PH: MATT KENNEDY. ©UNIVERSAL STUDIOS
Empire, Ludacris, 01/07/2015, ©FOX