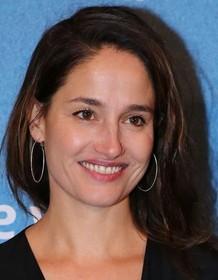 Marie Gillain
Highest Rated: 88% On Guard! (1997)
Lowest Rated: 63% Coco Before Chanel (2009)
Birthday: Jun 18, 1975
Birthplace: Liège, Belgium
Marie Gillain splits time showcasing her talent and her beauty. When she isn't acting, she is a model for the Lancôme cosmetics brand; when she is acting, she's receiving a fair amount of critical acclaim. Gillain has been nominated several times for the César (the French equivalent of the Academy Award), for both Best Actress and Most Promising Actress. The Best Actress nod was for her portrayal of Aurore in 1995's "Le Bossu," a tale of betrayal and revenge set in the early 1700s. In 1996 she was awarded the Prix Romy Schneider, a distinguished honor given yearly by the French film industry to a young actress. The highest profile title on her resume is 2009's biopic "Coco Before Chanel." Gillain plays the role of Adrienne Chanel, sister of the title character Gabrielle (Coco) Chanel, played by Audrey Tautou. Though she has worked primarily in French productions, she has made it known that she would like to work with American directors Woody Allen and Rob Reiner, among others.
Photos
LA TRES TRES GRANDE ENTREPRISE, from left: Roschdy Zem, Jean-Paul Rouve, Marie Gillain, Adrien Jolivet, 2008. ©Pathe
ON GUARD, (aka LE BOSSU), director Philippe de Broca (seated, center), Marie Gillain, (standing, center), on-set, 1997, ©Empire Pictures Inc.
LA TRES TRES GRANDE ENTREPRISE, Roschdy Zem (left), Marie Gillain (back, center), Jean-Paul Rouve (right), 2008. ©Pathe
LA TRES TRES GRANDE ENTREPRISE, Marie Gillain, 2008. ©Pathe
LA TRES TRES GRANDE ENTREPRISE, Roschdy Zem (third from right), Marie Gillain (second from right), Jean-Paul Rouve (right), 2008. ©Pathe
LA TRES TRES GRANDE ENTREPRISE, from left: Roschdy Zem, Marie Gillain, 2008. ©Pathe
SAFE CONDUCT, (aka LAISSEZ-PASSER), Marie Gillain, Denis Podalydes, 2002
LA TRES TRES GRANDE ENTREPRISE, from left: Adrien Jolivet, Marie Gillain, 2008. ©Pathe
LA TRES TRES GRANDE ENTREPRISE, from left: Marie Gillain, Jean-Paul Rouve, 2008. ©Pathe
LA TRES TRES GRANDE ENTREPRISE, from left: Marie Gillain, Jean-Paul Rouve, 2008. ©Pathe
LA TRES TRES GRANDE ENTREPRISE, Marie Gillain, 2008. ©Pathe
COCO BEFORE CHANEL, (aka COCO AVANT CHANEL), from left: Audrey Tautou as Coco Chanel, Marie Gillain, 2009. Ph: Chantal Thomine-Desmazures/©Sony Classics
FEMALE AGENTS, (aka LES FEMMES DE L'OMBRE), from left: Marie Gillain, Sophie Marceau, Julie Depardieu, Deborah Francois, 2008. ©TFM Distribution
FEMALE AGENTS, (aka LES FEMMES DE L'OMBRE), from left: Marie Gillain, Julie Depardieu, 2008. ©TFM Distribution
COCO BEFORE CHANEL, (aka COCO AVANT CHANEL), from left: Audrey Tautou as Coco Chanel, Marie Gillain, 2009. Ph: Chantal Thomine-Desmazures/©Sony Classics
FEMALE AGENTS, (aka LES FEMMES DE L'OMBRE), front, from left: Julie Depardieu, Sophie Marceau, Marie Gillain, Deborah Francois, 2008. ©TFM Distribution
THE KEY, (aka LA CLEF), Marie Gillain, Guillaume Canet, 2007. ©SND
THE KEY, (aka LA CLEF), Marie Gillain, 2007. ©SND
IT HAD TO BE YOU, (aka MA VIE N'EST PAS UNE COMEDIE ROMATIQUE), from left: Gilles Lellouche, Marie Gillain, 2007. ©Mars Distribution
COCO BEFORE CHANEL, (aka COCO AVANT CHANEL), Marie Gillain (right), 2009. Ph: Chantal Thomine-Desmazures/©Sony Classics