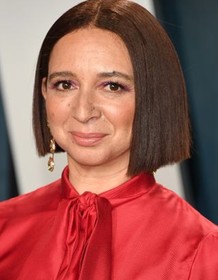 Maya Rudolph
Highest Rated: 100% His Three Daughters (2023)
Lowest Rated: 6% The Emoji Movie (2017)
Birthday: Jul 27, 1972
Birthplace: Gainesville, Florida, USA
Maya Rudolph emerged from a face in the crowd on television's most popular sketch-comedy show to become a respected and sought-after actress in her own right. After landing early minor roles on various television series and in the occasional high-profile film like "As Good as It Gets" (1997), Rudolph's big break came in 2000 when she joined the reparatory players of "Saturday Night Live" (NBC, 1975- ), being moved up into the main cast two years later. During her seven years on the show, she established herself as one of the most memorable female performers in its history with her wildly diverse characters, oddball impersonations (from Whitney Houston to Donatella Versace) and commanding vocal ability. Rudolph continued to pursue a feature film career in the off-season as well, with turns in projects like Adam Sandler's "50 First Dates" (2004), writer-director Mike Judge's "Idiocracy" (2006) and the DreamWorks animated smash "Shrek the Third" (2007). Post-"SNL," Rudolph garnered rave reviews and newfound respect as an actress for her starring role as an expectant mother alongside John Krasinski in Sam Mendes' low-key dramedy "Away We Go" (2009). She went on to enjoy not only critical acclaim, but box office success alongside former "SNL" cohort Kirsten Wiig in the breakout comedy smash "Bridesmaids" (2011) while simultaneously returning to weekly TV with a co-starring role on "Up All Night" (NBC, 2011-12). While maintaining a partnership with writer-director Paul Thomas Anderson that included four childen, Rudolph's seemingly limitless versatility, combined with the invaluable comedic training in Studio 8H had positioned her as one of the most welcome presences in both film and television, whether reinventing the summer variety series with Martin Short in "Maya and Marty" (NBC 2016) or maintaining a solid line in voice roles in films like "Big Hero 6" (2014) and "The Emoji Movie" (2017).
Photos
Maya Rudolph
SISTERS, from left: John Leguizamo, Maya Rudolph, 2015. ph: K.C. Bailey/©Universal
AWAY WE GO, Maya Rudolph, 2009. Ph: Francois Duhamel/©Focus Features
LIFE OF THE PARTY, FROM LEFT, MAYA RUDOLPH, DIRECTOR BEN FALCONE, MELISSA MCCARTHY, ON-SET, 2018. PH: HOPPER STONE. ©WARNER BROS.
FRIENDS WITH KIDS, from left: Maya Rudolph, Chris O'Dowd, 2011. ph: Jojo Whilden/©Lionsgate
LIFE OF THE PARTY, FROM LEFT: MAYA RUDOLPH, DAMON JONES, 2018. PH: RON BATZDORFF/© WARNER BROS.
INHERENT VICE, Maya Rudolph, 2014. ph: Wilson Webb/©Warner Bros.
INHERENT VICE, Maya Rudolph, 2014. ph: Wilson Webb/©Warner Bros.
THE HAPPYTIME MURDERS, MAYA RUDOLPH (LEFT), MELISSA MCCARTHY (BACK CENTER), PHIL PHILLIPS (FRONT, PERFORMED BY BILL BARRETTA), 2018. PH: HOPPER STONE/© STX ENTERTAINMENT
Up All Night, Maya Rudolph, 'First Snow', Season 2, Ep. #10, 12/13/2012, ©NBC
INHERENT VICE, from left: Michelle Sinclair (aka Belladonna), Maya Rudolph, Joaquin Phoenix, 2014. ©Warner Bros.
Up All Night, Christina Applegate (L), Maya Rudolph (R), 'Hey Jealousy', Season 1, Ep. #23, 04/05/2012, ©NBC
The Grinder, Maya Rudolph, 'The Ties That Grind', Season 1, Ep. #15, 02/16/2016, ©FOX
Up All Night, Maya Rudolph, 'Season 2', 09/20/2012, ©NBC
Tim Gunn's Guide to Style, Maya Rudolph, 09/06/2007, ©BRAVO
Tim Gunn's Guide to Style, Maya Rudolph, 09/06/2007, ©BRAVO
Tim Gunn's Guide to Style, Maya Rudolph, 09/06/2007, ©BRAVO
Tim Gunn's Guide to Style, Maya Rudolph, 09/06/2007, ©BRAVO
Tim Gunn's Guide to Style, Maya Rudolph, 09/06/2007, ©BRAVO
Tim Gunn's Guide to Style, Maya Rudolph, 09/06/2007, ©BRAVO