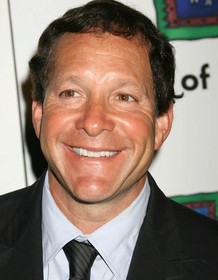 Steve Guttenberg
Highest Rated: 92% Diner (1982)
Lowest Rated: Not Available
Birthday: Aug 24, 1958
Birthplace: Brooklyn, New York, USA
Reportedly trained at the Juilliard School under the tutelage of dramatic stage legend John Houseman, Steve Guttenberg's film career in light, PG-rated comedies belied his theatrical background. His profile was highest during the 1980s, when he accompanied broad blockbusters "Police Academy" (1984) and "Three Men and a Baby" (1987) into seemingly endless sequels. His few forays away from his established persona as an overgrown class clown were little-seen and generally unsuccessful, but with a film resume that collectively grossed hundreds of millions of dollars and a film presence that was no worse than the goofy, nice guy competition of the era - i.e., Tom Hanks, Michael Keaton - the actor did not seem too concerned with fixing what was not broken.
Photos
THE BOYS FROM BRAZIL, Steve Guttenberg (being captured), 1978.
THE MAN WHO WASN'T THERE, Steve Guttenberg, 1983. ©Paramount Pictures
THE CHICKEN CHRONICLES, Steve Guttenberg, Gino Baffa, 1977
THE BEDROOM WINDOW, Steve Guttenberg, Isabelle Huppert, 1987
DON'T TELL HER IT'S ME, Shelley Long, Steve Guttenberg, Jami Gertz, 1990, (c)Hemdale Film Corporation
BAD MEDICINE, Steve Guttenberg & Julie Hagerty, 1985
DON'T TELL HER IT'S ME, from left: Shelley Long, Steve Guttenberg, 1990, © Hemdale Films
THREE MEN AND A BABY, Tom Selleck, Steve Guttenberg, Ted Danson, 1987. ©Touchstone Pictures
THREE MEN AND A BABY, Tom Selleck, Ted Danson, Steve Guttenberg, 1987, (c)Buena Vista Pictures
DINER, Steve Guttenberg, Daniel Stern, 1982. ©MGM
SURRENDER, from left: Steve Guttenberg, Sally Field, 1987, © Warner Brothers
POLICE ACADEMY, Michael Winslow, Steve Guttenberg, 1984, (c)Warner Bros.
THE BEDROOM WINDOW, Steve Guttenberg, 1987. ©De Laurentiis Entertainment Group
POLICE ACADEMY, (front row) George Gaynes, Scott Thomson, Kim Cattrall, Andrew Rubin, Steve Guttenberg, Brant von Hoffman, Donovan Scott, G.W. Bailey, (back row) David Graf, Michael Winslow, Leslie Easterbrook, Bruce Mahler, Marion Ramsey, Bubba Smith, 198
COCOON, Steve Guttenberg & Tahnee Welch, 1985, TM & Copyright (c) 20th Century Fox Film Corp. All rights reserved.
POLICE ACADEMY, David Graf, Steven Guttenberg, Kim Cattrall, 1984. ©Warner Bros.
DINER, Timothy Daly, Steve Guttenberg, 1982. ©MGM
POLICE ACADEMY, Steve Guttenberg, Georgina Spelvin, 1984, (c) Warner Brothers
THREE MEN AND A BABY, from left: Ted Danson, Tom Selleck, Steve Guttenberg, 1987, © Buena Vista
THREE MEN AND A BABY, from left: Steve Guttenberg, Lisa/Michelle Blair, 1987, © Buena Vista