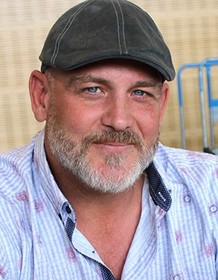 Ty Olsson
Highest Rated: 94% War for the Planet of the Apes (2017)
Lowest Rated: Not Available
Birthday: Jan 28, 1974
Birthplace: Halifax, Nova Scotia, Canada
Prolific Canadian actor Ty Olsson has played supporting roles in many of the action films of the 2000s and has contributed voice work to numerous animated series. His first part came in an episode of the wildly popular supernatural saga "The X-Files," leading to frequent stints on various shows, often as tough characters such as a truck driver or cop. He played a recurring part on the updated "Battlestar Galactica" series, and in the superhero sequel "X2," he was the guardian of captive Magneto, the arch villain played by Ian McKellen. In "Flight 93," the TV movie about the 9/11 plane on which the passengers fought back, he climbed the credits, playing one of the few rebellious travelers. He also appeared in the disaster flick "2012" and the Vin Diesel-starring science fiction sequel, "The Chronicles of Riddick," and he voiced one of the lead critters in the animated series "Dragon Tales."
Photos
Ty Olsson
JUST FRIENDS, Amy Smart, Ty Olsson, Ryan Reynolds, 2005, (c) New Line
Ryan Reynolds, Ty Olsson and Christine Chatelain in "Chaos Theory"
Supernatural, Ty Olsson (L), Jensen Ackles (R), 'Blood Brother', Season 8, Ep. #5, 10/31/2012, ©KSITE
The 100, Marie Avgeropoulos (L), Ty Olsson (R), 'Inclement Weather', Season 2, Ep. #2, 10/29/2014, ©KSITE
The 100, Ty Olsson, 'Inclement Weather', Season 2, Ep. #2, 10/29/2014, ©KSITE
The 100, Marie Avgeropoulos (L), Ty Olsson (R), 'Inclement Weather', Season 2, Ep. #2, 10/29/2014, ©KSITE
The 100, Marie Avgeropoulos (L), Ty Olsson (R), 'Inclement Weather', Season 2, Ep. #2, 10/29/2014, ©KSITE
Supernatural, Ty Olsson, 'We Need To Talk About Kevin', Season 8, Ep. #1, 10/03/2012, ©KSITE
Supernatural, Ty Olsson (L), Jensen Ackles (R), 'The Werther Project', Season 10, Ep. #19, 04/22/2015, ©KSITE
Supernatural, Ty Olsson (L), Jensen Ackles (R), 'The Werther Project', Season 10, Ep. #19, 04/22/2015, ©KSITE
Supernatural, Ty Olsson, 'The Werther Project', Season 10, Ep. #19, 04/22/2015, ©KSITE
Supernatural, Ty Olsson (L), Jensen Ackles (R), 'The Werther Project', Season 10, Ep. #19, 04/22/2015, ©KSITE
Supergirl, Ty Olsson, ©KSITE
Supernatural, Ty Olsson (L), Jensen Ackles (R), 'Citizen Fang', Season 8, Ep. #9, 12/05/2012, ©KSITE
Supernatural, Jensen Ackles (L), Ty Olsson (R), 'Citizen Fang', Season 8, Ep. #9, 12/05/2012, ©KSITE
Supernatural, Ty Olsson (L), Jensen Ackles (C), Jared Padalecki (R), 'Blood Brother', Season 8, Ep. #5, 10/31/2012, ©KSITE
Supernatural, Ty Olsson, 'Blood Brother', Season 8, Ep. #5, 10/31/2012, ©KSITE
Supernatural, Ty Olsson, 'Blood Brother', Season 8, Ep. #5, 10/31/2012, ©KSITE
Supernatural, Jensen Ackles (L), Ty Olsson (R), 'Citizen Fang', Season 8, Ep. #9, 12/05/2012, ©KSITE