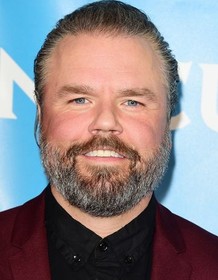 Tyler Labine
Highest Rated: 92% Little Evil (2017)
Lowest Rated: 20% Someone Marry Barry (2014)
Birthday: Apr 29, 1978
Birthplace: Brampton, Ontario, Canada
Born in Brampton, Ontario, Canada in 1978, Tyler Labine and his brothers Cameron and Kyle hijacked the family video camera and began making movies before they reached double digits. They soon sought professional representation, and quickly turned their hobby into a profession. The family moved to Vancouver in 1991 and Labine began to find himself in high demand. His first onscreen credit came in 1991, with a guest role on the Canadian legal drama "Street Legal" (CBC, 1987-1994). Once started, Labine didn't rest. Ever. He appeared in guest spots on Canadian staples "Road to Avonlea" (CBC, 1990-96), and "Are You Afraid of the Dark" (YTV, Nickelodeon 1992-96, 1999-2000), as well as shows like "The Commish" (ABC, 1991-96) and "Sabrina the Teenage Witch" (ABC, 1996-2000; The WB, 2000-03), which were made for American audiences. In 1997, Labine appeared in his first series regular role, on the show "Breaker High" (YTV, 1997-98) about students attending high school on a cruise ship. The show was also the series regular debut for a young Ryan Gosling. Labine's first stateside series regular role came in 2001, when he starred in the short-lived "Dead Last" (The WB, 2001), about a band that finds an amulet, which allows them to communicate with ghosts. Another series regular opportunity presented itself when Labine appeared on "Invasion" (ABC, 2005-06), but the premise of creatures taking over human bodies after a hurricane was undercut shortly before the premiere, when Hurricane Katrina devastated New Orleans. In 2007, Labine landed yet another series regular job, this time on the supernatural comedy "Reaper" (The CW, 2007-09) where he played the sidekick to a young man who finds out that his parents sold his soul to the Devil, meaning he will be a reaper, bearing souls to the underworld. Labine had his first starring role in a major domestic release, when he played Dale in "Tucker and Dale vs. Evil" (2010). He continued to ply his trade in supporting roles and still more series regular parts on shows like "Mad Love" (CBS, 2011), "Deadbeat" (Hulu, 2014-16), and a recurring role on "Dirk Gently's Holistic Detective Agency" (BBC America, 2016-17) among others. In 2018, he appeared as a series regular on the medical drama "New Amsterdam" (NBC, 2018-).
Photos
Tyler Labine
CONTROL ALT DELETE, Tyler Labine, 2008.
CONTROL ALT DELETE, Tyler Labine, 2008.
CONTROL ALT DELETE, Tyler Labine, 2008.
ESCAPE ROOM, FROM LEFT: TAYLOR RUSSELL, JAY ELLIS, LOGAN MILLER, TYLER LABINE, 2019. PH: DAVID BLOOMER/© SONY PICTURES RELEASING
Animal Practice, Betsy Sodaro (L), Bobby Lee (C), Tyler Labine (R), 'Pilot', Season 1, Ep. #1, 08/12/2012, ©NBC
Animal Practice, Tyler Labine, 'Pilot', Season 1, Ep. #1, 08/12/2012, ©NBC
BEST MAN DOWN, from left: Tyler Labine, Addison Timlin, 2012. ©Magnolia Pictures
AURORA BOREALIS, first two from left: Zack Ward, Tyler Labine, 2005. ©Regent Releasing
A GOOD OLD FASHIONED ORGY, l-r: Tyler Labine, Jason Sudeikis, 2011. ©Samuel Goldwyn Films
Animal Practice, Tyler Labine, 'Clean Smelling Pirate', Season 1, Ep. #3, 10/03/2012, ©NBC
Animal Practice, Tyler Labine, 'Dr. Yamamazing', Season 1, Ep. #4, 10/10/2012, ©NBC
A GOOD OLD FASHIONED ORGY, Jason Sudeikis (front left), Tyler Labine (right), 2011. ©Samuel Goldwyn Films
Animal Practice, Tyler Labine, 'Dr. Yamamazing', Season 1, Ep. #4, 10/10/2012, ©NBC
Animal Practice, Tyler Labine (L), Justin Kirk (R), 'Dr. Yamamazing', Season 1, Ep. #4, 10/10/2012, ©NBC
BROKEN STAR, L-R: ANALEIGH TIPTON, TYLER LABINE, 2018. © GRAVITAS VENTURES
A GOOD OLD FASHIONED ORGY, l-r: Jason Sudeikis, Tyler Labine, 2011, ©Samuel Goldwyn Films
BROKEN STAR, L-R: TYLER LABINE, ANALEIGH TIPTON, 2018. © GRAVITAS VENTURES
ZOOM, from left: Tyler Labine, Alison Pill, 2015. © Screen Media Films
Animal Practice, Tyler Labine, 'Dr. Yamamazing', Season 1, Ep. #4, 10/10/2012, ©NBC