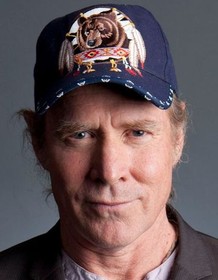 Will Patton
Highest Rated: 100% The Scent of Rain & Lightning (2017)
Lowest Rated: Not Available
Birthday: Jun 14, 1954
Birthplace: Charleston, South Carolina, USA
William Rankin Patton was born June 14, 1954 in Charleston, SC, the eldest of four children to a Lutheran Minister father. Patton - whose parents divorced when he was a teen - was painfully shy in adolescence, and turned to performance as a way to interact and relate to others. After graduation from high school, Patton attended the North Carolina School for the Arts for just under one year until he was expelled for behavioral issues, and then traveled for a time before training with Lee Strasberg at the esteemed Actors Studio. Like any struggling actor, Patton held many jobs while he honed his craft, such as a construction worker, salesman, security guard and elevator attendant. He began also to study under Joseph Chaikin at Open Theater in New York City; it was a joint work with Chaikin's experimental group, The Winter Project, called "Tourists and Refugees No. 2" that would see Patton win his first Obie for Best Ensemble. This era also marked his introduction to television in the telefilm chronicling the historic campus demonstration shootings in "Kent State" (NBC 1981), as well as a bit on film in Mike Nichols' epic "Silkwood" (1983). In 1984 Patton repeated his Obie victory, this time as Best Actor for his work in playwright Sam Shepard's "Fool for Love." Patton's first film lead came in the crime thriller "Chinese Boxes" (1984), followed by a villainous turn in Susan Seidelman's "Desperately Seeking Susan" (1985), and in Martin Scorsese's "After Hours" (1985), as the leather clad gent, Horst. Patton's breakout role was his supporting lead in the taut government thriller "No Way Out" (1987), as the shady, obsessive aide to the Secretary of Defense (Gene Hackman) who stops at nothing to protect his boss. He picked up his third Obie, this for Best Actor, for the 1988-89 production of "What Did He See?" Patton also appeared in the apocalyptic drama "The Rapture" (1991), the quirky and clever Sundance Grand Jury Prize winner "In the Soup" (1992) as Seymour Cassel's hemophiliac brother, and then the much talked about crime thriller "Romeo is Bleeding" (1993). After a sinister turn in "The Client" (1994) opposite Susan Sarandon and Tommy Lee Jones, Patton did more fine work as Ellen Burstyn's nephew in the 1996 Sundance Film Festival Audience Award winner "The Spitfire Grill" (1996), a dramatic tale of a troubled young girl's attempt to start her life over in a new small town. Patton was the protective patriarch of three beautiful daughters in "Inventing the Abbotts" (1997), and had his biggest box office adventure with the disaster film "Armageddon" (1998) as Bruce Willis' best buddy who, along with a brave crew, are set on saving Earth at all costs. In 1999, Patton published a short book called Lassitudes of Fire, an abstract homage to the actor's pain filled journey through life. On screen, Patton appeared in the crime thriller "Entrapment" (1999), indie favorite "Jesus' Son" (2000) and box office draw "Gone in Sixty Seconds" (2000) as Atlee Jackson, who recruits Nicholas Cage back into the game. Some of Patton's largest praise came from his portrayal of demoted-but-unified Coach Bill Yoast in the hugely successful sports drama "Remember the Titans" (2000), starring opposite Denzel Washington. After a high strung appearance in "The Mothman Prophecies" (2002), Patton checked into "The Agency" (CBS 2001-03) as an intelligence gatherer within the walls of the CIA, and was also noted as an American Special Agent in the real-life drama "A Mighty Heart" (2007), opposite Angelina Jolie. As a model-maker who drifts into a small town with an agenda in mind, Patton starred in the little seen independent gem "Dog Days of Summer" (2007), as well as another remote town story in the film festival favorite "Wendy and Lucy" (2008). Patton was also part of a well reviewed ensemble with Alfre Woodard in "American Violet" (2008), the story of a wrongly accused woman, which featured the actor as a lawyer with a conscience. In the police crime-action drama "Brooklyn's Finest" (2009), Patton dons his familiar Fed-in-a-suit role, with a powerful cast including Richard Gere, Ethan Hawke and Don Cheadle. Patton moved back to television in 2009 when he joined the cast of "24" (Fox 2001-2010) as the villainous Alan Wilson, chief backer of Starkwood, who is responsible for many deaths. Patton was an aggressive non-believer in the paranormal thriller "The Fourth Kind" (2009) opposite Milla Jovovich, and also joined the Disassociate Identity disorder drama "Waking Madison" (2010). Patton also rejoined director Reichardt for her exploration of America's Western landscapes in "Meek's Cutoff" (2010). The film, set in 1845, followed a wagon team's effort to survive the harsh elements.
Photos
HALLOWEEN, WILL PATTON, 2018. PH: RYAN GREEN/© UNIVERSAL
BELIZAIRE THE CAJUN, Will Patton, Gail Youngs, 1986
BELIZAIRE THE CAJUN, Armand Assante, Will Patton, 1986
MEEK'S CUTOFF, British poster art, clockwise from top left: Paul Dano, Michelle Williams, Bruce Greenwood, Zoe Kazan, Will Patton, 2010. ©Oscilloscope Pictures
BELIZAIRE THE CAJUN, Will Patton (far left), 1986
MEEK'S CUTOFF, from left: Bruce Greenwood, Neal Huff, Paul Dano, Will Patton, Michelle Williams (right), 2010. ©Oscilloscope Pictures
THE FOURTH KIND, Will Patton, 2009. Ph: Simon Vesrano/©Universal
ARMAGEDDON, Steve Buscemi, Will Patton, Bruce Willis, Ben Affleck, Owen Wilson, Michael Clarke Duncan, Clark Brolly, William Fichtner, Anthony Guidera, Marshall Teague, Jessica Steen, Billy Bob Thornton, 1998, (c) Touchstone
Falling Skies, Will Patton, 'Shoot the Moon', Season 4, Ep. #12, 08/31/2014, ©TNT
ARMAGEDDON, Bruce Willis, Will Patton, 1998.
Falling Skies, from left: Drew Roy, Scarlett Byrne, Noah Wyle, Maxim Knight, Moon Bloodgood, Will Patton, Doug Jones, Sarah Sanguin Carter, 06/19/2011, ©TNT
THE PUPPET MASTERS, from left: Will Patton, Julie Warner, 1994, © Buena Vista
MIDNIGHT EDITION, Will Patton, 1993, (c)Shapiro-Glickenhaus Entertainment
THE PUPPET MASTERS, Julie Warner (arms folded), Eric thal (rear right), Will Patton (right), 1994, © Buena Vista
EVERYBODY WINS, Will Patton, Nick Nolte, 1990
THE PUPPET MASTERS, from left: Will Patton, Julie Warner, Richard Belzer, Donald Sutherland, 1994, © Buena Vista
THE PUPPET MASTERS, Will Patton (center), 1994, © Buena Vista
ENTRAPMENT, Catherine Zeta-Jones, Will Patton, 1999, TM and Copyright © 20th Century Fox Film Corp. All rights reserved,
MIDNIGHT EDITION, Will Patton, 1993, (c)Shapiro-Glickenhaus Entertainment
EVERYBODY WINS, Nick Nolte (left), Will Patton (on ground), 1990. ©Orion Pictures Corp