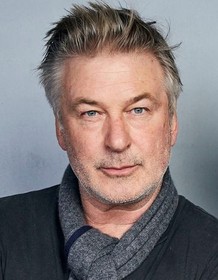 Alec Baldwin
Highest Rated: 100% Path to War (2002)
Lowest Rated: Not Available
Birthday: Apr 3, 1958
Birthplace: Massapequa, New York, USA
Alec Baldwin was born in New York City in 1958, the eldest of four brothers who grew up in Amityville, New York. He was raised in an observant Roman Catholic family, and played football at Alfred G. Berner High School in Massapequa before matriculating at George Washington University in Washington, D.C. After three years at college, Baldwin transferred to the Tisch School of the Arts where he eventually became a member of the Actors Studio. Baldwin delayed finishing his degree while he began his acting career, and officially graduated from NYU in 1994, nearly 20 years after he began his college education. In 1986 Baldwin made his Broadway debut in Joe Orton's "Loot," a production that closed after only three months. Baldwin appeared in numerous stage productions during the 1980s and 1990s, including his performance as Stanley Kawolski which earned him a Tony Award nomination for Best Actor. Baldwin's small screen debut was in a daytime soap opera called "The Doctors" (NBC, 1980-82). Baldwin continued to appear on television even as he launched a successful film career, starring in such illustrious movies as "Glengarry Glen Ross" (1992), a film adaptation of David Mamet's play. Baldwin appeared in a number of action movies including "The Hunt for Red October" (1990), and "The Getaway" (1994), which led to mainstream stardom, including a stint as People's "Sexiest Man Alive." In addition to a TV career that included repeated appearances on "Saturday Night Live" (NBC, 1975-), and starring as Jack Donaghy on "30 Rock" (NBC, 2006-2013). Baldwin was also active in radio broadcasting, hosting The New York Philharmonic This Week and a podcast called "Here's the Thing." Baldwin married actress Kim Basinger in 1993. The two divorced in 2002. Baldwin married yoga instructor Hilaria Thomas in 2012.
Photos
Alec Baldwin
PEARL HARBOR, Alec Baldwin, 2001, (c) Buena Vista
BROOKLYN RULES, Alec Baldwin, 2007. ©City Lights Pictures
BEETLEJUICE, from left: Alex Baldwin, Geena Davis, 1988. ©Warner Brothers
The View, from left: Jenny McCarthy, Barbara Walters, Alec Baldwin, Sherri Shepherd, Chrissy Teigen, 08/11/1997, ©ABC
TO ROME WITH LOVE, back: Alec Baldwin, front, from left: Ellen Page, Jesse Eisenberg, 2012. ph: Philippe Antonello/©Sony Pictures Classics
TO ROME WITH LOVE, from left: Jesse Eisenberg, Alec Baldwin, 2012. ph: Philippe Antonello/©Sony Pictures Classics
IT'S COMPLICATED, from left: Meryl Streep, Steve Martin, Alec Baldwin, Lake Bell,2009. Ph: Melinda Sue Gordon/©Universal
The View, Alec Baldwin (L), Sherri Shepherd (C), Chrissy Teigen (R), 08/11/1997, ©ABC
BEETLEJUICE, Alec Baldwin, Michael Keaton, Geena Davis, 1988
MIAMI BLUES, from left: Edward Saxon, Alec Baldwin, 1990. ©Orion Pictures
PEARL HARBOR, Alec Baldwin as Doolittle, 2001
ALICE, Alec Baldwin, 1990, (c)Orion Pictures
THOMAS AND THE MAGIC RAILROAD, Alec Baldwin, 2000
THE SHADOW, Alec Baldwin, 1994, (c)Universal Pictures
PRELUDE TO A KISS, Alec Baldwin, 1992. TM and Copyright (c) 20th Century Fox Film Corp. All rights reserved
HUNT FOR RED OCTOBER, Alec Baldwin, 1990
THE GETAWAY, from left: Alec Baldwin, Kim Basinger, James Woods (bottom), 1994, © Universal
GREAT BALLS OF FIRE, Alec Baldwin, 1989, (c) Orion
THE EDGE, Alec Baldwin, 1997, TM & Copyright © 20th Century Fox Film Corp.
Filmography
Movies
Credit

100%

No Score Yet

Atrabilious
Proctor Carlisle (Character)
-
2023

43%

86%

97 Minutes
Hawkins (Character)
-
2022

50%

79%

Supercell
Zane Rogers (Character)
-
2022

46%

89%

The Boss Baby: Family Business
Theodore Templeton (Voice)
$57.3M
2021

88%

No Score Yet

Flint: Who Can You Trust?
Narrator,
Executive Producer
-
2020

79%

83%

Beast Beast
Executive Producer
-
2020

No Score Yet

100%

My Promise to PJ
Self
-
2020

76%

58%

Pixie
Father Hector McGrath (Character)
-
2020

38%

20%

Chick Fight
Jack Murphy (Character)
-
2020

76%

73%

On Broadway
Self
$82.3K
2019

12%

60%

Arctic Dogs
PB (Voice)
$5.8M
2019

64%

80%

Motherless Brooklyn
Moses Randolph (Character)
$9.3M
2019

No Score Yet

80%

It Takes a Lunatic
Unknown (Character)
-
2019

83%

55%

Before You Know It
Peter (Character)
$151.2K
2019

90%

64%

Framing John DeLorean
John DeLorean (Character)
$145.6K
2019

0%

16%

Drunk Parents
Frank Teagarten (Character)
-
2019

89%

55%

What She Said: The Art of Pauline Kael
Self
-
2018

66%

78%

The Public
Detective Bill Ramstead (Character)
$571.2K
2018

90%

80%

A Star Is Born
Self
$215.3M
2018

96%

83%

BlacKkKlansman
Dr. Kennebrew Beauregard (Character)
$48.6M
2018

97%

88%

Mission: Impossible - Fallout
Alan Hunley (Character)
$220.1M
2018

No Score Yet

No Score Yet

Bitelchus
Unknown (Character)
-
2018

No Score Yet

No Score Yet

American Experience: Into the Amazon
Unknown (Character)
-
2018

40%

7%

An Imperfect Murder
Dt. McCutcheon (Character)
-
2017

77%

53%

The King
Self
$253.0K
2017

19%

43%

Blind
Bill Oakland (Character),
Executive Producer
$12.5K
2017

53%

51%

The Boss Baby
Boss Baby (Voice)
$174.9M
2017

No Score Yet

100%

Barbra: The Music...The Mem'ries...The Magic!
Unknown (Character)
-
2017

No Score Yet

79%

Flatball
Unknown (Voice)
-
2016

47%

39%

Paris Can Wait
Michael (Character)
$5.6M
2016

86%

45%

Harry Benson: Shoot First
Self
$15.6K
2016

55%

34%

Rules Don't Apply
Robert Maheu (Character)
$3.6M
2016

No Score Yet

29%

Back in the Day
Gino Fratelli (Character)
-
2016

0%

13%

Andròn -- The Black Labyrinth
Unknown (Character)
-
2015

58%

74%

Concussion
Dr. Julian Bailes (Character)
$33.8M
2015

94%

87%

Mission: Impossible Rogue Nation
Alan Hunley (Character)
-
2015

20%

29%

Aloha
Gen. Dixon (Character)
-
2015

No Score Yet

83%

Compared to What? The Improbable Journey of Barney Frank
Executive Producer
-
2014

No Score Yet

25%

Torrente 5
John Marshall (Character)
-
2014

No Score Yet

No Score Yet

A Dangerous Game
Unknown (Character)
-
2014

85%

85%

Still Alice
John (Character)
$18.8M
2014

84%

62%

Seduced and Abandoned
Self
-
2013

99%

79%

Elaine Stritch: Shoot Me
Executive Producer
$303.1K
2013

91%

77%

Blue Jasmine
Hal (Character)
$33.4M
2013

74%

80%

Rise of the Guardians
North (Voice)
$103.4M
2012

47%

40%

To Rome With Love
John (Character)
$16.7M
2012

42%

55%

Rock of Ages
Dennis Dupree (Character)
$38.5M
2012

5%

36%

Hick
Beau (Character)
-
2011

No Score Yet

92%

The Last Play at Shea
Narrator
-
2010

59%

60%

It's Complicated
Jake (Character)
$112.7M
2009

47%

72%

My Sister's Keeper
Campbell Alexander (Character)
$49.2M
2009

64%

52%

Lymelife
Mickey Bartlett (Character),
Producer
-
2008

64%

66%

Madagascar: Escape 2 Africa
Makunga (Voice)
-
2008

14%

46%

My Best Friend's Girl
Prof. Turner (Character)
$19.2M
2008

No Score Yet

84%

Journey to the Edge of the Universe
Narrator
-
2008

No Score Yet

No Score Yet

A President to Remember: In the Company of John F. Kennedy
Narrator
-
2008

No Score Yet

62%

Role Model: Gene Wilder
Unknown (Character)
-
2008

50%

31%

Suburban Girl
Alex Knox (Character)
-
2007

No Score Yet

43%

Shortcut to Happiness
Bez Stone (Character),
Director
-
2007

45%

51%

Brooklyn Rules
Caesar (Character)
$398.4K
2007

56%

51%

The Good Shepherd
Sam Murach (Character)
$59.9M
2006

54%

47%

Mini's First Time
Martin Tennan (Character)
$48.9K
2006

32%

56%

Running With Scissors
Norman Burroughs (Character)
$6.8M
2006

91%

94%

The Departed
Capt. Ellerby (Character)
$132.4M
2006

29%

49%

Fun With Dick and Jane
Jack McCallister (Character)
$110.3M
2005

28%

66%

Elizabethtown
Phil (Character)
$26.8M
2005

No Score Yet

No Score Yet

I'm King Kong!: The Exploits of Merian C. Cooper
Narrator
-
2005

86%

79%

The Aviator
Juan Trippe (Character)
$102.6M
2004

68%

78%

The SpongeBob SquarePants Movie
Dennis (Voice)
$85.4M
2004

62%

32%

The Last Shot
Joe Devine (Character)
$463.7K
2004

83%

92%

Broadway: The Golden Age
Self
-
2004

27%

47%

Along Came Polly
Stan Indursky (Character)
$87.9M
2004

No Score Yet

76%

The Fairly OddParents: Channel Chasers
Future Timmy (Voice)
-
2004

No Score Yet

16%

Second Nature
Paul Kane (Character),
Executive Producer
-
2003

77%

69%

The Cooler
Shelly Kaplow (Character)
$8.2M
2003

10%

58%

Dr. Seuss' The Cat in the Hat
Quinn (Character)
$100.4M
2003

100%

74%

Path to War
Robert McNamara (Character)
-
2002

81%

89%

The Royal Tenenbaums
Narrator
$52.4M
2001

44%

48%

Final Fantasy: The Spirits Within
Captain Gray Edwards (Voice)
$32.1M
2001

53%

32%

Cats & Dogs
Butch (Voice)
$93.4M
2001

24%

66%

Pearl Harbor
Doolittle (Character)
$198.5M
2001

No Score Yet

83%

Thomas & the Magical Railroad
Mr. Conductor (Character)
-
2000

85%

70%

State and Main
Bob Barrenger (Character),
Executive Producer
$6.9M
2000

21%

42%

Thomas and the Magic Railroad
Mr. Conductor (Character)
$15.9M
2000

No Score Yet

73%

Nuremberg
Unknown (Character)
-
2000

No Score Yet

56%

Thick as Thieves
Mackin (Character)
-
1999

52%

65%

Outside Providence
Old Man Dunphy (Character)
$7.3M
1999

40%

36%

The Confession
Roy Bleakie (Character),
Producer
-
1999

21%

40%

Mercury Rising
Nicholas Kudrow (Character)
$32.9M
1998

62%

70%

The Edge
Robert Green (Character)
$27.8M
1997

83%

79%

Looking for Richard
George, Duke of Clarence/Himself (Character)
$1.4M
1996

16%

31%

Heaven's Prisoners
Dave Robicheaux (Character)
$5.0M
1996

43%

62%

Ghosts of Mississippi
Bobby DeLaughter, Assistant D.A. Hinds Co. Mississippi (Character)
$13.1M
1996

22%

31%

The Juror
Vincent 'The Teacher' (Character)
$21.8M
1996

No Score Yet

100%

Pacino - An Actor's Vision
Unknown (Character)
-
1996

No Score Yet

41%

A Streetcar Named Desire
Stanley Kowalski (Character)
-
1995

35%

44%

The Shadow
Lamont Cranston/The Shadow (Character)
$32.0M
1994

33%

28%

The Getaway
Carter "Doc" McCoy (Character)
$15.5M
1994

57%

46%

Malice
Dr. Jed Hill (Character)
$46.0M
1993

63%

39%

Prelude to a Kiss
Peter Hoskins (Character)
$19.3M
1992

95%

88%

Glengarry Glen Ross
Blake (Character)
$10.7M
1992

10%

45%

The Marrying Man
Charley Pearl (Character)
$12.4M
1991

88%

88%

The Hunt for Red October
Jack Ryan (Character)
$119.1M
1990

85%

56%

Miami Blues
Frederick J. Frenger Jr. (Character)
$8.8M
1990

71%

57%

Alice
Ed (Character)
$6.8M
1990

63%

53%

Great Balls of Fire!
Jimmy Swaggart (Character)
$13.4M
1989

44%

52%

She's Having a Baby
Davis McDonald (Character)
$14.4M
1988

83%

67%

Working Girl
Mick Dugan (Character)
$62.2M
1988

88%

49%

Married to the Mob
'Cucumber' Frank de Marco (Character)
$19.7M
1988

82%

80%

Talk Radio
Dan (Character)
$3.3M
1988

86%

82%

Beetlejuice
Adam Maitland (Character)
$73.5M
1988

No Score Yet

62%

The Alamo: 13 Days to Glory
Col. William Barrett Travis (Character)
-
1987

No Score Yet

No Score Yet

Forever, Lulu
Buck (Character)
$22.5K
1987

No Score Yet

60%

Dress Gray
Rysam "Ry" Slaight (Character)
-
1986

No Score Yet

No Score Yet

Love on the Run
Sean Carpenter (Character)
-
1985

No Score Yet

No Score Yet

Sweet Revenge
Maj. Alex Breen (Character)
-
1984
TV