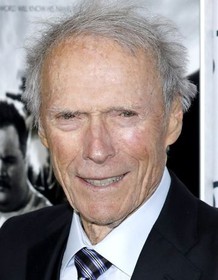 Clint Eastwood
Highest Rated: 100% Ennio (2021)
Lowest Rated: 13% Revenge of the Creature (1955)
Birthday: May 31, 1930
Birthplace: San Francisco, California, USA
Iconic American film actor, director and producer Clint Eastwood built a legendary body of work nearly unmatched in American filmmaking. Born in San Francisco in 1930, Eastwood moved all across the West Coast with his family throughout the 1930s. His family eventually settled in Piedmont, California in 1940, and it's there the young Clint would remain throughout his teens. A rebellious youth, Eastwood got into a lot of trouble during high school, and it remains unknown whether or not he officially graduated. After high school Eastwood worked a series of odd jobs, including golf caddy and grocery store clerk, before being drafted into the United States Army. Despite being drafted during the Korean War, Eastwood never saw any action overseas, and worked as a lifeguard while stationed in Fort Ord in California. It was at Fort Ord that Eastwood met a director for Universal Pictures named Arthur Lubin. Lubin asked Eastwood to audition for him, and despite being unimpressed with his acting abilities, signed the aspiring young actor to a contract with the studio for $100 a week. From there Eastwood started auditioning for films and TV shows. He nabbed small parts in B monster movies like "Revenge of the Creature" (1955) and "Tarantula" (1955), as well as guest spots on shows like "West Point" (CBS/ABC, 1956-57) and "Maverick" (ABC, 1957-62). Eastwood's first big break came in 1958 when he was cast as the valiant cowboy Rowdy Yates on the western series "Rawhide" (CBS, 1959-65). Although Eastwood appeared in all 217 episodes of the series over eight seasons, over time he grew bored with the part and yearned to do something different. He would have that opportunity in 1964 when he starred in Italian director Sergio Leone's "A Fistful of Dollars." Eastwood played the lead character in the film, an anti-hero known as the "Man with No Name," and would go on to make two more films with Leone, "For a Few Dollars More" (1965) and "The Good, the Bad and the Ugly" (1966), thus forming the groundbreaking trilogy of "Spaghetti Westerns" known as the Dollars Trilogy. After "Rawhide" was cancelled in 1965, and having already starred in two of Leone's Westerns, Eastwood put TV aside to focus on films. By the 1970s he had become one of the biggest box office draws in Hollywood with his memorable performances in films like "Dirty Harry" (1971), "High Plains Drifter" (1973), "The Outlaw Josey Wales" (1976), and "Escape from Alcatraz" (1979). The 70s was also the decade Eastwood began his foray into film directing, making his debut with the dark thriller "Play Misty for Me" in 1971. He would eventually go on to direct a number of films in the 70s and 80s, including "The Gauntlet" (1977), "Sudden Impact" (1983), and "Bird" (1988). By the early 90s, Eastwood had already achieved American icon status. But as it turns out, his career was only getting started. In 1993 Eastwood won two Oscars, Best Picture and Best Director, for directing the western "Unforgiven" (1992). Eastwood also starred in the film and was nominated for an Academy Award for Best Actor in a Leading Role. Eastwood continued working steadily as an actor/director throughout the 90s and 2000s, most notably with the films "The Bridges of Madison County" (1995), "Space Cowboys" (2000), and "Blood Work" (2002). His acting output began to slow by the mid-2000s, while his work behind the camera only intensified. Beginning in 2003, Eastwood directed a number of highly successful films that were either nominated or won Academy Awards: "Mystic River" (2003), "Million Dollar Baby" (2004), "Letters from Iwo Jima" (2006), and "American Sniper" (2014). Eastwood won the Oscar for Best Picture for "Million Dollar Baby" - his second Best Picture winner. In 2018, at the age of 88, Eastwood returned to film acting with the crime thriller "The Mule," which he also directed. In May of 2019 it was announced that Eastwood would direct the historical film "The Ballad of Richard Jewell," which was based on a suspect in the 1996 Olympic Park bombing in Atlanta.
Photos
Clint Eastwood
COOGAN'S BLUFF, Clint Eastwood, on location, 1968
MAGNUM FORCE, Clint Eastwood, 1973
THE GOOD, THE BAD AND THE UGLY, Lee Van Cleef, Clint Eastwood, Eli Wallach, 1966
BRONCO BILLY, Clint Eastwood, 1980, © Warner Bros.
THE WITCHES, (aka LE STREGHE), Clint Eastwood, 1967
HANG 'EM HIGH, Clint Eastwood, 1968
PLAY MISTY FOR ME, Jessica Walter, Clint Eastwood, 1971
TWO MULES FOR SISTER SARA, Clint Eastwood, 1970
DIRTY HARRY, Clint Eastwood, 1971
TWO MULES FOR SISTER SARA, Clint Eastwood, 1970
PLAY MISTY FOR ME, Clint Eastwood, 1971
TWO MULES FOR SISTER SARA, Clint Eastwood, 1970
TIGHTROPE, from top, Clint Eastwood, Alison Eastwood, 1984 ©Warner Bros
TIGHTROPE, from top, Clint Eastwood, Alison Eastwood, 1984 ©Warner Bros
TIGHTROPE, from left, Clint Eastwood, Genevieve Bujold, 1984 ©Warner Bros
PLAY MISTY FOR ME, from left: Donna Mills, Clint Eastwood, 1971
MAGNUM FORCE, Clint Eastwood, 1973
HIGH PLAINS DRIFTER, Marianna Hill, Clint Eastwood, 1972
TWO MULES FOR SISTER SARA, Clint Eastwood, Shirley MacLaine, 1970.
Filmography
Movies
Credit

No Score Yet

No Score Yet

The Glance of Music
Self
-
2022

No Score Yet

No Score Yet

Why on Earth
Self
-
2022

No Score Yet

No Score Yet

Sergio Leone: The Italian Who Invented America
Self
-
2022

57%

64%

Cry Macho
Mike Milo (Character),
Director,
Producer
$10.3M
2021

100%

100%

Ennio
Self
-
2021

No Score Yet

No Score Yet

Clint Eastwood: A Cinematic Legacy
Self
-
2021

77%

96%

Richard Jewell
Director,
Producer
$22.3M
2019

70%

66%

The Mule
Earl Stone (Character),
Director,
Producer
$103.8M
2018

23%

37%

The 15:17 to Paris
Director,
Producer
$36.2M
2018

No Score Yet

84%

Sad Hill Unearthed
Unknown (Character)
-
2017

85%

84%

Sully
Director,
Producer
$125.0M
2016

72%

84%

American Sniper
Director,
Producer,
Original Music
$350.1M
2014

51%

62%

Jersey Boys
Director,
Producer
$47.0M
2014

94%

87%

Milius
Self
-
2013

No Score Yet

73%

Eastwood Directs: The Untold Story
Unknown (Character)
-
2013

51%

66%

Trouble With the Curve
Gus Lobel (Character),
Producer
$35.8M
2012

43%

44%

J. Edgar
Director,
Producer,
Original Music
$37.3M
2011

47%

38%

Hereafter
Director,
Producer,
Original Music
$32.7M
2010

76%

75%

Invictus
Director,
Producer
$37.5M
2009

No Score Yet

86%

Johnny Mercer: The Dream's On Me
Unknown (Character)
-
2009

No Score Yet

No Score Yet

Wisdom
Self
-
2008

No Score Yet

65%

You Must Remember This: The Warner Bros. Story
Narrator
-
2008

81%

90%

Gran Torino
Walt Kowalski (Character),
Director,
Producer
$148.1M
2008

62%

82%

Changeling
Director,
Producer,
Original Music
$35.7M
2008

80%

79%

Mr. Warmth: The Don Rickles Project
Unknown (Character)
-
2007

60%

55%

Fog City Mavericks
Unknown (Character)
-
2007

91%

86%

Letters From Iwo Jima
Director,
Producer
$13.8M
2006

76%

69%

Flags of Our Fathers
Director,
Producer,
Original Music
$33.6M
2006

No Score Yet

74%

The Spaghetti West
Unknown (Character)
-
2005

90%

90%

Million Dollar Baby
Frankie Dunn (Character),
Director,
Producer,
Original Music
$100.4M
2004

89%

89%

Mystic River
Director,
Producer,
Music
$90.1M
2003

52%

40%

Blood Work
Terry McCaleb (Character),
Director,
Producer
-
2002

No Score Yet

62%

Eastwood After Hours
Unknown (Character)
-
2002

78%

53%

Space Cowboys
Frank Corvin (Character),
Director,
Producer
$90.4M
2000

No Score Yet

79%

Clint Eastwood: Out of the Shadows
Unknown (Character)
-
2000

56%

49%

True Crime
Steve Everett (Character),
Director,
Producer,
Original Music
$16.6M
1999

No Score Yet

50%

Forever Hollywood
Self
-
1999

56%

52%

Absolute Power
Luther Whitney (Character),
Director,
Producer
$50.0M
1997

50%

65%

Midnight in the Garden of Good and Evil
Producer,
Director
$25.1M
1997

50%

42%

The Stars Fell on Henrietta
Producer
$71.7K
1995

100%

95%

A Personal Journey With Martin Scorsese Through American Movies
Self
-
1995

90%

87%

The Bridges of Madison County
Robert Kincaid (Character),
Director,
Producer
$70.5M
1995

No Score Yet

55%

A Hundred and One Nights
Self
-
1995

No Score Yet

No Score Yet

Don't Pave Main Street: Carmel's Heritage
Narrator
-
1994

78%

84%

A Perfect World
Chief Red Garnett (Character),
Director,
Producer
$29.7M
1993

96%

79%

In the Line of Fire
Frank Horrigan (Character)
$102.2M
1993

96%

93%

Unforgiven
William 'Bill' Munny (Character),
Director,
Producer
$100.0M
1992

No Score Yet

No Score Yet

Amazing Stories: The Movie IV
Director
-
1991

No Score Yet

83%

Hollywood Remembers: Gary Cooper - American Life, American Legend
Unknown (Character)
-
1991

29%

36%

The Rookie
Nick Pulovski (Character),
Director
$20.3M
1990

83%

62%

White Hunter, Black Heart
John Wilson (Character),
Director,
Producer
$1.7M
1990

24%

25%

Pink Cadillac
Tommy Nowak (Character)
$11.8M
1989

77%

79%

Bird
Director,
Producer
$1.5M
1988

53%

44%

The Dead Pool
Insp. "Dirty" Harry Callahan (Character)
$37.8M
1988

86%

86%

Thelonious Monk: Straight, No Chaser
Executive Producer
$46.8K
1988

68%

74%

Heartbreak Ridge
Sergeant Thomas Highway (Character),
Director,
Producer
$41.0M
1986

93%

83%

Pale Rider
Preacher (Character),
Director,
Producer
-
1985

85%

50%

Tightrope
Wes Block (Character),
Producer
-
1984

22%

24%

City Heat
Lieutenant Speer (Character)
-
1984

53%

54%

Sudden Impact
Insp. 'Dirty' Harry Callahan (Character),
Director,
Producer
-
1983

41%

42%

Firefox
Mitchell Gant (Character),
Director,
Producer
-
1982

93%

64%

Honkytonk Man
Red Stovall (Character),
Director
-
1982

75%

48%

Bronco Billy
Bronco Billy (Character),
Director
-
1980

20%

45%

Any Which Way You Can
Philo Beddoe (Character)
-
1980

97%

85%

Escape From Alcatraz
Frank Morris (Character)
-
1979

41%

56%

Every Which Way But Loose
Philo Beddoe (Character)
-
1978

75%

54%

The Gauntlet
Ben Shockley (Character),
Director
-
1977

71%

59%

The Enforcer
Insp. 'Dirty' Harry Callahan (Character)
-
1976

91%

91%

The Outlaw Josey Wales
Josey Wales (Character),
Director
-
1976

67%

54%

The Eiger Sanction
Dr. Jonathan Hemlock (Character),
Director
-
1975

88%

73%

Thunderbolt and Lightfoot
Thunderbolt (Character)
-
1974

94%

86%

High Plains Drifter
The Stranger (Character),
Director
-
1973

68%

77%

Magnum Force
Insp. "Dirty" Harry Callahan (Character)
-
1973

63%

65%

Breezy
Director
-
1973

80%

54%

Joe Kidd
Joe Kidd (Character)
-
1972

90%

72%

The Beguiled
John McBurney (Character)
-
1971

85%

72%

Play Misty for Me
Dave (Character),
Director
-
1971

89%

90%

Dirty Harry
Harry Callahan (Character)
-
1971

71%

73%

Two Mules for Sister Sara
Hogan (Character)
-
1970

78%

88%

Kelly's Heroes
Pvt. Kelly (Character)
-
1970

33%

68%

Paint Your Wagon
Sylvester Newel (Character)
-
1969

83%

89%

Where Eagles Dare
Lt. Morris Schaffer (Character)
-
1969

95%

50%

Coogan's Bluff
Coogan (Character)
-
1968

92%

73%

Hang 'Em High
Marshal Jed Cooper (Character)
-
1968

No Score Yet

20%

The Witches
Carlo (Character)
-
1967

97%

97%

The Good, the Bad and the Ugly
Joe (Character)
-
1967

No Score Yet

47%

Le Streghe (The Witches)
Unknown (Character)
-
1967

92%

94%

For a Few Dollars More
Monco (Character)
-
1965

98%

91%

A Fistful of Dollars
Joe (Character)
-
1964

No Score Yet

28%

Ambush at Cimarron Pass
Keith Williams (Character)
-
1958

No Score Yet

25%

Lafayette Escadrille
George Moseley (Character)
-
1958

No Score Yet

25%

Escapade in Japan
Dumbo Pilot (Character)
-
1957

No Score Yet

40%

Never Say Goodbye
Will (Character)
-
1956

No Score Yet

22%

The First Traveling Saleslady
Lt. Jack Rice (Character)
-
1956

No Score Yet

33%

Lady Godiva
First Saxon (Character)
-
1955

93%

50%

Tarantula
Jet Squadron Leader (Character)
-
1955

13%

33%

Revenge of the Creature
Jennings (Character)
-
1955

No Score Yet

50%

Francis in the Navy
Jonesey (Character)
-
1955
TV