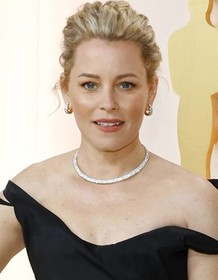 Elizabeth Banks
Highest Rated: 96% The LEGO Movie (2014)
Lowest Rated: 4% Movie 43 (2013)
Birthday: Feb 10, 1974
Birthplace: Pittsfield, Massachusetts, USA
A force of energy both in front of and behind the camera, Elizabeth Banks was born in Pittsfield, Massachusetts in 1974. She spent her youth heavily involved in athletics, riding horses and playing Little League baseball until during one fateful game, she broke her leg while sliding into third base. The injury prevented Banks from playing any sports in the immediate aftermath, and so she auditioned for a school play instead, thus beginning what would become a lifelong interest in acting. She eventually graduated magna cum laude from the University of Pennsylvania with a degree in communications and went on to enroll in an MFA program at American Conservatory Theater in San Francisco. Though she was offered a role on the soap opera "Santa Barbara" (NBC, 1984-1993) during this time, Banks had already taken out student loans in order to pay for her education and opted to remain in school. After graduating in 1998, Banks made her on-screen debut in the drama "Surrender Dorothy" (1998). Minor TV appearances followed before she landed a prominent role in the cult-favorite comedy "Wet Hot American Summer" (2001). From there, Banks quickly moved on to play Betty Brant in the blockbuster hit "Spider-Man" (2002) -a role she would continue throughout the hit franchise. With her prominence steadily rising, Banks went on to appear in the comedy "The 40-Year-Old Virgin" (2004) before co-starring as Dr. Kim Briggs on the fifth season of the comedy series "Scrubs" (NBC, 2001-2010). Comedy remained a major spoke in Banks' wheelhouse as she starred in Kevin Smith's "Zack and Miri Make a Porno" (2008), but she still branched out into other genres, playing Laura Bush in Oliver Stone's George W. Bush biopic "W." (2008) and opposite Russell Crowe in the thriller "The Next Three Days" (2010). After a celebrated run as recurring character Avery Jessup on the acclaimed sitcom "30 Rock" (NBC, 2006-2013), Banks joined the massively popular "Hunger Games" franchise as Capitol-dwelling Effie Trinket in "The Hunger Games" (2012), a role she eventually played in all four films in the series. The year 2012 also saw Banks play Gail in the acapella comedy "Pitch Perfect" (2012). She returned for the sequel as well, not only reprising the role of Gail but stepping behind the camera in her feature film directorial debut. It proved a huge success, far out-grossing the first film and cementing Banks' role as a director. She reunited with her "Wet Hot American Summer" castmates for the latter-day prequel series "Wet Hot American Summer: First Day of Camp" (Netflix, 2015) and for the sequel series "Wet Hot American Summer: Ten Years Later" (Netflix, 2017), much to fans' delight, before playing Gail once again in "Pitch Perfect 3" (2017). This time, Banks did not helm the movie herself, as she was already laying the groundwork for her next project as a director, the "Charlie's Angels" (2019) reboot, in which she also appeared as Bosley. With her credibility sky-high and rising, Banks next co-starred with award winning actor Cate Blanchett in the period series "Mrs. America" (FX, 2020-).
Photos
Elizabeth Banks
THE NEXT THREE DAYS, from left: Elizabeth Banks, Russell Crowe, 2010. photo: Phil Caruso/©Summit Entertainment
The Late Late Show With James Corden, Elizabeth Banks, 03/23/2015, ©CBS
ORDINARY SINNER, Elizabeth Banks, Kris Park, Brendan P. Hines, 2003
MAN ON A LEDGE, from left: Elizabeth Banks, Sam Worthington, 2012. ph: Myles Aronowitz/©Summit Entertainment
Moonbeam City, from left: Elizabeth Banks, Will Forte, Rob Lowe, Kate Mara, 09/16/2015, ©CC
The Muppets, Elizabeth Banks (L), Eric Jacobson (R), 'Pig Girls Don't Cry', Season 1, Ep. #1, 09/22/2015, ©ABC
PITCH PERFECT 3, L-R: ELIZABETH BANKS, JOHN MICHAEL HIGGINS, 2017. PH: QUANTRELL D. COLBERT/©UNIVERSAL PICTURES
Elizabeth Banks stars in Charlie's Angels.
The Muppets, Elizabeth Banks (L), David Rudman (R), 'Pig Girls Don't Cry', Season 1, Ep. #1, 09/22/2015, ©ABC
HEIGHTS, Elizabeth Banks, 2005, (c) Sony Pictures Classics
HEIGHTS, George Segal, Elizabeth Banks, 2005, (c) Sony Pictures Classics
PITCH PERFECT 2, from left: Elizabeth Banks, Hailee Steinfeld, 2012. ph: Richard Cartwright/©Universal Pictures
HEIGHTS, James Marsden, Elizabeth Banks, 2005, (c) Sony Pictures Classics
INVINCIBLE, Mark Wahlberg, Elizabeth Banks, 2006. ©Walt Disney Co.
THE 40 YEAR OLD VIRGIN, Steve Carell, Elizabeth Banks, 2005, (c) Universal
30 Rock, Elizabeth Banks (L), Brian Williams (R), 10/11/2006, ©NBC
The Muppets, Elizabeth Banks (L), David Rudman (R), 'Pig Girls Don't Cry', Season 1, Ep. #1, 09/22/2015, ©ABC
HEIGHTS, Matt Davis, Elizabeth Banks, 2005, (c) Sony Pictures Classics
HEIGHTS, Matt Davis, Elizabeth Banks, 2005, (c) Sony Pictures Classics
Filmography
Movies
Credit

No Score Yet

No Score Yet

Migration
Pam (Voice)
-
2023

No Score Yet

No Score Yet

Show Her the Money
Self
-
2023

44%

59%

Cat Person
Executive Producer
$55.5K
2023

91%

89%

Bottoms
Producer
$12.0M
2023

48%

57%

The Beanie Bubble
Robbie (Character)
-
2023

No Score Yet

75%

Cocaine Bear: The True Story
Executive Producer
-
2023

66%

71%

Cocaine Bear
Director,
Producer
$64.4M
2023

82%

87%

Call Jane
Joy (Character)
$512.8K
2022

52%

78%

Charlie's Angels
Bosley "Boz" (Character),
Director,
Screenwriter,
Producer
$17.8M
2019

57%

67%

Brightburn
Tori Breyer (Character)
$17.3M
2019

84%

68%

The LEGO Movie 2: The Second Part
Wyldstyle/Lucy (Voice)
$105.8M
2019

23%

40%

The Happytime Murders
Jenny (Character)
$20.7M
2018

28%

43%

Pitch Perfect 3
Gail (Character),
Producer
$104.9M
2017

36%

40%

The Most Hated Woman in America
Producer
-
2017

51%

65%

Saban's Power Rangers
Rita Repulsa (Character)
$85.3M
2017

No Score Yet

No Score Yet

Resident Advisors
Unknown (Character),
Executive Producer
-
2015

No Score Yet

65%

Hurricane of Fun: The Making of Wet Hot
Unknown (Character)
-
2015

65%

55%

Magic Mike XXL
Paris (Character)
$66.0M
2015

65%

64%

Pitch Perfect 2
Gail (Character),
Director,
Producer
$183.7M
2015

70%

66%

The Hunger Games: Mockingjay, Part 2
Effie Trinket (Character)
$281.7M
2015

89%

85%

Love & Mercy
Melinda Ledbetter (Character)
$12.5M
2014

32%

32%

Every Secret Thing
Detective Nancy Porter (Character)
$97.0K
2014

54%

29%

Little Accidents
Diana (Character)
$10.1K
2014

15%

38%

Walk of Shame
Meghan (Character)
$39.8K
2014

70%

71%

The Hunger Games: Mockingjay, Part 1
Effie Trinket (Character)
-
2014

96%

87%

The LEGO Movie
Wyldstyle/Lucy (Voice)
$257.8M
2014

90%

89%

The Hunger Games: Catching Fire
Effie Trinket (Character)
-
2013

4%

24%

Movie 43
Amy (Character),
Director
$8.8M
2013

65%

58%

Love, Marilyn
Unknown (Character)
-
2012

82%

83%

Pitch Perfect
Gail (Character),
Producer
$65.0M
2012

53%

62%

People Like Us
Frankie (Character)
$12.4M
2012

23%

47%

What to Expect When You're Expecting
Wendy (Character)
$41.1M
2012

84%

81%

The Hunger Games
Effie Trinket (Character)
$408.0M
2012

31%

52%

Man on a Ledge
Lydia Spencer (Character)
$18.6M
2012

No Score Yet

No Score Yet

Havana in Bushwick
Pilar (Character)
-
2012

46%

34%

The Details
Nealy Lang (Character)
$63.6K
2011

71%

51%

Our Idiot Brother
Miranda (Character)
$24.8M
2011

50%

66%

The Next Three Days
Lara Brennan (Character)
$21.1M
2010

37%

38%

Surrogates
Executive Producer
$38.5M
2009

32%

49%

The Uninvited
Rachel (Character)
$28.6M
2009

73%

75%

Lovely, Still
Alex (Character)
$124.7K
2008

77%

74%

Role Models
Beth (Character)
$67.3M
2008

65%

66%

Zack and Miri Make a Porno
Miri (Character)
$31.5M
2008

58%

42%

W.
Laura Bush (Character)
$25.5M
2008

20%

35%

Meet Dave
Gina Morrison (Character)
$11.8M
2008

71%

72%

Definitely, Maybe
Emily (Character)
$32.0M
2008

20%

44%

Meet Bill
Jess (Character)
$59.1K
2007

21%

45%

Fred Claus
Charlene (Character)
$72.0M
2007

63%

51%

Spider-Man 3
Miss Brant (Character)
$336.5M
2007

72%

73%

Invincible
Janet Cantrell (Character)
$57.8M
2006

87%

63%

Slither
Starla Grant (Character)
$7.8M
2006

29%

52%

The Sisters
Nancy Pecket (Character)
-
2005

7%

39%

Daltry Calhoun
May (Character)
$12.5K
2005

32%

75%

The Baxter
Caroline Swann (Character)
$181.9K
2005

63%

74%

Heights
Isabel (Character)
$1.2M
2005

85%

84%

The 40-Year-Old Virgin
Beth (Character)
$109.2M
2005

No Score Yet

42%

Sexual Life
Sarah (Character)
-
2004

93%

82%

Spider-Man 2
Miss Brant (Character)
$373.4M
2004

No Score Yet

60%

The Trade
Sioux Sever (Character)
-
2003

78%

76%

Seabiscuit
Marcela Howard (Character)
$120.1M
2003

17%

83%

Ordinary Sinner
Rachel (Character)
-
2002

5%

28%

Swept Away
Debi (Character)
$598.6K
2002

38%

75%

Wet Hot American Summer
Lindsay (Character)
$292.1K
2001

60%

64%

Surrender Dorothy
Vicky (Character)
-
1998
TV