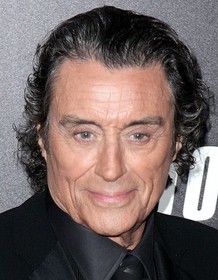 Ian McShane
Highest Rated: 100% Master of Dark Shadows (2019)
Lowest Rated: 14% Pottersville (2017)
Birthday: Sep 29, 1942
Birthplace: Blackburn, Lancashire, England, UK
British actor Ian McShane had a long, venerable career, though for most of it he remained unknown to American audiences, despite frequent appearances on television and in movies. One of his better known roles - as the smooth-talking criminal mastermind Teddy Bass in Jonathan Glazer's stylish crime thriller, "Sexy Beast" (2001) - allowed McShane a proper introduction. Though most of the accolades went to fellow Englishman Ben Kingsley for his scathing performance as the barking-mad bank robber Don Logan, McShane received his share of good notices for his portrayal of the sinister financier of a heist that eventually goes bad. But his most recognized and rewarded role came 42 years after his first onscreen performance. Playing the beguiling Al Swearengen, a cruel, calculating saloon owner on the acclaimed Western revival, "Deadwood" (HBO, 2003-06), McShane had the chance to play what the actor called "the best role I ever had," while finally making himself a household name. Following that success, McShane moved into a comfortable string of character roles on series including "Ray Donovan" (Showtime 2013- ) and "Game of Thrones" (HBO 2011- ).
Photos
PIRATES OF THE CARIBBEAN: ON STRANGER TIDES, Ian McShane, 2011, ph: Peter Mountain/©Walt Disney Pictures
TAM LIN, (aka THE DEVIL'S WIDOW), from left: Ava Gardner, Ian McShane, 1970
WE ARE MARSHALL, Ian McShane, 2006. ©Warner Bros.
VILLAIN, Richard Burton, Ian McShane, 1971
SITTING TARGET, Ian McShane, 1972
PUSSYCAT, PUSSYCAT, I LOVE YOU, Ian McShane, Veronica Carlson, 1970
VILLAIN, from left: Ian McShane, Fiona Lewis, 1971
American Horror Story, Ian McShane, 'Unholy Night', Season 2: Asylum, Ep. #8, 12/05/2012, ©FX
TAM LIN, (aka THE DEVIL'S WIDOW), Ian McShane, 1970
ORDEAL BY INNOCENCE, Ian McShane, 1984. ©Cannon Films
GYPSY GIRL, Ian McShane, 1966
The Pillars of the Earth, Ian McShane, 07/23/2010, ©STARZPR
VILLAIN, Clive Francis, Fiona Lewis, Ian McShane, 1971
PIRATES OF THE CARIBBEAN: ON STRANGER TIDES, Ian McShane, 2011. ©Walt Disney Pictures
THE WILD AND THE WILLING, Samantha Eggar, Ian McShane, 1962
American Horror Story, Ian McShane, 'Unholy Night', Season 2: Asylum, Ep. #8, 12/05/2012, ©FX
PUSSYCAT, PUSSYCAT, I LOVE YOU, Ian McShane, 1970
BOLDEN, MICHAEL ROOKER, ERIK LARAY HARVEY, IAN MCSHANE, 2019. PH: FRED NORRIS/© ABRAMORAMA
BUTLEY, Ian McShane, Alan Bates, 1973
PUSSYCAT, PUSSYCAT, I LOVE YOU, Ian McShane, 1970