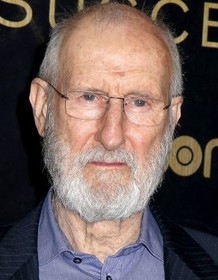 James Cromwell
Highest Rated: 100% Fail Safe (2000)
Lowest Rated: 8% The Bachelor (1999)
Birthday: Jan 27, 1940
Birthplace: Los Angeles, California, USA
James Cromwell grew up in a show business family, and piqued his desire to be an actor at an early age. But he set his sights on becoming an engineer, attending Middlebury College in Vermont, then Carnegie Institute of Technology (later renamed Carnegie Mellon University ). After a year at Carnegie, Cromwell dropped out to pursue acting full-time, working regional theater as an actor and director. Cromwell joined director John O'Neal's Free Southern Theater in New Orleans, where the young actor had his first taste of racial injustice, leading to a lifetime of social and political activism. He made his first strides in the early 1970s while performing in a play where he was spotted and subsequently cast as Jerome "Stretch" Cunningham, comic foil for famed curmudgeon Archie Bunker (Caroll O'Connor), on "All in the Family." Cromwell was cast as Bill the Desk Clerk on the sitcom, "The Hot L Baltimore" ( ABC, 1974-75), then made his feature film debut in "Murder by Death" (1976). Continuing to appear on television, he was the absentee husband to the dim-witted daughter (Beverly Archer) of a Hollywood agent (Nancy Walker) on the short-lived sitcom, "The Nancy Walker Show" (ABC, 1976). Cromwell was the nerd father of an even nerdier son in "Revenge of the Nerds" (1984), a role he reprised in the sequels, "Revenge of the Nerds II" (1987), "Revenge of the Nerds III: The Next Generation" (Fox, 1992) and "Revenge of the Nerds IV: Nerds in Love" (Fox, 1994). Meanwhile, he maintained a steady, albeit unrecognized presence, on the small screen, in "Easy Street" (NBC, 1986-87), and "Mama's Boy" (NBC, 1987-88). In Arthur Hiller's "The Babe" (1992), an endearing chronicle of the life and career of George Herman "Babe" Ruth (John Goodman), he appeared briefly as a monk who introduces a young boy and future slugger to the game of baseball as a means of unleashing his pent-up anger. Cromwell finally earned his due in Chris Noonan's "Babe" (1995), playing Farmer Hoggett, a gentle shepherd who recognizes the special qualities of a piglet adept at herding sheep. Cromwell's portrayal of the farmer earned him a 1995 Oscar nomination for Best Supporting Actor. After tackling a supporting role in the Arnold Schwarzenegger action thriller "Eraser " (1996), Cromwell delivered an uncanny performance in Milos Foreman's excellent biopic, "The People vs. Larry Flyn " (1996) with Woody Harrelson. Returning to a softer mode, Cromwell was cast as an Appalachian mountain man in the family drama "The Education of Little Tree" (1997) and reprised his role as Farmer Hoggett in the sequel "Babe: Pig in the City" (1998). With his star on the rise, he played a cold-hearted Army captain in the big-screen adaptation of Nelson DeMille's novel "The General's Daughter" (1999) and earned an Emmy nomination for his portrayal of William Randolph Hearst in "RKO 281" (HBO, 1999), the critically acclaimed drama about the making of Orson Welles' (Liev Schreiber) classic "Citizen Kane" (1941). Cromwell then had the pivotal role of a judge overseeing a murder trial in the Ethan Hawke weeper "Snow Falling on Cedars" (1999), followed by a small part as a private detective in the crime drama "A Slight Case of Murder" ( TNT, 1999). The actor followed those projects up by appearing in the live televised version of the Cold War thriller "Fail Safe" (CBS, 2000) opposite George Clooney and Richard Dreyfuss, then supported Clint Eastwood, James Garner and Tommy Lee Jones in the comedic drama about aging astronauts going back into space in "Space Cowboys" (2000). Cromwell played the president in the Tom Clancy military thriller "The Sum of All Fears" (2002) and a resentful Vice President Lyndon Johnson in the cable biopic "RFK" (FX Network, 2002). The actor continued to leapfrog successfully between high-profile film and television projects with "I, Robot" (2004 and "The Longest Yard" (2005). In 2004, Cromwell enjoyed another career-defining role in "Six Feet Under" (HBO, 2000-05), playing professor George Sibley through its final season. In perhaps one of his most anticipated roles, Cromwell portrayed former president George H.W. Bush in "W" (2008). Following supporting turns in the sci-fi/action thriller "Surrogates" (2009) and the heartwarming drama "Secretariat" (2010), Cromwell was part of an exceptional cast for the silent black-and-white critical darling, "The Artist" (2011). Back on the small screen, he played American industrialist Andrew Mellon in three episodes of "Boardwalk Empire" (HBO, 2010-14) before portraying a doctor and former Nazi engaging in sadistic experiments on the second season of the anthology series "American Horror Story" (FX, 2011- ). His uncharacteristically sinister turn was well received and resulted in his first Emmy win in 2013. Since then he has portrayed Ewan Ray in "Succession" (HBO, 2018- ), was the voice of Robert Callaghan in "Big Hero 6" (2014) and has additional roles in the works.
Photos
James Cromwell
MURDER BY DEATH, J. Coco, E. Brennan, P. Falk, P. Sellers, M. Smith, D. Niven, 1976
TANK, James Cromwell, 1984, (c)Universal
TANK, James Cromwell, G.D. Spradlin, 1984, (c)Universal
RKO 281, John Malkovich, James Cromwell, Liev Schreiber, 1999
SUM OF ALL FEARS, Ben Affleck, Morgan Freeman, Ken Jenkins, John Beasley, Philip Baker Hall, James Cromwell, Ron Rifkin, Bruce McGill, 2002 (c) Paramount
BABE, James Cromwell, Babe, 1995.
BABE: PIG IN THE CITY, James Cromwell, Babe the pig, Magda Szubanski, 1998, (c)MCA Universal Pictures
American Horror Story, Lily Rabe (L), James Cromwell (R), 'The Origins of Monstrosity', Season 2: Asylum, Ep. #6, 11/21/2012, ©FX
MURDER BY DEATH, James Cromwell, Eileen Brennan, Peter Falk, 1976
American Horror Story, James Cromwell, 'The Origins of Monstrosity', Season 2: Asylum, Ep. #6, 11/21/2012, ©FX
American Horror Story, James Cromwell (L), Jessica Lange (R), 'Nor'easter', Season 2: Asylum, Ep. #3, 10/31/2012, ©FX
American Horror Story, Lily Rabe (L), James Cromwell (R), 'The Origins of Monstrosity', Season 2: Asylum, Ep. #6, 11/21/2012, ©FX
L.A. CONFIDENTIAL, James Cromwell, 1997, (c)Warner Bros.
EDUCATION OF LITTLE TREE, THE, Joseph Ashton, James Cromwell, 1997
L.A. CONFIDENTIAL, James Cromwell, Russell Crowe, Guy Pearce, Kevin Spacey, 1997
SPECIES II, Marg Helgenberger, James Cromwell, Mykelti Williamson, Michael Madsen, 1998
BABE, James Cromwell, Babe, 1995.
BABE, James Cromwell, Babe, 1995.
THE PEOPLE VS. LARRY FLYNT, James Cromwell, 1996, (c)Columbia Pictures